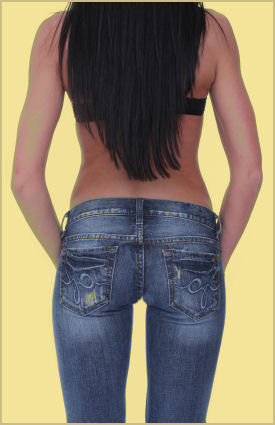 If you want to look good every day, three must-have items are: the right shoes, the right bra, and the right jeans.  Since bras and jeans can make or break your shape, perfect fit is essential. If only bras & jeans were as easy to fit as shoes!  Considering how much much less needs to fit into a bra, than a pair of jeans, bra shopping is easy by comparison.    Despite this, bra experts say 85% of women are wearing the wrong bra.  Not sure how they determined this, but it made me wonder ow many women are wearing the wrong jeans.
Think about it–the area from the ankle to the waist is at least 60% of the body, yet we're expected to find something something off-the-rack that mimics the size and shape of a body unlike anyone else's with sportscar-like ability for hugging curves.
A jeans-buying expedition isn't just a shopping trip,it's a quest for perfection, as we search for a pair that will make us look and feel amazing.
There are hundreds of brands and styles, yet we all have days when it seems none are crafted for a body like the one we see in the fitting-room mirror.  Even Levi's, who should be the world's foremost expert on jeans, recently came up with yet another line for those who can't find good fit among their other 170 styles.
The good news is this season's trends in jeans should make get the right fit easier, but the bad news is that this season's jeans may not be very flattering.  According to the trend-spotters, high-waists and wide legs are back–didn't we just finish eradicating "mom" jeans? Is it possible the designers responsible are trying to sabotage us by reinventing unattractive?  Or are they they just unnaturally attached to their "mommys"?
There are countless numbers of articles written on how to pick the right jeans, but in seasons with unfortunate fashions, the focus should be on NOT wearing the wrong jean.  At times like these, a good mirror, a ruthlessly honest girlfriend and a few tips are helpful.
No matter your height or shape, the length and leg of  your jeans is important.  On their way out, are the recently popular" skinny jeans".  This trend was one an average figure would work, but they made the very thin look spindly and the more fuller figured appear to be in danger of toppling.  Now it seems we're going to the opposite extreme, with wide legs that should be reserved for pianos & pachyderms.  Aren't most of us trying to look as long and lean as possible?  Is there anyone out there who has enthusiasm for jeans that will make them look shorter and thicker?
If you want to wear the wider styles this season, opt for flared legs cut a little closer to the contour of the upper leg, like flares or bells.  To get the longest line, pair them with a delicately tapered or pointed shoe.
Now that jeans come in different rises, there is no reason to be wearing jeans that are too tight or too loose in the waist.  Whereas having a small waist is almost always a good thing, when it comes to jeans  a tiny waist with an ample derriere can be problematic.   Brands like Apple Bottoms and L.E.I. are cut for more curve, but if a small waist is an issue, go for mid-rise to show off the booty without having it spoiled by a poorly fitting waist band.  For those who have small waists with less curve, low-rise jeans can create an illusion of a curvier figure by accentuating the hip.
Pay attention to the cut as well as the material.  There are many lines which use Lycra or Spandex to help minimize figure flaws.  The days when "stretch" jeans were guaranteed to accentuate the wrong things or make ripples where you didn't want them are long gone, the newer blends have just enough "give", to cuddle your curves.
If you aren't as cheeky as you wish you were, highly embellished pockets can work in your favor, by adding bulk while creating an illusion of more. Pockets placed lower can help downplay a butt that isn't as high as it used to be. but unless you're under thirty (or look like you are) over embellished or novelty pockets are best left in the left in the Juniors shop.
Trendy washes and finishes come and go.  Whiskered, color rinsed, grunge wash, sharkskin, metallics–there's always some new novelty, but when the trend is gone, those dated jeans should be too. Enjoy what's current, but keep in mind smoother darker finished denims in less a trouser cut can go anywhere.
Finally, be fickle.  Unless you have a brand of jeans that never fails, experiment.  Don't be so locked into what you're used to, that you miss out on something better, and don't be a slave to brands or styles that don't work on you.  Hot brands and high-priced designer tags do not guarantee of a better looking jean.  Most importantly, don't let vanity cause you to buy jeans that aren't the right size.  No matter what the tag says, if it doesn't fit great, it's not your size.
Your body is uniquely your own.  No matter what everyone else is wearing, choose what makes you look and feel your best!