Posts Tagged 'special interest'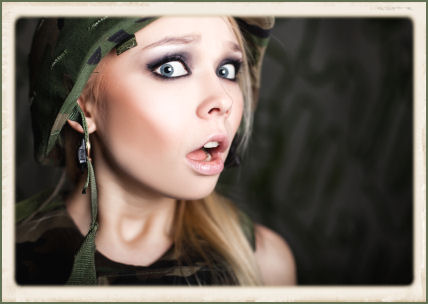 It's over.
Finished.
Kaput.
American women need to call for an armistice, or be ready to hoist their whitest panties on poles to surrender. Like so many other conflicts, The War on Women has become a no-win situation.  Born out of the high ideals of suffragettes and the women's liberation movement, our preoccupation with gender has become akin to a revolution in a banana republic, when civil unrest soon turns into a confusing battle, where it's no longer clear who is fighting whom.
Not so long ago, women had fewer rights and were not valued for much more than man & child tending. Unmarried women were viewed with pity, for their failure to find husbands and women coveted the matrimonial link, because it validated them and provided a "proper" means by which to have a family.  Then came the revolution.  It started well, but eventually our preoccupation with "women's issues" became self-defeating.
Though women can easily follow the conflicts of Gabrielle, Bree and Edie or track the complicated details of the love lives of Carrie Bradshaw, Samantha Jones and any number of girlfriends; most of us find the details of war, far less engaging. Perhaps this is why we failed to notice when we started losing the war we'd started.
Since the beginning of the battle, women had been steadily advancing on every front.  As individuals, we commandeered the power to decide for ourselves whether or not to marry, whether or not to have children, whether to choose career or family.   Outside the home, women were proving they could survive and thrive in what had previously been a man's world.  As leaders, CEO's and top wage-earners, women were gaining influence and credibility in business and industry. Voting blocs of women were now critical in determining the outcomes of elections.
We were winning the war.  Then came the ambush,when they labeled us a special interest group.
Special can be good–but too often the term "special" calls to mind those who are disadvantaged in some way–as it is when used to describe Special Education or The Special Olympics.  While we thought we were finally gaining much-deserved equality,  folks in Washington were trying to figure out how to put us the political equivalent of the special bus, dictating where we could go and what we could do.  They convinced us we needed Affirmative Action to win jobs or gain college admissions–suggesting that without a headstart in the race, we could never run as well as our competition. Unfortunately, many women believed this.
There were those who tried to convince us the trappings of femininity were the cruel inventions of a gender-biased society, causing men to objectify and disrespect us.  Others began crusading to insure education curricula mentioned women often enough, that we'd be reminded often of just how very "special" we are.
The war which was started as an effort to win equality, was no longer about equality, because being a member of a special interest group entitles you to an unfair advantage–or what would be known at the Augusta Country Club–as a handicap.  Though women are allowed to have women-only associations and girls-only schools, every formerly male-only institution from The Citadel, to Augusta would eventually come under attack.  The fight to get federally funded breast cancer research, was allowed to eclipse the need to fund research for more deadly diseases.  Women's wages were often held up as evidence of prejudice toward women in the workplace, without factoring in career hiatuses many women take to start or care for family.
We started losing the battle, when we lost the hill–Capitol Hill.  We were losing ground, because we were allowing politicians to turn every issue into a women's issue.   (Women have enough issues, without needing men to create more.) Now just a few generations of feminists later, America has produced some of the most helpless women since Gone With The Wind.
Somehow the feminists of the "Our Bodies, Our Selves" credo, have been replaced by generations of women of the "my body–your politics" ilk.  What happened to women's desire to be self-determining?  When did choosing motherhood mean women, like Ann Romney, no longer had a valid opinion? Weren't we fighting for the right to choose between family & career?  When did women become so indoctrinated, as to allow the political fitness of candidates to be trumped or invalidated by their stance on abortion?
Using our preoccupation with our bodies as a booby trap set to trip on economic and religious freedom, birth control, which had once given women unprecedented freedom and autonomy, was now a carrot on a stick intended to distract us from the real issues.  Positioning Sandra Fluke as a heroine, behind whom we should rally, political strategists were betting on the lesser thinkers in the of the special group of femalians, to react (as women often do) with emotions, instead of logic–as if a disingenuous Georgetown law student, not bright enough to procure her own birth control, would be someone we should admire. They were convinced we'd all be so angered at the thought of not having free birth control pills in our designer handbags, we would willingly ignore larger issues which could potentially harm our families. Reminding us once again, those in power believe we don't think well enough to make decisions in our own best interest.
Yesteryear's feminists were committed to freeing women from their dependence on men, but today's feminists seem eager to embrace the government as a surrogate husband/provider.  The Left accuses the Republicans of waging a war on women.  The Right throws the accusations back on the Democrats.  Make no mistake, this war now has everything to do with politics, and nothing to do with the welfare of women.
Like a woman who dates a seemingly perfect guy, believing he really cares about her, only to later learn he was just using her to get back at his ex-; we have been used.  We were political pawns, sold out by both our allies and our enemies, for political gains. We've come along way baby, but we may have been going the wrong direction. After so many years of trying to rise above being disrespected by men, politicians have succeeded in causing us to willingly lie down and be used.