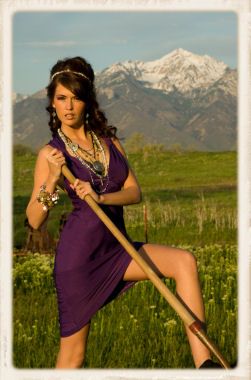 As holidays go, Labor Day isn't one of my favorites.  It makes me melancholy.  Whereas Memorial Day is summer's coming out party, Labor Day is its retirement.  I don't even like the name.  Labor Day sounds like something for Marxist comrades or customer appreciation day in a maternity ward.
It needs a better spin.  There are so many do-gooders out there, always renaming stuff, why haven't they tackled this yet?  How about something like No Deadlines Day, Play Hooky Day, or Sleep as Long as you'd like Day?  A better name would help us all get into the proper mindset and really enjoy the day on which to indulge our slacker tendencies.  It should have a name like Holiday for Those who Bust their Butts to sit on Theirs, or If I ever won the Lottery Day.
Labor Day confuses me.   I've noticed that those who work the hardest, look forward to Labor Day weekend so they can go home and do other work–stuff like brake jobs or cleaning gutters.   Since I don't have a "real" job, I'm not even sure I am entitled to celebrate with those who do.  I should probably opt out of Labor Day, to go fill-in for someone who is out water-skiing.
Every household has some kind of division of labor, but being the "unemployed" person in a marriage, is a peculiar position.  It's sort of hard to describe what I'm responsible for, but it's sort of like being a Mafia "fixer".  I facilitate stuff that makes Beloved Soul Mate able to concentrate on what he does.
When we married, we made a pact. I'd do the girl stuff, he'd manage the guy stuff–a good old-fashioned sexist arrangement.  Beloved Soul-Mate doesn't wash dishes or sweep floors.  I don't change oil or repair things.   (There are some exceptions, but you get the idea.)
Guy stuff includes everything automotive, anything involving power tools, moving heavy things, and dealing with disgusting things, as needed.  Plunging toilets is SO not a girl thing!  Additionally, he is responsible for insuring that checks written for necessary things like groceries and utilities, are always covered.
Girl stuff includes, writing checks for stuff like groceries, turning groceries into meals, bearing offspring and then doing one's best to insure the offspring turn-out productive and likeable.  There are other responsibilities like dishes and  laundry, but the most important–but intangible thing–is finding stuff.  It may not sound like much, but in a house with three males, there is always something misplaced.  I am the person expected to know what happened to the cell phone, glasses, receipt, insurance policy, homework, permission slip, library book, clean socks, ketchup, the other kind of mustard, the preferred brand of deodorant, antiseptics,  Ace bandages, jock straps and favorite t-shirts.  On any given day, the ability to locate such things, is necessary to keep the earth from wobbling off its axis.
When I think about returning to the work force, I'm wondering if it's too late to renegotiate our original labor agreement.  If, against all odds, I were to return to work,  theoretically, we would both be out of the house most of each week.  I say theoretically, because my 40-hour week would be much shorter than his.   Math whiz that he is, he has the ability to turn 40 hours into 60.
A full-time job would raise all kinds of questions.  If I were to take a day job, all things having to do with school & kids would need to be divided.  Who would then be in charge of rescuing the kid who forgot his permission slip or the one who ends up in the nurse's office?   Who makes  breakfast?  Who packs lunches?  Who takes off work to take  kids to the orthodontist appointments?   Who is responsible for getting them to the myriad of after-school activities and sports practices?
There are enough parents out there juggling these things, I'm sure they could help me figure it out, but other questions remain.  Who gets to  shower first?  I can roll out of bed and be out of the house in 25 minutes, so therefore I should go first, but since he's less efficient, maybe he could wake up earlier and I could sleep for another 45 minutes while he was grooming.  Who makes the bed?  Last one out?  Would he pack me a sandwich and a thermos of coffee each morning?  If I'm as tired after work as he is, would anyone ever clean the shower?
Of course, the biggest question of all would be . . . when three day-weekends like Labor Day came around would we take the much-needed break or tackle the household jobs we never had time for???