I have a dream that children will one day live in a nation where they will not be judged by the color of their skin, but by the content of their character.

–Martin Luther King, Jr.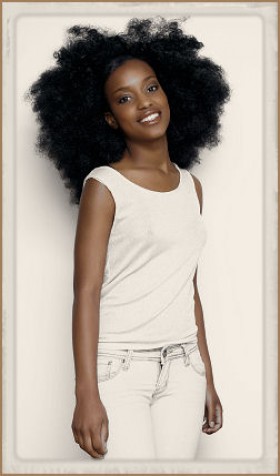 Growing up hearing "gentlemen preferred blondes,"  it was easy to believe white girls with blonde hair were more attractive than girls like me, but I came to realize, blondes hadn't cornered the market on attractiveness, or anything else.Which is why I was fuming recently, when I read an article in a local arts tabloid, in which the author, wrote about her daughter's African-American hair, because as she wrote, "nobody likes black girls."
This mother was tying hair to her perception of racial bias against black women. Through my eyes, it seemed the story of a woman passing her hang-ups about race, hair, and attractiveness to her daughter, then blaming others.
We all face prejudices and we all have them.  Some exist because of what we have experienced, others are the result of views we haven't tested.  We may not be able to control how others view us, but we can't blame others if the prejudices that hold us back are our own.
We all have things we'd like to change.  Things like skin color,  can't be changed, but at least with hair we have some options. I won't pretend to understand the hair troubles of black women, but I know how much hair can impact the way we look or feel.  Even so, hair can only enhance our attractiveness in a  superficial way.
On the heels of that story, came a slew of petty remarks about the hair of Olympic gold medalist Gabby Douglas–including a tweet from Gabby's Olympic role model, n Dominique Dawes. In the blogosphere  and on social media, her hair had become a topic of discussion.  convincing me, there IS a bias surrounding Black women's hair–at least among other African-American women.
My reaction, was the same as Gabby's, when she said, "Are you kidding me?"
This charming young woman just awed  the world with her gold medal performance, and people picking on her hair???
I shouldn't be surprised.  Though The Olympics were established to promote excellence, friendship and respect, it is a time, when we all enjoy critiquing people, doing things we can't.  It is a time when we are comfortable talking about the athletes of other nations, in a way we would never talk to people from those nations.
(Excuse me while I calculate what I could buy, if I had a nickel for every time I've heard a snarky remark about the sturdy women athletes of Eastern Europe.)
It's probably more nationalism, than racism, but here at home, we were reminded of our own ideas of race, as  the media focused on Gabby being the first African-American to bring home the All-Around Gold in her sport. She won a place in national and international history, but the focus at home was on her place in African-American history.  This puzzles me. It isn't as if we haven't seen history-making athletic excellence from African-Americans before. It seemed like a bigger deal to the media than it did to her.  When she was asked how it felt, she responded, "Oh yeah, I forgot about that."
Is there something about her being African-American that made her win more remarkable or less likely?  Is it more amazing for Gabby Douglas to raise the standard of athletic excellence, than it is when Michael Phelps does?
YES and NO.
Yes, we should be surprised.  Gabby was never expected to outperform her teammates.  Coach Bela Karolyi called her a "good average gymnast".  (Obviously that phrase means something different to him, than to  the rest of us.)  But more than that, she had the kinds of disadvantages, that make it difficult to dream as big as she did.  She was an African-American female, being raised by a single mother of four, struggling to make ends meet, while living on disability. Her father was not a doctor or lawyer, in fact, he was away on military deployment.  She wasn't a child of privilege, but she believed she could rise above her circumstances.
When she moved to Iowa, to train, she was plunged into a predominantly white community, where folks  preferred Country music, and didn't understand the rap music she'd enjoyed. She had left her family and everything comfortingly familiar, because she was ready to make the sacrifices necessary to become a champion.  If others harbored prejudice toward her for being black, her friendly smile, buoyant spirit, and relentless determination would soon win them over. Because of this, she came out of nowhere to surprise everyone without Affirmative Action.
So should we be surprised?  Absolutely not.  She is an amazing young American with the kind of drive and attitude it takes to be great. She is a girl who dared to dream, then busted her butt to see if she had the stuff to make her dream come true. My guess is that she cares about her hair as much as any other girl her age, but the vision in her head, was important than what was on it.
Undoubtedly, she will inspire other African-American girls, in the same way Dominique Dawes once inspired her. She will also inspire other athletes and other Olympic hopefuls at home and abroad, but equally important is what her success can teach the rest of us. She has shown what can happen when we rise above the prejudices of others, or our own self-doubts.  More importantly Gabby Douglas reminds us we are more than our skin or hair. How attractive we are or what we can become isn't about how we look or how others see us, it's about what we have inside.
Deb's Note:  My goal in writing it was to emphasize that we cannot be beautiful without self-acceptance. In this age of race-baiting, many are sensitive to any discussion of race. If anything in this article is misconstrued as being racist, this was not my intent.  Racism is abhorrent, and its practice hurts us all.