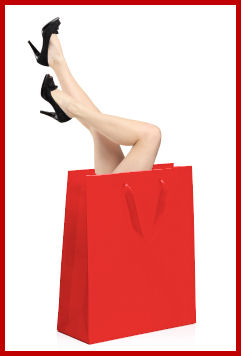 On any given day, you'll see them, the men on the benches outside stores at the mall.  Patiently, they wait, as the women browse every store.  Admirable or pathetic, they wait ,wondering how much longer she'll be.

There are not as many men who go to the mall with their wives or girlfriends, as those who stay home, doing whatever it is men do while women shop, because most men don't understand the way women shop.As a  woman goes from store-to-store looking, the men wonder why it takes them so long to find what they're looking for.  For most men shopping is a challenge–like a hunt.  To come home empty-handed is to fail.  Bagging something–anything makes the hunt a success.  It would seem that when it comes to shopping, men and women are wired differently.  The woman lets the quest continue as she shops for the perfect [insert noun of choice here].
Though a man may not understand why a woman looking for the perfect pair of shoes or the perfect dress, can try on dozens of seemingly similar items and still be looking for something else, when it comes to choosing women, some men shop more like women, than they realize.  You know the ones, those guys who are always looking for someone or something they can't seem to find.
There was a time when men may not have known exactly what they wanted in a wife or girlfriend, yet they managed to find one.  That was back when relationships were thought of as a launching point for forever after–instead of a stop-gap, 'til something better came along. Unfortunately, with sex-before-marriage now more the rule than the exception, and marriages are often short-lived, some men are no longer looking for a women to grow old with, instead they are looking for a women who will never grow old to them.
With sex readily available, men are more wary of monogamy and it's implications and with so many choices, they may be reluctant to settle on one.  Relationships have become a gamble, as iffy as buying something at a store with a no-refund policy.  Maybe he sees something he likes, but only after he's laid out a hefty chunk of money, will he discover the package was misleading, it wasn't what he'd hoped, or that it isn't going to last.
When it comes to women, some guys are are exactly like women shopping for the perfect pair of shoes.
There are so many to choose from, many styles, colors and sizes.  It's up to him how many he tries on, and he is free to discard them if they don't suit him, OR if he believes he might find something better. So while the women around him wonder why he won't settle down or what it is he's looking for, he's narrowing his choices.  Women may not understand it, but they should–at least with a little decoding.
SHOPPING FOR THE PERFECT SHOES vs.  SHOPPING FOR THE PERFECT WOMAN
She says: These are too wide. He says: She's too wide.

She says: This shoe is too narrow. He says: She's narrow-minded, she doesn't think the way I do.

She says: I like these, but they pinch. He says: She cramps my style.
She says: I like these, but I they cost too much. He says: I'd rather not spend my money on her.

She says: I'd buy these, but I don't want shoes I'd have to polish. He says: Too high maintenance!
She says: I want to try on a few more. He says: So many women, why settle on one.
She says: This one is comfortable, but it isn't attractive enough. He says: I like hanging with her, but I was sorta hoping for a super-model.
She says: Maybe I could do better. He says: Maybe I could do better.
Like cute shoes in the window beckoning and hoping you'll pick them, or nice dresses left on the rack at the end of the season, we are left to shake our heads and wonder what it is he's hoping to find.