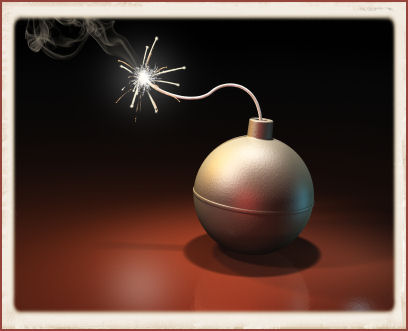 In the aftermath of an event like the shooting in Aurora, many are glued to their televisions, trying to make sense of what has happened.  I avoid the ongoing news coverage, but it is nearly impossible to avoid being over-saturated by the information surrounding such an event.  Regularly scheduled news breaks on the radio, the news ticker on my e-mail account, or the chatter of social media, assure that I'll learn more than I need to know.
Most in the Denver area were still sleeping when I heard the first reports of the massacre,  but in those early morning hours, I  learned all I needed to know:  Innocent people were victims in a tragic shooting.  I wasn't interested in hearing the unfolding coverage, because in the immediate hours after such a happening, what is presented as news, is mostly speculation.
Without ever tuning into a news broadcast, my head got its fill of hearsay and unsubstantiated details–or what we used to call gossip.  Some speculated that James Holmes was a right-wing crazy, others were convinced he was a  pawn or operative in a left-wing plan to disarm America.  Some suggested he had an accomplice, others said he acted alone.  Some held him up as evidence of a Godless society, some blamed bullying or the failure of parents to raise their kids properly.  Still others attributed the act to American economic powerlessness, because James Holmes failed to find a job after graduate school.  Many placed the blame on the movie producers, and/or society's desensitization to violence.  People speculated on whether he was mentally ill, under the influence of drugs or just the product of too much video game violence.  Most of those who put forth theories, were no more qualified than I to comment on his mental health or the cause of his actions,
Only one thing was clear.
When things like this happen, we seek to make sense of them–but things like this don't make sense. Something went chaotically wrong in a theater in Aurora, Colorado, when what should have been an escape into movie fantasy, became a frightening reality with few chances for escape.  Knowing why it happened, will do nothing to make us feel better about this senseless attack. No law could have prevented it.  There is nothing that can guarantee we won't see something like this again, and nothing we learn will make this tragedy make sense.
Despite this, the media disseminates information in an effort to help answer questions as to why it happened.  Anyone whose opinion might shed light on the event, is given a microphone.  Reporters dig up neighbors, colleagues, classmates or whomever is available to comment on what they knew of the suspect.
What I find troubling (and ironic) is that the people who knew the suspect, usually inadvertently admit they didn't know the suspect.  Typical they say things like, "He kept to himself" "He was a loner."  "He minded his own business".  Then they express their shock at the actions of the person they didn't really know, a person nobody really knew.
What we don't hear are close friends talking about the many hours they'd spent with that person.  I've yet to hear anyone talking about the memories and the laughs they shared, or how much they valued the friendship.  We don't hear those things, because often the person(s) who commit this type of senseless violence live in an isolated world of emotional turmoil.
James Holmes played team sports in high school, surely some of those teammates interacted with him. It seems likely he would have made connections to those with whom he shared an interest in video games, or the people in his academic program, yet sadly he lived his life in strange and solitary way. Maybe something in his make-up made it hard for him to make friends, or maybe something had caused him to be distrustful of others. He may have been a mad man or a sad man, but for some reason he felt no normal connection to the people who would become victims. He was disconnected from those around him, long before that disconnect in his head, caused him to do what he did.
We all face loneliness, frustrations and despair, but if life is hard, it is harder for those who have no one to  talk them down from a tree, or off a ledge. If the world is sometimes lonely for those who have close friends and family, how much more so it must be for those who don't. I don't mean to be so simplistic as to suggest that if Holmes had some homeboys, this wouldn't have happened. Dylan Klebold had Eric Harris, and both of them had other friends, yet they both felt like outsiders.
Americans live more isolated lives now, than a few generations ago. The internet, e-mail and smart phones make it easier for us to stay connected, but we often spend more hours connected to our electronic devices, than to the people around us.  When I was a kid, we didn't turn to reality TV to get a glimpse into other people's lives. If we wanted to know what was going on in other people's lives, instead of inviting strangers into our living rooms via television, we'd pile into the car and drop into the living rooms of those we knew. We didn't call ahead or set a time, we just showed up.  Before there was Yahoo, there was Yoohoo, as in, "Yoo-hoo, anybody home?".
Back then, instead of feeling imposed upon, by an unannounced visit, the host would welcome the unexpected disruption.  The host(s) would fall all over themselves apologizing, if they didn't have anything to offer guests, as expressed in the very popular 1950s hit "If I Knew You Were Comin' I'd've Baked a Cake".  Even if inconvenient, they'd insist you come in and sit down, and everyone would settle in for a visit.
There isn't much to a "visit."  Talk, listen, talk listen.  Not much else.  We dropped in into see a new baby or to meet a friend's out-of-town visitors. We dropped in on those who were going through hard times. We dropped in when we learned somebody had lost a loved one.  On those occasions, we brought the cake–or a casserole, but mostly, we dropped in for no particular reason.
Visiting was a good pastime, but more importantly, it was a way of staying connected to the people in our communities and cultivating relationships with them. It was offering and getting support, without joining a support group. We knew our neighbors, and they new us. Back then, those who kept to themselves were considered to be odd or at least unfriendly. Now I live in a city, where most social visits are by appointment only, but where I come from a car in the driveway, is still as good as an invitation.
It is unlikely close friends could have stopped the thoughts in Holmes head, but what if Holmes had the kind of friends who drop in unannounced?  If one person had realized how deeply troubled Holmes had become, what could he have done?  Who could they have turned to for assistance?  Even if one person had sensed Holmes was a time bomb with a short fuse, the authorities probably couldn't have done much, because Holmes had yet to commit a crime.
It does no good to wonder.  It is too late for the his victims, but they serve as a reminder to us all, we don't live in a vacuum.  We don't always make the effort to get to know the people around us, but perhaps we should.  If there is anything to be learned from this tragedy, it is that we need each other. We all need others to help us make sense out of what we go through, and to help us get through the things that don't make sense.