Posts Tagged 'life partner'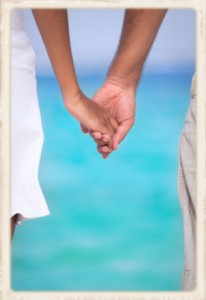 Does everyone have a soul mate?
Is there only one?
Are there more than one?  Are there many?
How can you know if you've really found yours?
Is it possible to miss yours?
Is it possible to get someone else's?
Questions like this aren't everyone's cup of philosophical drivel, but inherent in the idea of the "soul mate" are all kinds of cosmic implications–which are intertwined with one's beliefs.  In my own values set; theology, family and sexuality are all very important, so the questions and answers overlap.
For those who believe that God knows all before it happens, there is no other reality than the one we ultimately end up living.  However, according to Christian theology we are all self-governing creatures guided by our own self will–so if we choose the wrong person with whom to procreate, are the wrong children born?
If we choose the wrong person does God re-route us like some kind of Divine GPS–or are we on the wrong path forever after?
We make choices–including choosing a life partner.  As our lives progress, we later have time to consider the choices we made, and the ones we didn't make; causing us to consider what those choices might have meant.
How the interface between God the Omniscient and the rest of us hapless saps works is very mysterious–making the question of whether or not we have a predetermined life partner even more incomprehensible. Is this a "one-per-person" kind of deal?  If so, then choosing the wrong life partner could mean you've doomed someone else to a life of misery with the wrong person.
Most of us dream of finding our true soul mate.  Either vaguely and/or unconsciously we ask ourselves these questions.  Having a single soul mate suggests that the cosmos wants us all to be happily monogamous.  Women usually embrace monogamy a little easier than men.  For many men, the thought of ONE woman forever and ever is hard to embrace–causing them to drag their feet whenever they get anywhere near the altar.
Theoretically, if you've found YOUR soul mate, a perfect marriage should be assured.  Perfect marriage?  What's that? I'd sooner believe I'd meet the real Santa.
Easy marriages are more the exception than the rule, so when marriage challenges us, we may begin to wonder if we married the wrong person..  Hmmm.  Is it possible you married your cousin's soul mate or your neighbor's?
This is the kind of stuff you don't want to spend to much time thinking about–or pretty soon you'll be writing plots for the next version of the Twilight Zone.  I know this because I've given this too much thought.  As a result, I've come to some conclusions that are based on absolutely nothing of substance–which is one of the best parts of having a blog, people are actually willing to read the skewed stuff that falls out of my head.
That aside, here's what I've concluded:  It is unlikely that we each have only one soul mate.  When we marry most of us are convinced there is one and that it happens to be the fancy-dressed person standing next to us.  Perhaps some marry thinking "This person is so wrong for me", but I wasn't invited to that wedding.
If there is only one, that's really tough.  It's a big world out there, and you could spend your entire life trying to sift through the chaff and/or chappies to find that person.  God help you if your single perfect match happens to be living in Jabootie, or one of those God-forsaken little Texas towns.
I prefer to believe that the number of possible soul mates is related to one's ability to love.  Anytime you decide to commit to one person, there is a hell of a lot of failed humanity to embrace.  If you are a person with a great capacity to love you may have many possible soul mates.   A large, generous and gracious heart makes it much easier to connect intimately with another individual.  However, loving someone is never enough–if it were, there would be far less sad songs on the radio.
Finding someone you can fall in love with is the easy part–the harder part is finding someone who can truly love you.
So with apologies to Carl Sagan, I think it's doubtful that the number of soul mates is determined by the cosmos.  I'm pretty sure it's all about us.