Health insurers make money, in much the same way bookies do.  It is an odds-makers' game requiring more players than pay-outs to sustain it. Those who run the game, bet on the odds of there being more healthy, than sick. The thought of insurers profiting offends many, but insurers have to make money to be solvent.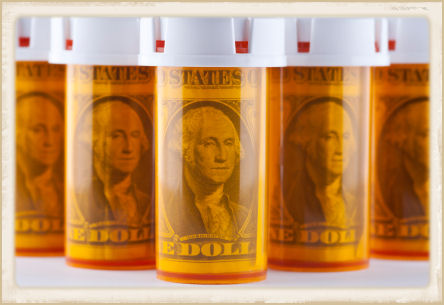 Forget the 1%…in America, the 99% live more affluent lives than most of the world. Despite our prosperity, we are frightened or frustrated by the cost of medical care. American healthcare is costly, but the notion that costs have spiraled out of control is largely the result of how removed we've become from actual real costs.
A hundred years ago, healthcare was costly.  Then, it was because the nation was poor.  Now it is because our medical care is outstanding. In the era when doctors made house calls, they would often be paid in whatever currency their patients had, whether it be a few dollars, or a basket of eggs, but because we can't always anticipate our medical expenses, the cost of healthcare is one item that exists outside our household budgets.
Paying the doctor in eggs was harder when the average hourly wage a little more than a quarter, but even in our era of unprecedented prosperity, healthcare costs can be burdensome. We carry phones that cost hundreds, have household electronics that cost thousands, and pay more for a night of entertainment than we are willing to pay for an office visit. Grudgingly, we cough up fees for the one thing more valuable than any other–our health.
Until we face an illness or injury, most of us don't even have a realistic idea of medical costs.  Upon seeing a bill for a twenty-minute visit with a doctor, we may wrongly assume the doctor is over-paid, but to determine his costs, we would have to factor in all the others things we are indirectly paying for like years of expensive training, operating costs like rent, lights, and equipment, or high premiums for malpractice insurance.  Add to those the expense of the support staff required in a small medical office to schedule appointments, assist physicians, process claims, handle the record-keeping, or do the accounting.
We've come a long way from the time when a doctor's treatments were limited to what would fit in a satchel, but to understand today's costs, it's helpful to understand the evolution of American healthcare.  Only a  century ago, the concept of health insurance was new.  During WWII, employers were under wage and price controls.  To attract the best employees, companies began to offer health benefits in lieu of higher wages. Those early plans paid most of a patient's medical bills, but patients shared some portion, making it necessary even for those with insurance to be conservative about seeking medical care.  Traditional insurance gave consumers an awareness of "real" costs.
In the '60s and '70s, government intervention again changed healthcare, first with the creation of Medicare and Medicaid, later when  President Nixon enacted legislation to popularize Health Maintenance Organizations (HMOs)  The first HMOs followed the Kaiser Permanente model, which had reduced costs by limiting and standardizing care.  The upside of the HMO's was coverage of preventative services, like mammograms or immunizations.  These plans offered more for less, making consumers more  inclined to see doctors, but this factor and the number of required to administer HMO's, began to decrease their profitiblity of the HMOs.
Real costs were largely replaced by co-pays, and a lessening of patient choice. Physicians were offered incentives for treating patients conservatively, as those who managed these plans tried to spread resources among many members with varying medical needs.  As the doctors become more accountable to managers than patients, getting care became more complicated. Managed care was really about managed costs.
Medicaid and Medicare gave more individuals access to healthcare, by placing their beneficiaries in HMOs or the same pools as the privately insured.  This was a good solution, until the low fees paid to providers, failed to cover the costs of the services provided.  The difference between fees and costs, made it necessary to shift those costs to other patients–artificially inflating costs.
Many favored a government-run single-payer system.  If you are a parent, it is likely your house operates with a single-payer system. At least one adult makes money, which is then used to fund all the expenses of the household.  Because the amount of money is limited, someone has to make the decisions about where the money will be spent. Everyone in the home has a want-list, but there simply isn't enough money to for everyone to get everything on their list.  The person(s) in charge of the money, have to make the best decisions they can as to what is practical or impractical.
Children may not understand all the details of household finances, but they come to understand they can't have everything they want. Parents aren't "rationing" what their kids get, but out of necessity, parents make decisions to assure there is enough money for things like food & shelter.  Whether it be the one in your house, or that of nationalized healthcare, every single-payer system operates within limits. This balancing act is necessary to sustain the system. The Affordable Care Act, sets up an extensive set of rules which attempt to establish how this will be done. My next post will examine some of those provisions.
Deb's Note: This is the second post devoted to explaining the Affordable Care Act–aka ObamaCare.  I have chosen to write about this subject because I believe women need to know how it will affect their families and/or loved ones.  The subject is extensive, but I hope to wrap it up in a few(?) more posts.