Posts Tagged 'empowerment'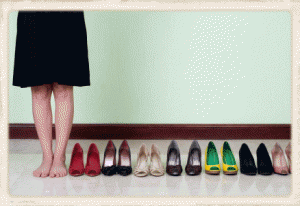 Loafers, mules, pumps, clogs, boots, sandals, oxfords–I've worn them all.  From plastic to exotic leathers, from discount to designer–I've stepped out in just about everything–sweet abundance of shoes.
The things one could write about women & their shoes are endless, and why not?  Each and every day, they are the vehicle which carries us to meet whatever challenges the day brings.
At the most basic level they are essential.  On a more esoteric level, they are an extension  of ourselves.   They are what we stand on.  They can make us feel graceful, or make us feel inept at walking.  Some empower, some embarrass.
When I was a girl, there was a common belief a person's shoes could tell you about them–the implication being shoes would expose a person's upbringing.  This was probably more true then, when most people didn't have a closet full of shoes.  I don't know if the same could be said today, but shoes still convey information.  They tell the world who we think we are, and sometimes they tell us who we are.
Some time ago, I was in negotiations with my teen son, regarding shoes he wanted.  The shoes he wanted cost four times what a comparable pair from another store would; the only difference was the way they would make him feel.
I understand.  I remember how shoes can transform us.  I remember when a new pair of shoes, was enough to convince me that I could run faster or jump higher.  I remember the magic of shoes.
Once upon a time, I had a pair or red leather Mary Janes.   They made me feel special.  On linoleum, they had a little squeak.  Maybe that little squeal was trying to tell me life would never again be as carefree.  I only know, they made me love being a girl.
In high school, almost everyone wore a particular brand of athletic shoe–everyone but me.  I wore look-alikes my mother purchased from the discount store.  I don't think they fooled anyone, but for a time, they fooled me into believing I fit-in.
I didn't have them long, before they were stolen.  I might have been angry, if I hadn't felt so bad for the girl desperate enough to steal such pathetic shoes.  It's been years, but I still remember the lesson those shoes taught me.
I'll never forget the lovely silk shoes I wore the day I wed.  As an excited bride, those shoes filled me with romantic idealism and made me feel like a princess.  They made me feel lucky.  Exquisite they were, a short walk in those shoes and my life was forever transformed–for better or worse–mostly better.
I wish I'd been wearing those shoes when I went to visit my new husband's family.  Instead, I wore a favorite pair of boots.  They were good boots, built to last, but their leather had become creased and worn.  I remember feeling,  that I was sized up, as being no better than those worn boots.  If only those boots, could have spoken for both of us, they probably would have said, "Ignore them, they can't tell by looking, what we're made of."
As I write this, I am wearing a pair of very over-priced "flip-flops".  Third pair of them I've owned.  I bought the first pair, because they were a brand that appeals to me.  After I bought them, I later discovered they were uncommonly comfortable.  They were a little splurge, but worth every penny.  It's has nothing to do with the status logo, which tells people I spent too much on them;  it is simply they way they feel on my feet.  When I put them on I know I am part of a privileged class.  Not because of that brand, but because my feet don't hurt the way they did when I waitressed my way through college.    Without saying a word, they remind me that I've been very blessed in this  life.
There's more . . having once been embarrassed, by not having  the same shoes as my peers, these shoes remind me how hypocritical it seems not to buy my son the expensive shoes he desires.  Unlike my mother, I can afford to buy name-brand shoes for my son.  What I can't afford,  is to allow him to believe, he is more acceptable  because of what he wears.   I want him to understand it's the person in the shoes that matters.
I've learned a few things from my own shoes.  I'd like my son to wear shoes that will help him know what my shoes have taught me—even in the most fabulous pair, I am so much more than my shoes.
I haven't always been a lady, but I've always been a girl.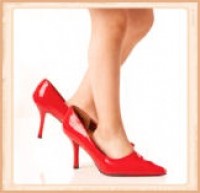 Being female is all I've ever known.
Actually I know men too.  I have a teensy bit of experience, of various kinds,  with them.   They are one of the things that make being a girl so fun–at least most of the time.
Even though I  think I understand men well,  I wouldn't be vain enough to suggest that I have a notion of what it's like to be one.  So following the advice of every freshman comp professor, I'm stickin' with what I know–what it's like to be a girl.
Our society often identifies women as the fairer sex and/or the weaker sex.
Being a member of the "fairer" sex sounds like a compliment. Sometimes it is. It feels like a compliment, when a girl is working her look.  It feels unfair when that same girl isn't feeling the beauty. What isn't fair is the emphasis placed on a woman's outward appearance.
Forget the media messages, blah, blah, blah . . . .Even without the media making us wish we were taller, thinner, or  prettier; on any given day there are people of both genders giving hints about how fair we are.
That's not fair, but it's our reality.  Most unfortunate of all is how many truly beautiful women are overlooked because their external qualities don't pass the "Mirror, Mirror on the Wall" test.  Women are naturally caring, loving, and nurturing.  Even with unreal expectations placed over our fabulous heads, we ARE the fairer sex.
Weaker sex?
Sure, there are some genetic differences that make men physically stronger, but in this era when women train and compete in so many athletic activities, those differences are smaller than ever.
I'm a big fan of brawn, but it's a pretty weak indicator of true strength.  We all know guys who could bench press  two times our weight, but most of us have the stuff  to level them emotionally.   (Not that we'd want to, I'm jus' saying. )   Our emotional strength is enough to make even muscle-bound hulks look like sissies.
Men just aren't as tough as they seem–ask any woman who has tended a man with a cold.
Without even going in to the fact that we bear live young under extreme duress; try to imagine how tough men would be, if they had a few days each month feeling of out of sorts, trying to contend with bleeding man parts.
Needless to say men haven't a clue about what kind of courage it takes to leave the house in cream-colored linen, hoping for the best.
Are women really weaker?  The mixed-gendered jury is still out on that.
I contend women are much stronger than the label implies, however being female is fraught with vulnerabilities.
The first is emotional complexity.  Females live with a cocktail of full-strength emotions.
I'm not talking a little fru-fru umbrella'd Shirley Temple,  I'm talking 100-proof emotion. Straight, no chaser. Potent enough to impair both judgment and driving.
Sure men have feelings, but they don't feel stuff the way we do, and they don't get how we feel things.  It's something only a woman can understand.
Our emotionality causes us to crave connectedness.  This makes us particularly vulnerable to rejection.
We can be rejected by anyone, but when it comes to men, we're sitting ducks.  (Sitting chicks, if you prefer.)   We're groomed to let men take the lead, and to wait for them to make all the moves.
While we wait, we wonder. Does he care?  Is he not interested?  Is there someone else? Is he playing games?  Is he just bad at time-management?  When it isn't all of the above, it's usually just the latter.
They make us emotionally vulnerable, often, pathetically so.
They also make us physically vulnerable.
The biggest difference between us and them, is they  regularly want to occupy our bodies.  Sometimes they come as invited guests, some times as intruders. Most men don't live with that kind of vulnerability.
Despite vulnerabilities, women have staying power.  We put up with stuff  we don't like and find a way to keep on giving.  We put up with more stuff.   We keep on giving.   More stuff.   Still giving.   Just about the time they've almost worn us out, we usually outlive them.
Throughout our lives, things come that cause us to believe we can't continue.  Somehow, with  amazing strength and courage, women do find the strength to bounce back from unspeakable hardships, illnesses, betrayals, divorce, and even loss of loved ones. aving the staying power to get past the hard stuff, that's true strength. We may be the weaker sex, but if so it's usually only for a season.
Coming back stronger, that's when nobody can deny our beauty.