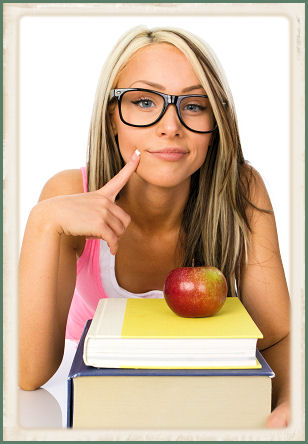 When I try to figure out what to write about next, I aspire to writing something readable, more importantly, I strive to write things worth the time of those who seek out this site, which is why, today, I've decided to share the single-most effective way to improve relationships and do almost anything better.  This may not be the secret to life, the universe and everything, but it's close.
Ready?
Pay attention.
Simple.  That's all there is to it.
Got it now?
Your grade school teachers probably told you to pay attention, but this practice is even more important after the diploma days.  Every aspect of your life will be easier, if you simply pay attention.
Many people sleepwalk through life, oblivious to what's going on around them.  With electronics and media to provide constant distractions, we have become super-prone to boredom, making it easier than ever to ignore the ordinary, but important things, like the people we live with.
Married folks stop paying attention to each other, and are then surprised when the relationship fails. Parents stop paying attention to their kids, and wonder why their kid's peers leverage more influence.  We find ourselves asking what's missing from our lives, because we forget what's really important. Whether you seek to improve relationships, advance in your career or just live a better life, paying attention is the all-purpose, most effective way to do anything better.
If you pay attention to people who are smarter than you, you'll enjoy tuition-free, continuing education. If you pay attention to those who aren't as smart as you, and you'll have the opportunity to learn from their mistakes, without the trouble of making them yourself.
Pay attention to clocks and you'll be less likely to be late.  Pay attention to the way you spend your time, and you'll be able to accomplish more.  Pay attention today to where you'd like to be tomorrow. and it's more likely you'll find your way there.
Pay attention to your stuff and it will last longer.  Whether it be investigating a small engine noise, before it becomes an expensive repair, or being mindful of where you take off your sunglasses, paying attention to the things you use each day, will save you time and money.
Pay attention to where you spend your money, and you'll find it easier to manage.
Pay attention to what you eat and you'll be one step closer to losing weight or becoming healthier.
Pay attention to your appearance and you'll not only feel better about yourself, but others will see you in a more favorable way.
Pay attention to your surroundings, and you will be less likely to get lost.  Pay attention when you're in unfamiliar places, and you'll  be less likely to be a victim of a crime.
Pay attention to those above you and not only will you know how to please them, but you'll also learn how they got where they are.  Pay attention to those below you and you'll learn everyone has value.
Pay attention to the likes and dislikes of your loved ones, and you'll never be at a loss for how to make them smile,  you'll never be at a loss for what to buy them when it's gift-giving time.
Pay attention to the negative thoughts echoing in your head, and you'll realize how they waste and spoil your energy.
Pay attention to the differences between what people say and what they do.  Sometimes actions speak louder than words, but sometimes actions are only what people want you to see.
Pay attention to what your kids do, what they say, and who they hang out with.  Then, when they tell you you don't know them, you'll be able to show them you do.
Pay attention to the people around you, because when you understand them, they'll be easier to love.
Pay attention to the people around you, you'll find them eagerly paying attention too you.