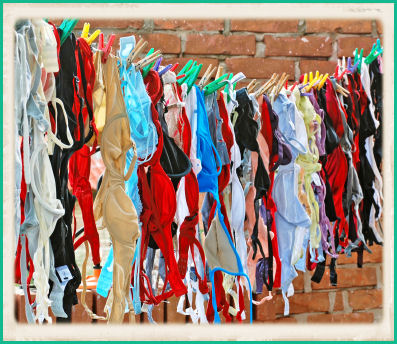 "What is it with women and their bras???", asks a guy overhearing us gals talk about ours.
I always feel bad for male readers, when the topic of the day is something most can't relate to.  Today might be one such day.  Most men don't understand bras. They don't understand why we wear them, why we like them, and they certainly don't understand why we spend so much money on them.
Love 'em or hate 'em, the answers to those questions could be the subject of another post, but today the  focus is on a man who knows the power in a bra.
There are women who hate bras, but I love them. They are vital in encouraging "the girls" to stay close to home.  Everyone knows home is where the heart is.  Additionally, my mother taught me, the importance of dressing in layers.  With that in mind, I figure I might as well make the first layer a good  one.
Since their invention, we have been shaped by our bras, as they defined both feminine beauty and feminine roles.  Bras have never been more significant than they were in the The 20th Century, when bra-burning became an emblematic act for the cause of feminism.  After women stopped burning their bras and went back to wearing them, bras got all girly again–until now.
In the 21st Century, the bra is being used to liberate, empower and provide economic freedom for women. Free the Girls is a non-profit organization, which came into being, because of one-man's awareness and compassion for the plight of sex trafficking victims in Mozambique.
In America, the freedom women have over their bodies is taken for granted, but in other parts of the world, the loss of virginity, an out of wedlock birth, or a sexually transmitted disease can mean being stigmatized, ostracized or even killed. For women who are sold as sex slaves, getting out doesn't always mean freedom from the past. Those who manage to escape, carry with them the painful memories, but many also face health problems such as HIV, or may have trouble finding work, either because they are social outcasts, or because they have no education. Read the rest of this entry »