I have a dream that children will one day live in a nation where they will not be judged by the color of their skin, but by the content of their character.

–Martin Luther King, Jr.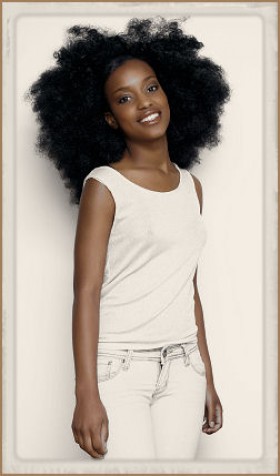 Growing up hearing "gentlemen preferred blondes,"  it was easy to believe white girls with blonde hair were more attractive than girls like me, but I came to realize, blondes hadn't cornered the market on attractiveness, or anything else.Which is why I was fuming recently, when I read an article in a local arts tabloid, in which the author, wrote about her daughter's African-American hair, because as she wrote, "nobody likes black girls."
This mother was tying hair to her perception of racial bias against black women. Through my eyes, it seemed the story of a woman passing her hang-ups about race, hair, and attractiveness to her daughter, then blaming others.
We all face prejudices and we all have them.  Some exist because of what we have experienced, others are the result of views we haven't tested.  We may not be able to control how others view us, but we can't blame others if the prejudices that hold us back are our own.
We all have things we'd like to change.  Things like skin color,  can't be changed, but at least with hair we have some options. I won't pretend to understand the hair troubles of black women, but I know how much hair can impact the way we look or feel.  Even so, hair can only enhance our attractiveness in a  superficial way.
On the heels of that story, came a slew of petty remarks about the hair of Olympic gold medalist Gabby Douglas–including a tweet from Gabby's Olympic role model, n Dominique Dawes. In the blogosphere  and on social media, her hair had become a topic of discussion.  convincing me, there IS a bias surrounding Black women's hair–at least among other African-American women.
My reaction, was the same as Gabby's, when she said, "Are you kidding me?"
This charming young woman just awed  the world with her gold medal performance, and people picking on her hair???
I shouldn't be surprised.  Though The Olympics were established to promote excellence, friendship and respect, it is a time, when we all enjoy critiquing people, doing things we can't.  It is a time when we are comfortable talking about the athletes of other nations, in a way we would never talk to people from those nations.
(Excuse me while I calculate what I could buy, if I had a nickel for every time I've heard a snarky remark about the sturdy women athletes of Eastern Europe.)
It's probably more nationalism, than racism, but here at home, we were reminded of our own ideas of race, as  the media focused on Gabby being the first African-American to bring home the All-Around Gold in her sport. She won a place in national and international history, but the focus at home was on her place in African-American history.  This puzzles me. It isn't as if we haven't seen history-making athletic excellence from African-Americans before. It seemed like a bigger deal to the media than it did to her.  When she was asked how it felt, she responded, "Oh yeah, I forgot about that."
Is there something about her being African-American that made her win more remarkable or less likely?  Is it more amazing for Gabby Douglas to raise the standard of athletic excellence, than it is when Michael Phelps does?
YES and NO.
Yes, we should be surprised.  Gabby was never expected to outperform her teammates.  Coach Bela Karolyi called her a "good average gymnast".  (Obviously that phrase means something different to him, than to  the rest of us.)  But more than that, she had the kinds of disadvantages, that make it difficult to dream as big as she did.  She was an African-American female, being raised by a single mother of four, struggling to make ends meet, while living on disability. Her father was not a doctor or lawyer, in fact, he was away on military deployment.  She wasn't a child of privilege, but she believed she could rise above her circumstances.
When she moved to Iowa, to train, she was plunged into a predominantly white community, where folks  preferred Country music, and didn't understand the rap music she'd enjoyed. She had left her family and everything comfortingly familiar, because she was ready to make the sacrifices necessary to become a champion.  If others harbored prejudice toward her for being black, her friendly smile, buoyant spirit, and relentless determination would soon win them over. Because of this, she came out of nowhere to surprise everyone without Affirmative Action.
So should we be surprised?  Absolutely not.  She is an amazing young American with the kind of drive and attitude it takes to be great. She is a girl who dared to dream, then busted her butt to see if she had the stuff to make her dream come true. My guess is that she cares about her hair as much as any other girl her age, but the vision in her head, was important than what was on it.
Undoubtedly, she will inspire other African-American girls, in the same way Dominique Dawes once inspired her. She will also inspire other athletes and other Olympic hopefuls at home and abroad, but equally important is what her success can teach the rest of us. She has shown what can happen when we rise above the prejudices of others, or our own self-doubts.  More importantly Gabby Douglas reminds us we are more than our skin or hair. How attractive we are or what we can become isn't about how we look or how others see us, it's about what we have inside.
Deb's Note:  My goal in writing it was to emphasize that we cannot be beautiful without self-acceptance. In this age of race-baiting, many are sensitive to any discussion of race. If anything in this article is misconstrued as being racist, this was not my intent.  Racism is abhorrent, and its practice hurts us all.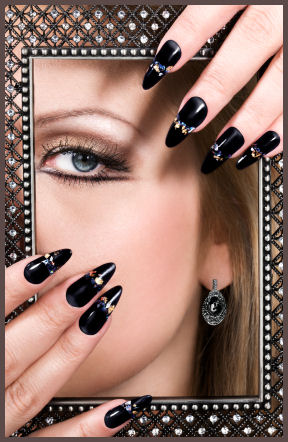 If you are old enough to remember Tippi Hedren, the iconic actress best known for her performance in Alfred Hitchcock's  The Birds, you might be surprised to learn  which beauty standard she helped popularize. Peroxide blonde would seem logical, but Hedren was indirectly responsible for mainstreaming the manicure.
Ever wonder why there are so many Vietnamese-owned nail shops?  Perhaps you assumed Hanoi, and Saigon were cities overflowing with manicurists just waiting to spread their polish in the U.S.  The Vietnamese nail salon has become so common as to become entrenched in our lexicon of racial stereotypes, but it was Tippi Hedren's compassion for the plight of a handful of Vietnamese refugees, which snowballed  into Vietnamese dominance of the field.  I stumbled upon this fascinating story while doing fact-finding regarding manicures.  Writing about manicures might be dull.  Describing my latest's doctor's visit is dull, but what I learned about manicures after my last doctor's appointment–including the Tippi Hedren connection, is both interesting and important.
Previously, I shared the frustration I'd felt after doctors failed to help me with a bothersome skin condition.  After waiting for three months, the day to meet my new dermatologist had finally arrived.  He examined the troubled skin and asked questions.  As he talked, he won me, convincing me he was both caring and really smart. He gave me instructions as he scribbled prescriptions.  Then he told me that he thought my nails might be the cause of the problem, and asked how long I'd been having my nails done professionally.  As he explained it, nail finishes can emit chemical elements which cause irritation–especially to skin and eyes. He said the acrylics, gels and shellac polishes are especially problematic.
I did the math, as I considered his theory. Though I have long been a devotee of the pedicure, my commitment to regular professional manicures is relatively recent. My manicure habit began after I took a break from playing guitar.  Strumming a guitar destroys a manicure so quickly, there isn't any point in having one. After I stopped playing regularly, I began enjoying long nails and manicures–especially the new shellac manicures.
For the uninitiated, the shellac manicure gives a glassy hard, almost chip-proof finish. Not only do they look better than regular polish, they stay flawless for weeks.  I enjoy doing the kinds of things that ruin manicures, but this is no ordinary manicure. The world became a more perfect place when this hands-on girl discovered the secret to having nails which were both pretty and practical.  I admit the removal process, which requires soaking the nails [fingers] in full-strength acetone (often for as long as 20 minutes) kind of scared me, but it was something I was willing to endure.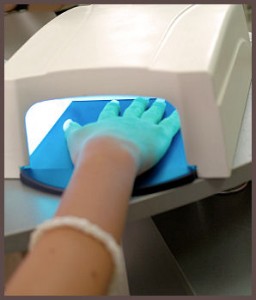 The dermatologist explained acrylic, gels and shellacs, which use a ultra-violet light as a hardening catalyst, don't always cure  uniformly, causing them to sometimes release chemicals even after they seem to be fully hardened.  There are many dangerous chemicals in salon products, but one in particular methyl methacrylate  (MMA) is known to cause eye and skin irritation.
He told me to give up the manicures for a month and see if it helped. It was hard to accept my nail polish might be the culprit, but I agreed to go au naturel to test his theory. Still skeptical, I began combing the internet for corroborating evidence. If there were any connection between the  nail-chemical and skin problems thing, it should be easy to find empirical evidence online.  However, before I found any, I learned of another hazard.  This should come as no surprise, to anyone who has ever smelled the strong odor of chemicals in the air at some salons, but in this case the danger was those seemingly innocuous hand dryers. Dermatologists are now seeing women whose hands are prematurely aged, and  increasing numbers of cases of skin cancers  on the hands because of repeated exposures to the UV light.  It seems these dryers pose the same danger as excessive sun exposure or too much time spent in tanning beds.
Because I had grown fond of the understated sexy elegance of the French manicure, I was devastated at the thought of having to go back to plain old nails, but not nearly as devastated as I would be to learn I'd developed skin cancer for the love of a manicure.  Scaly skin was creepy enough, but this new risk made me wonder if beautiful nails are worth the risks.
The break-up would be painful, because I had finally conquered my neurosis about hazards associated with nail salons, and developed a relationship with a nail tech whose shop practices I trusted.  I visited her for one last manicure in an extra bold Midnight Scarlett, before swearing off. I have no idea if I'll ever get another shellac manicure again, but if I do at least I'll be better informed about the risks.
Deb's note: There are many health hazards associated with nail services.  The use of improperly sanitized tools or foot basins can spread germs and blood-born infections. Some salons use chemicals that have been deemed unsafe.  Acrylic nails, gels and shellacs can all cause damage to the nail bed, infections of the cuticle and painful dermatitis.  No matter what kind of services you choose, be wise in choosing where you go and do your homework about the risks associated with your preferred manicure.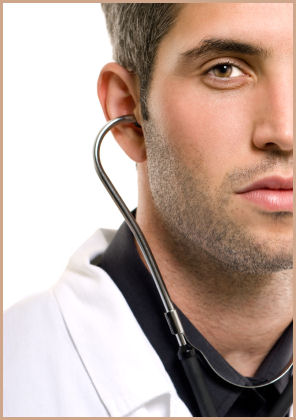 Just finished paying bills.  There are always too many, but now there are even more from our healthcare providers. Along with the usual sports physicals, school vaccine requirements, a couple of strep cultures and other routine things, we had a few more health care expenses this year.  Nothing serious, just stuff.  Nevertheless, in the short time since The Patient Protection and Affordable Care Act was signed into law, there are already signs "affordable care" may have hidden costs.
In the two years, since it's passage, I've lost two gynecologists.  Both were Canadians who had come to The United States, because they wanted to practice medicine without the inevitable restrictions of socialized medicine. With our system due to be radically changed, both made the decision to return to Canada.  Once again, I would be looking for an ideal doctor within the confines of a healthcare plan.
In addition to the usual co-pays, our pediatric group started imposing a "surcharge" for office visits. Not long after, our famly's pediatrician announced he would retire–early.  At least I still had my long-trusted primary care physician.
I had developed a minor skin irritation around my eyes. When it didn't go away, I made an appointment with a dermatologist, I'd seen previously. When I arrived at the office, they apologetically informed me they had pulled out of our medical group. The doctor explained, they could no longer afford to absorb costs for services reimbursed, at a rate less than what they cost to provide. With new restrictions soon to be enacted, he decided it was no longer worth the trouble or the expense.  They were now going to focus their practice on services paid directly by consumers–elective procedures like tattoo removals and cosmetic surgeries.
So heartless, to deny care over money.  Many believe it's about time, doctors stopped being allowed to make obscene profits, at our expense. I had tremendous respect for this doctor, but that day my respect for  him was increased.  By cutting ties to the medical group(s) and their overseers, this doctor had reclaimed his right to practice medicine his  way.  Medicine is a science, but the practice of medicine is an inexact science, fraught with risks.  It's like life & death algebra, requiring its practitioners to solve for unknowns, with little room for errors.  Doctors can't practice good medicine, if their decisions are controlled by people less knowledgeable.  Good doctors are as deserving of pay, as anyone else with specialized skills.
I would  have preferred that my insurer would pick up my tab, but I like this doctor, so I agreed to pay for the visit.  After the  examination, he explained there was something that would likely eliminate the problem, but it was costly and not covered by my insurance.  He prescribed an affordable alternative–a common steroid cream.  It helped, but the condition would return as soon as I stopped applying it. One tube of ointment later, I returned to my trusted family doctor.
Though the steroid cream alleviated the symptoms, it had done nothing to eliminate the underlying condition.  In fact, the problem had worsened and spread.  He suggested cold showers, no soap.  Cold showers?  Maybe he thought I said "sin" problems, instead of "skin" problems.  No tests, no prescription, no help.  This didn't seem like the doctor I'd become accustomed to seeing.  Had the hassle of justifying treatment become too onerous for my previously proactive physician?
I left his office with skin that looked as awful as it felt, and a referral to a new dermatologist, who didn't have an opening for more than three months.  By now, wearing makeup would have been about as effective as trying to spit-shine tree bark, so I threw out all my make-up.  It was going to be a long three months.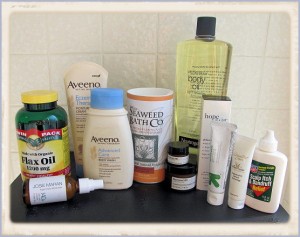 In the meantime, a family member who used to run a vitamin store suggested adding flax oil to my diet.  Another swore by the therapeutic benefits of Argan oil.  I bathed in oatmeal. I bathed in seaweed.  I soaked in oil.  I  used hydrocortisone cream and salycilic acid to control the itching.  I trekked to the beauty emporium, Sephora, searching for any kind of restorative moisturizer.  Nothing helped.  By now, the condition had spread and progressed to the point my eyelids were often cracked & bleeding.
Then came the stye.  For those who have never experienced this, it is a dreadful condition consisting of equal parts pain and ugly.  The first stye, was followed by a another about ten days later, the swelling of which caused me to resemble a prize fighter.  I returned to my primary care physician, who sent me home with instructions to try warm compresses. Though this the commonly recommended treatment for styes, it's not a very good one, so when the third stye appeared, I pleaded with my doctor to dispense something more effective than old-world advice. At the onset of the stye number four, I no longer cared what my insurance would cover.  I made an appointment with an eye specialist. I was ready to pay whatever it cost to get relief.
I asked this doctor, if she thought there was any possibility the broken skin on my eyelids was making me prone to recurrent eye infections.  She laughed as if that were the most improbable and ridiculous thing she'd every heard.  Obviously, I was stupid for even throwing it out there.  Nevertheless, she began grilling me about what I'd tried on my skin.  I began listing all the things I'd tried.  She was clearly irritated as she reminded me I didn't have the expertise to be treating myself–something I was well aware of.  She scolded me for using over-the-counter products, and told me I should leave the treatments to real doctors.  I tried in vain to explain my motivation was despair, not arrogance.  When I realized she had stopped listening to me, my frustration turned to tears.
She had examined me, but she clearly didn't have any idea what she was seeing.  I on the other hand, recognized her condition immediately. It was easy to diagnose her as suffering from the vanity that afflicts some graduates of medical school.  She gave me a prescription for an antibiotic and told me to come back in a couple of weeks, but I won't be going back.  I don't have much confidence in a physician who doesn't recognize the helplessness a patient feels when the medical system can't or won't help them.
I am still waiting for the appointment with the new dermatologist, giving me time to reflect on all of this.  Looking back, I realize what I spent on co-pays and out-of pocket doctor's visits, would have been generous compensation for an office visit with a doctor of my choosing, and what I've spent on things that didn't help would have surely have paid for something that would have.  I would have been better off, if I'd relied on the expertise of the first doctor and paid for the medicine he would have liked to prescribe.  My my time & money would have both been better spent, if I had chosen how to spend them.
Our medical system is in a troubled state. We are all affected by the rising cost of healthcare, but there isn't any way to get around what should be obvious–somebody has to pay the bill.  Those who believe we can continue to get quality care without being charged for it, risk pain and suffering as they come to terms with the new reality.  We are yet to fully realize how the implementation of our our new healthcare system will impact us, but one thing is certain, the untold costs of affordable healthcare will be paid by us, not our government.  I hope we can afford affordable healthcare.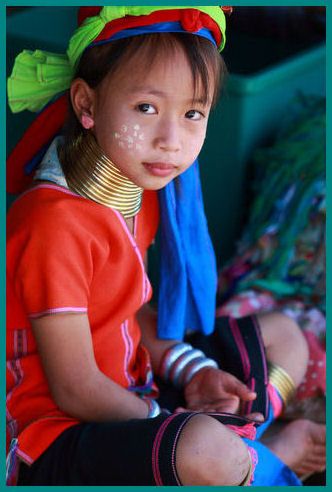 At an age when a girl has hardly known the joy of walking or running, both her feet are broken.  To those of us in The Western World breaking the feet of a small child would be justifiably called child abuse but to deliberately break the feet, then purposely stop them from healing, is unthinkably barbaric, yet the custom was practiced in China for hundreds of years.
The agonizing life-long process of foot-binding was performed to make women more attractive to men, giving them better marriage prospects and insuring they would spend their lives closely tethered to the home.  Also guaranteed were a lifetime of pain, the stench of rotting flesh and maimed feet which would impair the ability to walk.  Once the  weight-bearing and balancing properties of the feet were altered, a girl with bound feet would never enjoy more mobility than a horse with hobbles.  Like livestock branded and penned, husbands need never worry about their wives wandering far.
As the Chinese practice of foot-binding became an integral measure of desirability, the deformed foot and it's accompanying odor became integral to the erotica of the age.  The men of that era were even convinced foot-binding strengthened and enhanced a woman's sexual response.
Eventually, foot-binding was banned, mostly because, in the age of communism, the women's role as laborer superseded her role as sexual vessel.  Women who had been the property of men, were now property of the state.
To us in The West, the practice is repulsive, cruel and bizarre, yet it is just one of many culturally-based beauty practices of unnatural body modifications and/or mutilations practiced in the world.  Unusual practices like the lip-stretching of the East African Mursi tribes or the use of metal coils to elongate the neck by The Karen tribes of  Thailand and Myanmar, seem strangely primitive to us, but are they really so much different from the practices of our sophisticated use of silicone and other materials to change the shape of our faces or bodies?
Nips, tucks, lipo, piercings, gauging, tattoos . . American women are no longer strangers to body alterations–with one big difference…we alone decide what we will do to be attractive.  Whether budgeting for Botox or choosing a tattoo, the decision is our own.  While our media and culture may indoctrinate us with ideas of beauty, we are not under an edict to conform.
Nevertheless, it is almost impossible to determine how much of what we do for ourselves is really a response to those who will see us or evaluate us.  The need to be accepted, the hope of eliminating perceived flaws or the choice to conform to an ideal, fuel our decisions, but they also express our desire to be desirable.  Even powerful women, who reject being subjugated by society's expectations, may not realize the extent to which external messages become part of innermost feelings.
I know of what I speak, for as I write this, my mouth is filled with inconvenient metal and wires.  Though they will eventually correct legitimate alignment problems, I'd by lying like a bad hairpiece if I didn't admit, only the prospect of a better smile, makes the trade-off, worth the discomfort.

For more on the history of foot-binding: http://www.angelfire.com/ca/beekeeper/foot.html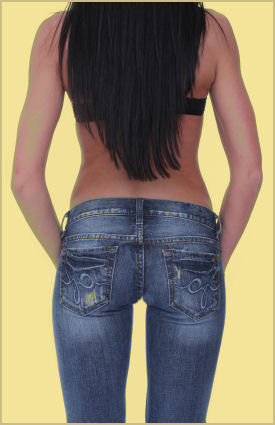 If you want to look good every day, three must-have items are: the right shoes, the right bra, and the right jeans.  Since bras and jeans can make or break your shape, perfect fit is essential. If only bras & jeans were as easy to fit as shoes!  Considering how much much less needs to fit into a bra, than a pair of jeans, bra shopping is easy by comparison.    Despite this, bra experts say 85% of women are wearing the wrong bra.  Not sure how they determined this, but it made me wonder ow many women are wearing the wrong jeans.
Think about it–the area from the ankle to the waist is at least 60% of the body, yet we're expected to find something something off-the-rack that mimics the size and shape of a body unlike anyone else's with sportscar-like ability for hugging curves.
A jeans-buying expedition isn't just a shopping trip,it's a quest for perfection, as we search for a pair that will make us look and feel amazing.
There are hundreds of brands and styles, yet we all have days when it seems none are crafted for a body like the one we see in the fitting-room mirror.  Even Levi's, who should be the world's foremost expert on jeans, recently came up with yet another line for those who can't find good fit among their other 170 styles.
The good news is this season's trends in jeans should make get the right fit easier, but the bad news is that this season's jeans may not be very flattering.  According to the trend-spotters, high-waists and wide legs are back–didn't we just finish eradicating "mom" jeans? Is it possible the designers responsible are trying to sabotage us by reinventing unattractive?  Or are they they just unnaturally attached to their "mommys"?
There are countless numbers of articles written on how to pick the right jeans, but in seasons with unfortunate fashions, the focus should be on NOT wearing the wrong jean.  At times like these, a good mirror, a ruthlessly honest girlfriend and a few tips are helpful.
No matter your height or shape, the length and leg of  your jeans is important.  On their way out, are the recently popular" skinny jeans".  This trend was one an average figure would work, but they made the very thin look spindly and the more fuller figured appear to be in danger of toppling.  Now it seems we're going to the opposite extreme, with wide legs that should be reserved for pianos & pachyderms.  Aren't most of us trying to look as long and lean as possible?  Is there anyone out there who has enthusiasm for jeans that will make them look shorter and thicker?
If you want to wear the wider styles this season, opt for flared legs cut a little closer to the contour of the upper leg, like flares or bells.  To get the longest line, pair them with a delicately tapered or pointed shoe.
Now that jeans come in different rises, there is no reason to be wearing jeans that are too tight or too loose in the waist.  Whereas having a small waist is almost always a good thing, when it comes to jeans  a tiny waist with an ample derriere can be problematic.   Brands like Apple Bottoms and L.E.I. are cut for more curve, but if a small waist is an issue, go for mid-rise to show off the booty without having it spoiled by a poorly fitting waist band.  For those who have small waists with less curve, low-rise jeans can create an illusion of a curvier figure by accentuating the hip.
Pay attention to the cut as well as the material.  There are many lines which use Lycra or Spandex to help minimize figure flaws.  The days when "stretch" jeans were guaranteed to accentuate the wrong things or make ripples where you didn't want them are long gone, the newer blends have just enough "give", to cuddle your curves.
If you aren't as cheeky as you wish you were, highly embellished pockets can work in your favor, by adding bulk while creating an illusion of more. Pockets placed lower can help downplay a butt that isn't as high as it used to be. but unless you're under thirty (or look like you are) over embellished or novelty pockets are best left in the left in the Juniors shop.
Trendy washes and finishes come and go.  Whiskered, color rinsed, grunge wash, sharkskin, metallics–there's always some new novelty, but when the trend is gone, those dated jeans should be too. Enjoy what's current, but keep in mind smoother darker finished denims in less a trouser cut can go anywhere.
Finally, be fickle.  Unless you have a brand of jeans that never fails, experiment.  Don't be so locked into what you're used to, that you miss out on something better, and don't be a slave to brands or styles that don't work on you.  Hot brands and high-priced designer tags do not guarantee of a better looking jean.  Most importantly, don't let vanity cause you to buy jeans that aren't the right size.  No matter what the tag says, if it doesn't fit great, it's not your size.
Your body is uniquely your own.  No matter what everyone else is wearing, choose what makes you look and feel your best!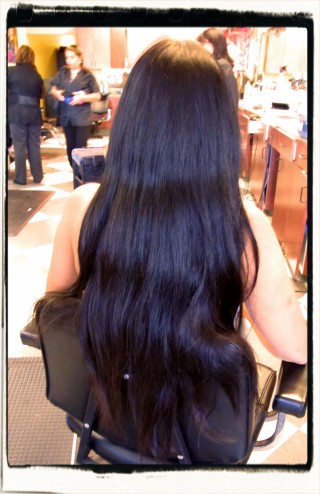 Almost every woman–and a few men, have cried (or cussed) over their hair.  Almost everyone has had the unfortunate experience of leaving a salon light-headed and lighter in the pocketbook, but less-than thrilled with the result.
Hair, good or bad, can be a head turner, but considering that hair is basically dead cells, its amazing how much time, money & energy we spend on it.  I find it especially ironic to consider that most of us aren't nearly as invested in our teeth, as we are our hair.  Hair comes and goes.  Bad hair is usually a very temporary condition–if only bad teeth were as easily remedied as bad hair–when a tooth (or teeth) went bad, they'd already be growing their own replacement(s).
Of course with teeth style & color options are limited, but with hair there are so many choices:
Short vs. Long
Curly vs. Straight
Layered vs.Blunt.
Natural vs. chemical.
If the style options aren't enough to keep us constantly contemplating a change, there are all the implications.  Our hair can affect how masculine or feminine we seem, how old we appear, or convey how stylish we are–and that's just the hair on our heads.  An abundance of luxuriant hair on the head is good,  but on the body–not so much.  We may be simultaneously, trying to remove the hair we don't want while trying to cultivate and preserve the hair we do want.
Because most of us vacillate between loving or hating our hair, we quickly learn the value of a good haircut.  A good hair cut can be expensive, but a great haircut is worth the price.  Because I just got braces, I can't afford to have a bad haircut.  If my newly acquired mouth full of orthodontic apparatus isn't enough to leave me feeling attractiveness-impaired, the last thing I need is a bad cut. With braces I'm just one bad haircut away from being something like a "purse-holder".  (For those who have never had the misfortune, "purse-holders" are the girls who are never asked to dance, and therefore stuck watching purses, while their more attractive friends are dancing.)
My hair was due for a change, it was too long.  My hair was too long.  Short-hair people probably won't understand that, but take my word for it.  There is such a thing as too long, and mine had reached that place about three months ago.  Though I was badly in need of a haircut, I was not in no mood for a bad haircut.  Taking the philosophical approach, I did the one thing I know that guarantees a good haircut.  I got a haircut the no-lose cut–the one that makes me feel good no matter how it looks.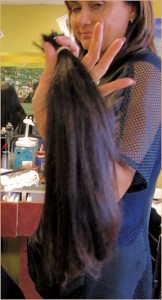 If you are as fortunate as I am to be able to grow long hair, at least once in your life, you should consider donating the stuff that would end up on the salon floor to Locks of Love.  Thanks to Oprah, I think everyone in the country knows about the non-profit organization that makes wigs for children who have suffered hair loss  due to cancer or alopecia.  Because my hair grows quickly, I've been fortunate enough to donate hair a few times.
The helplessness we feel when someone we know is affected by illness or cancer is something that we all eventually experience.  When there is nothing we can do to change the outcome, we do our what we can to improve outlooks. Donating a ponytail is nothing to someone with a healthy head of hair, but to a individual who is suffering from alopecia or dealing with the challenges of an illness, it could make a huge difference.
No matter how my hair looks today when I leave the salon, I'll leave knowing I just got a great haircut!
Apologies to the gentlemen readers of de blog, but it's been over a year since the topic of the "girl talk" blog ventured onto the subject men would rather not read about.  Count your blessings. We could justifiably whine about our periods once a month, while sending all men we know postcards (or missiles) from Crankytown, but de blog women have better things to do.  Pardon us, as we delve into the one part of the female anatomy that fails to capture men's imaginations.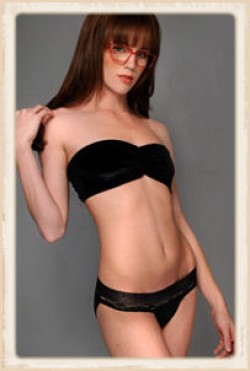 I was enjoying the company of a friend I've known forever when, in an enthusiastic conversational exchange, he accidentally got me with a bit of spittle. Had he not been so apologetic and visibly embarrassed, I might have teased him.  (After all what's a friendly little exchange of spit between old friends, eh?) Though I was unfazed, clearly, to him it was a less-than-fabulous  moment. We all have them.
The best days are those on which we feel fabulous, look fabulous or when circumstances convince us we are fabulous. In a perfect world, women would wake up every day feeling spunky, competent and beautiful.  Alas, this is not a perfect world.
Lack of sleep, too much stress, bad hair, favorite jeans in the hamper, or moments of self-doubt can leave us feeling less than fabulous.  Still, when it comes to being diva-rrrific, women have all the advantages. We have more wardrobe options and grooming helps than men care to employ.  Not only that, but are allowed to play dress-up whenever the mood strikes us.  That's one of many reasons I love being a woman, but there are so many more.  For starters, we can cry without having anyone question our sexuality, we carry cute handbags instead of sitting on sciatica-inducing wallets and we can do one thing men can't–give birth.
Anyone who has witnessed birth, knows it is a miraculous thing, but the downside of the miracle is approximately every 28 days fertility has a way of posing unpleasant inconvenience.  Nothing quite like cramping, bloating or bleeding to diminish our fab-quotient.
Even though it isn't always possible to feel our best, we don't have to surrender to everything that would drag us down.  I feel the same way about my period, as I do about maternity clothes.  It's bad enough to be in a less-than spectacular condition, without making it worse by wearing dumpy clothes. I want to wear what I want to wear, every day of the month.
That's why, when I first saw the new panties from Sexy Period, I had to have them. Not only that, but I wanted all my girlfriends to know about them.  Once upon a time, women burned their bras to symbolize women's liberation.  Stoke those fires again, it's time to burn your granny panties.
Smart, confident women have always defined fabulous, but the definition has now been broadened by two women who decided to turn their idea of sexy leak-proof panties into a reality. (Victoria doesn't know any secrets this good.)  I got in touch with the brainy beauties at Sexy Period, and they were more than gracious in offering to help me spread the word.  In fact, they are giving de blog readers a chance to win their choice of undies from Sexy Period.
So here's the deal.  Visit http://sexyperiod.com/store/collection/ to check out the goods. Then send de blog an e-mail with a photo of the panties you'd like to burn and a note telling us which smokin' hot pair of undies you'd like to win.  (Style, Cut and Size) Photos will be posted, but we won't identify which shameful panties are yours. A panel of judges will select the winner.
Just so we're clear here, this is serious (and lighthearted).  Photos should be tasteful.  This is not a solicitation for pictures of women in their underwear.  (Lord knows, there are already enough websites devoted to that.)  Men may send in photos too, but if any of my gentlemen readers are wearing panties, please lie and tell us they belong to your mother, sister, girlfriend or wife.
The more the merrier, so spread the word by sharing this link:  http://www.deblogsite.com/?p=3257
GOOD LUCK!
Entering: Contest is open to anyone 18 or over.  Entrants must submit a photo of the panties they'd like to ditch in a usable digital format. Along with the photo entrants will be required to specify which style and size of Sexy Period panties, they'd like to win.  Entries (note with photo attachment) must be e-mailed to: deblogsite@yahoo.com
Photos will be posted in a gallery format on de blog. By submitting a photo, you are agreeing to allow the photo to be used by de blog or Sexy Period for promotional purposes. To prevent panty-pervs from stalking de blog readers, entries will be identified in a way which does not disclose the identity of entrants.
Winning: Finalists will be selected by judges appointed by de blog.  Sexy Period will choose a winner from the finalists.  All decisions are the sole discretion of the judges from de blog and Sexy Period.
The prize will be one pair of panties (your choice) selected from www.sexyperiod.com.  It is the winner's responsibility to provide a valid shipping address in accordance with the delivery restrictions of Sexy Period.  Prize will be shipped directly from Sexy Period via U.S. Postal Service.   
Winner will be notified via the e-mail address used for entering, at which time, shipping address will be required.  After notification, the winner will have 5 business days to respond.  Failure to respond within the time limits, will result in forfeiture of the prize; in which case it will be awarded to another entrant, as selected by our judges.
Deadline: All entries must be received by July 31, 2011, (11:59 p.m. PST)
Photo and slogan "All 28 Days" are copyrighted material are used by permission of of Sexy Period. de blog reserves the right to refuse acceptance of any entry that is deemed inappropriate by de blog or Sexy Period.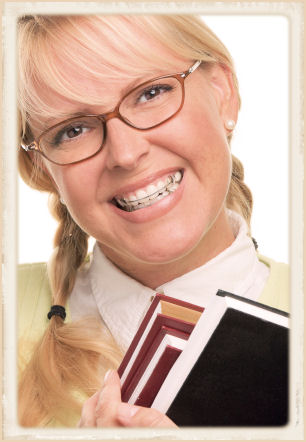 Recently, I had the pleasure of spending a holiday weekend with friends in their 70's.  My husband and I enjoyed their company immensely.  After the weekend, I found myself envying their active lifestyle.  They seemed to have the enthusiastic ability to go anywhere, hang out with anyone, and enjoy everything.  I know many younger couples who aren't as good company.
We are so fortunate to live in an era when older adults are more fit, more energetic and more active than ever before, but some people allow themselves to age before they need to. If I'm fortunate enough to live a long life, I'll be dyeing my hair an unnaturally youthful color and lamenting the fact that the fashions in the "juniors" department never used to be cut so small.  I can't help it, I come from a very long line of very vain people.  I hope to look as good as I can, for as long as possible, without appearing like an amnesiac who has forgotten her true age.
Don't misunderstand, I'm not crazy about looking  older, but I'm not interested  in trying to recapture my youth. There is plenty from my younger years I miss, but youth is largely over-rated.  With age comes many things that  threaten our health and well-being, but looking back on my younger years, I think I'm darned lucky to have survived.  By God's grace, I survived heartbreaks, angst, insecurities, stupidity, countless bad decisions and too many foolish risks.
I am very content with the age I am today, but have little enthusiasm for the "golden" years.  As I see it, if youth is Heaven and old age is Hell, I'm in chronological purgatory.  It's an awkward age, but I rather like it here, in this limbo between Forever 21 and AARP.  I'd be content to stay here forever, but unfortunately, I'll  soon be revisiting my past.  I'm going back to THE Awkward Age.
To go with the arms and legs that have always been a little too long for my body, his week I'm getting braces.  Which means, I'm just one bad haircut or acne outbreak away from puberty deja vu.  Braces are one of very few things I missed as a teen. Though braces are de rigueur for most teens today, when I was an adolescent they were reserved for families who could afford them or those whose dentitia was bad enough to mandate them.  Since I was in neither category, my dentist's best effort to straighten my teeth, without orthodontics, had to suffice.
I had considered braces a few years ago, because I'd never been completely satisfied with my smile, but as crazy as it sounds, seeing the computer-imaging of my face with a perfect smile, didn't seem like me.  My generous-sized Hispanic teeth, all aligned with perfection, was wasp-y and foreign.   On those computer-generated projections, I saw the smile I'd always dreamed of having, but I realized, I liked the one I had just as much. Unfortunately,whether or not we like it, our bodies are continually changing–including our teeth.  I had a couple issues in my mouth that continued to progress a little each year.  It was time to embrace a new smile in the hopes of having a happier mouth later on.  So…this week, I'll be joining the ranks of millions of adolescents with tin grins.
The preliminary phase of preparation for braces has been more uncomfortable than I'd imagined.  I wish I could feel more enthusiastic about the improvements the braces should bring, but right now, I'm just trying to enjoy a last hurrah with fresh vegetables.  While my teeth are lining up, like so many tin soldiers ready for inspection, I'll be missing chomping on juicy red apples, garden carrots, summer corn, crispy refreshing celery and delicious raw broccoli. Goodbye crunchy & chewy things, maybe we'll meet again when soup season comes.  At least I don't have to wear headgear.
Overheard from an 8-year old: "Snooki? I think that's short for Sun-burnt cookie."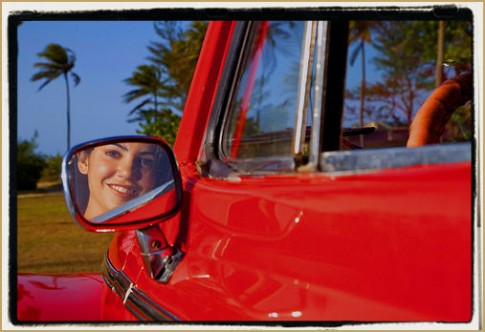 When it comes to summer sun and fun, it's all about skin and thin.  Preparing for vacations means striving to eat less, do more and get a some color, before the body's summertime debut.  Before you embark on efforts to get ready for swimsuit season, ask yourself where you'd want to go–not on vacation, but in the next five, ten or 20 years.
You can fake-bake in a tanning bed, but while the tan is temporary, the effects on the skin are not.  Today's California tan could turn you into a California raisin in a few years.  In addition to premature aging, excessive exposure to ultraviolet radiation increases the risk of developing melanomas, cataracts and can even suppress immune function.  The World Health Organization now considers ultraviolet rays to be a significant cancer risk–like smoking.
There are now a number of excellent tan-in-a-can products, but self-tanners do not protect the skin from the harmful effects of the sun.  Even with a tan, moisturizers and sunscreen are vital for protecting the skin.  Wearing sunscreen is one of the simplest things you can do to protect your skin from aging.  If you wear make-up, consider using an under make-up moisturizer with a good SPF.  It's an excellent practice all year long, but even more so during the seasons when we spend more time outdoors.
Readers, certainly you already know the dangers of tanning, but there there comes a time when you will either look at a friend and wish you looked as good, or be thankful you don't look as old.  Your good friends will say you look great, your best friends will convince you that you haven't aged a bit, but mirrors are not friends, they will tell the truth.
It would probably surprise the Beloved Soul Mate to learn we share a bathroom counter.  The poor gent hasn't seen ours in years, because it is well hidden under an unnecessary clutter of necessary stuff–like moisturizers and sunscreen.  Fortunately, we have our own sinks and mirrors and for some time, I have thought about personalizing the mirrors on our respective medicine cabinets, with little avisos like those on my car mirrors.  One mirror would say "Objects in the mirror are older than they appear", the other "Objects in the mirror are younger than they appear".  I'm not saying who gets which message, but I will tell you one of us never leaves the house without sunscreen.
FOR MORE information visit:
http://www.aad.org/media-resources/stats-and-facts/prevention-and-care/indoor-tanning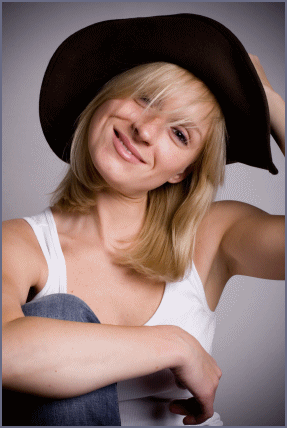 Overheard at Stagecoach: "Is that girl your girlfriend?"
"No, but she was last night."
I have just returned from Stagecoach at Coachella, a two-day country music festival presented in the dusty desert near Palm Springs.   The things seen & heard would be enough to provide material for a few blog posts, but two things stand out in my head.  Today I'll share first.
The Coachella festivals are about sun, fun & music; but the scene is also  about seeing and being seen.  Many women are hoping to catch mens' eyes, but the competition is stiff.  I'm unusual, in that it doesn't bother me in the least if Beloved Soul Mate is looking at other women.   (In my book, his sexuality would be suspect if he didn't.)  Fortunately, he's an equally good sport, when I occasionally admire the bodies of well-built men. (I say occasionally, because there are far too few well-built men for this girl with a weakness for a manly chests, shoulders and arms.) Arriving at Coachella, it was quickly apparent, we'd both get our fill.
So while, I was admiring a few chiseled pec-decks, he was  pretending not to see the thousands of girls who were sashaying around the campground in cut-offs and bikini tops or undersized swimsuits.   I considered adopting the mode du jour, of topping a pair of Daisy Dukes with a teensy set of "Dixie" cups, afterall, if Beloved Soul Mate is going to be looking at all the sexy women, there isn't any reason I can't be one of them, but going out mostly undressed isn't me.  No matter, even with me dressed there was no shortage of near-nakedness.  Every red-blooded male, Beloved Soul Mate, and I were all checking out the girl bods on display. Everywhere one looked, there there were small tops and small bottoms, some of which barely covered large tops and large bottoms.  Girls of every size, shape and shade of tan were on display.  A percentage of those girls looked amazing, but the greater percentage looked desperate.
Maybe I've turned into my mother, because I found myself feeling sorry for some of the young girls hoping their bodies would attract a man.  I felt sorry for the ones who would wake up after the weekend feeling used, because they've yet to realize the fleeting attraction of flesh, sorry for girls who don't yet have the confidence to trust the other stuff they have to offer, and sorry for the ones who don't realize they are encouraging men to take advantage  of them.  It made me thankful for my age.
It doesn't seem long ago, that I was one of the younger gals in any group, but time passes much faster than an inexperienced girl can imagine.  Fortunately, with time we learn a few things–including what makes for lasting attractiveness. Though it's isn't likely I'll be mistaken for a 20-something,  I love and admire the face I see in the mirror.  If I don't look too closely, or too early in the morning, I can convince myself I'm beautiful.  More than that, the woman in the mirror, knows stuff.   Her face is full of joy, strength and the wisdom of lessons-learned.  The innocence of the face that used-to-be, has been replaced by one that is the product of  life-experiences–a substance sort of like cosmetic fillers for the psyche.  My vintage face is not nearly as perfect, as the face I wore at 25, but it isn't a bad substitute for the one that preceded it.  Truth be known, I like this one better.
The attractive young girls, compare themselves to older women and can't  imagine ever being one.  They look at the aging bodies of their mothers and are justifiably smug about their bodies and fresh faces.   Why not?  To young women, external appearance is beauty.  What they don't know is while they are feeling smug about their attractiveness, I am feeling equally smug.
If any one of those young gals woke up tomorrow with grey roots or crow's feet, she'd be lost, devastated.  She  wouldn't know who she was.  She might readily trade her soul for the perky breasts or pouty lips she once took for granted.  Those young girls might be beautiful, but they know little of the kind of beauty that lasts.