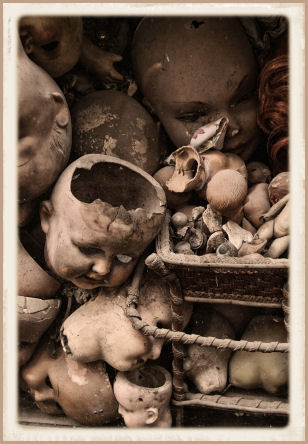 It's hard to know all the specifics of child sacrifice in Pre-Columbian America. Why were they killed?  How many were there?  By whom and to whom were they sacrificed?  Anthropologists have found the remains of 42 children near the Great Pyramid at Tenotchitlan.  National Geographic counts another 17 found near Mexico City, but the mysteries of this barbaric practice, pale in comparison to the grisly discovery of the remains of more than 45 children Philadelphia.
The stories from ancient ruins are unearthed and pieced together with educated guesses, but the evidence in this latest discovery of infanticide and child sacrifice, leaves little to the imagination.  Not since the trial  of Jeffrey Dahmer, has there been a case any more disturbing, than that of Philadelphia abortionist, Dr. Kermit Gosnell.  It is a story of with every kind of evil…murder, greed, drugs, racism, vice, politics, sexual deviancy, and horrendous medical malpractice. Read the rest of this entry »
I was with an animal activist friend recently.  She devotes her time and resources to rescuing and caring for abandoned animals.  On a recent beach walk, she found a dog buried in sand and debris.  Somebody had cut and forced a milk jug on to the dog's head.  When she found him, the jug was partially full of sand and salt water, because the dog, now starving, was too weak to move away from the edge of the water. This detestable cruelty to an innocent creature, left her feeling violated and emotionally weak. When she recounted the event to me, she was still having difficulty with the troubling images in her head.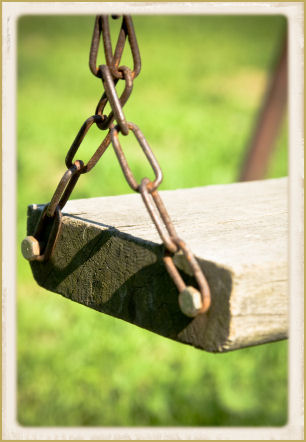 Anybody would have been disturbed by this detestable act, but to her it was especially painful.  Someone had attacked what she works so hard to protect. She was left desperately struggling to answer questions.
Why would somebody do this?
How could anybody do something so hateful?
Why would anyone want to harm the harmless?
Just days after the Sandy Hook shooting, many of us are asking the same questions.  Somebody attacked the very beings we most care for and want to protect.  In a desperate attempt to answer those questions, there is a flurry of speculation about causes, motives and solutions.  There is clamor about guns and gun control.  There are calls for better intervention for the mentally ill.  Many blame society,  problems like bullying, the decline in morality, or the rejection of God. Read the rest of this entry »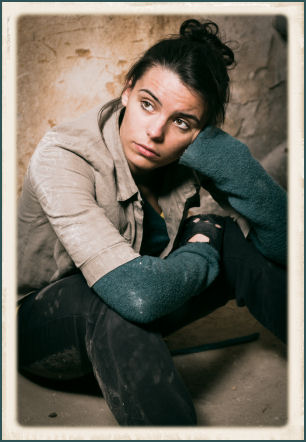 What would it take to make you happy?
Freedom from health problems?  Restoring a relationship?  Being with a lost loved one again?  For some the answer is easy, for others there is no answer.
Lest we forget, life is unfair. When a friend is diagnosed with a terrible disease, when we learn of an untimely death, or when we witness the devastation caused by natural disasters, like Hurricane Sandy, it is clear our fates are often determined by things we cannot control, things that have nothing to do with who we are, or how we have lived.
Those whose lives were changed by Sandy, know nature can be cruel.  There was nothing fair when families watched Sandy wash away the material evidence of their lives, while other homes were spared.  The injustice of this will cause some victims to be angry and bitter longs after the debris has been cleared and their homes have been rebuilt.  Yet, even in the midst of great suffering, there are always those who find a way to smile through their pain.
How is it that people can experience the same kind of tragedy, yet some emerge stronger, while others remain mired in the pain of the past?  How is it that some have the strength and optimism to focus not on what they've lost, but on what remains? Read the rest of this entry »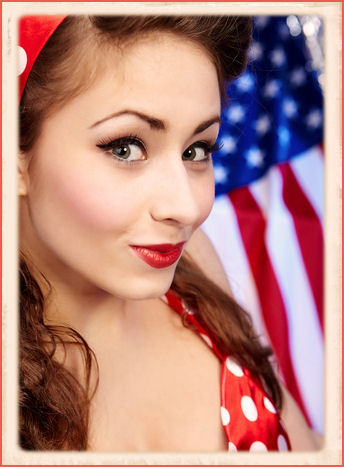 Every woman who has ever been in a relationship with a man, and every man who has ever been involved with a woman knows decent people don't always agree.  Often, little disagreements come up because of differences in the male and female perspectives. Like partisans of two different political parties, sometimes people who mostly get along, just see things differently.
Many women are bored or disgusted by politics, but because what happens in Washington doesn't stay in Washington, we owe it to ourselves to pay attention to the laws and leaders that potentially effect aspect of our lives.
The choices we have, whether personal or economic, are often determined by the perspective(s) of the two dominant political parties.  But, just as being a woman doesn't mean that women are of one mind, the choices offered by Democrats or Republicans can't begin to reflect all the viewpoints of Americans. Read the rest of this entry »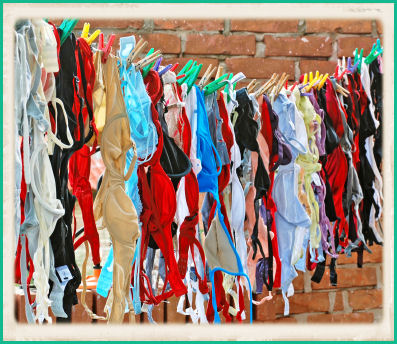 "What is it with women and their bras???", asks a guy overhearing us gals talk about ours.
I always feel bad for male readers, when the topic of the day is something most can't relate to.  Today might be one such day.  Most men don't understand bras. They don't understand why we wear them, why we like them, and they certainly don't understand why we spend so much money on them.
Love 'em or hate 'em, the answers to those questions could be the subject of another post, but today the  focus is on a man who knows the power in a bra.
There are women who hate bras, but I love them. They are vital in encouraging "the girls" to stay close to home.  Everyone knows home is where the heart is.  Additionally, my mother taught me, the importance of dressing in layers.  With that in mind, I figure I might as well make the first layer a good  one.
Since their invention, we have been shaped by our bras, as they defined both feminine beauty and feminine roles.  Bras have never been more significant than they were in the The 20th Century, when bra-burning became an emblematic act for the cause of feminism.  After women stopped burning their bras and went back to wearing them, bras got all girly again–until now.
In the 21st Century, the bra is being used to liberate, empower and provide economic freedom for women. Free the Girls is a non-profit organization, which came into being, because of one-man's awareness and compassion for the plight of sex trafficking victims in Mozambique.
In America, the freedom women have over their bodies is taken for granted, but in other parts of the world, the loss of virginity, an out of wedlock birth, or a sexually transmitted disease can mean being stigmatized, ostracized or even killed. For women who are sold as sex slaves, getting out doesn't always mean freedom from the past. Those who manage to escape, carry with them the painful memories, but many also face health problems such as HIV, or may have trouble finding work, either because they are social outcasts, or because they have no education. Read the rest of this entry »
There are women wh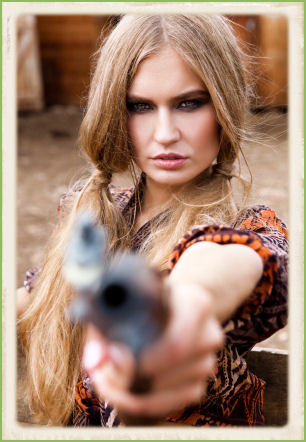 o are afraid of strangers.
There are women who are afraid to be home alone at night.
There are women who are afraid of big cities.
There are women who are afraid of walking to their cars in parking garages.
There are women who are afraid of guns.
I am not one of those women.
I have lived in some neighborhoods that won't ever be featured in Better Homes and Gardens, but I have never felt I needed a gun. Beloved Soul Mate has wanted me to have a gun to protect myself, but I've never wanted one. I suppose I'd secretly hoped that if I were ever in that much danger, there would be a man nearby to protect me.
Despite this, I bought a gun.
The were two main factors in my decision.  The first was owning a cuter-than-cute holster, made of oiled leather.  Lord knows, I've always been a sucker for good leather and it just seemed a shame to let this potential fashion accessory languish in the closet, when I could be wearing it, but having a holster and no gun, is like having a fabulous C-cup push-up and nothing to put in it.
The second factor was good-ole girl spirit.  Most people don't respond favorably to the word "no", but that word affects me in the same way a spur affects a horse. It makes me highly motivated. Whenever people tell me I can't do something, my smile says, "Watch me." So recently, with so much political energy being spent on stripping away the rights of gun owners, I knew the time had come for me to own a gun.
For the last couple years, I have been splitting my time between my two "hometowns".  One is the city in Southern California I now call home, the other is a town in rural Arizona, I used to call home.  They are 400 miles and worlds apart from each other. In one, if you show up at the 7-11 with a gun at your side, the clerk will trip the alarm. In the other, guns are welcome, except in places like saloons and City Hall, where arguments sometimes get heated.  In one town, guns are respected, in the other they are feared, but like the saying goes, "An armed society is a polite society."  Perhaps, this is why there is less gun crime in my Arizona hometown, than in my California hometown.
It takes more courage to own a gun, than to use one. For me, being a gun owner is scarier than being unarmed, because at the moment of the purchase, my name was added to a list of persons who can be legally detained without charges, as per the terms of the 2012 National Defense Authorization Act (NDAA).  This bill makes owning a gun a good enough reason for the government to take me away and hold me indefinitely, without charges, like Jews in the time of Hitler.  With the adoption of the NDAA, owning a gun in America, has never been more dangerous.
I am hoping never to need this gun, but I needed this gun. Buying it was a symbolic vote for American freedom and liberty. When I made the purchase, I knew the gun was more likely to cause me harm, than guarantee my safety, because I am exactly the kind of person our government seeks to disarm.  Like any other American with a sound bill of mental health, I hate fighting and killing, but like our founding fathers, I believe in the right of Americans to defend themselves and their property.
Unfortunately, the rhetoric of peace (which is also the rhetoric of disarmament) is misleading. The problem is those who would arm themselves to preserve lives, are always disarmed before those who would arm themselves to take lives.  What the anti-gun crowd touts as the way to end violent crimes and killing, inevitably results in the opposite.
A recent news bit reported that China disapproves of American gun rights, calling them a violation of human rights. The same China that disarmed its citizens, then massacred 73 million of them, is telling us guns in the hands of citizens are bad????  It's ironic, but across the globe, every maniacal dictator and horrific massacre of citizens was preceded by an attempt to seize guns from the innocents, who would later become victims.
Guns in the wrong hands ARE bad, but guns have also done the world a world of good.  Lots of guns were needed to end slavery in America.  After that war, lawmakers enacted provisions to give the newly emancipated slaves the same right to own guns as every other American citizen, so that they'd have a way to protect themselves against sore losers and such, but you can be sure, many would have preferred to keep the "Freedmen" defenseless.
Fast forward to the era of Fast & Furious…it isn't clear why the same government that gives guns to bad people, wants to take them from good people, but in an another affront to our constitution and civil liberties, our leaders plan to sign The Arms Trade Treaty (ATT). Listen to the rhetoric and you'll be convinced this international treaty is for the good of all mankind, but before you surrender your arms, you should know what's at stake.
The first problem with the treaty is that it was created by one of the most anti-American groups on American soil. Largely funded by The United States, The United Nations was created to promote peace and human rights.  Their mission was to assist in humanitarian efforts and to promote economic development across the nations.   Sadly, the agency has a dismal record in every one of those areas, and has done little, if anything, to make the world a better place. They have turned a blind eyes to countless genocides, cooperated with oppressive governments, misappropriated humanitarian aid, and propagated corruption of all sorts, including the sex trafficking of women & children. There are some things the U.N. does well, chiefly, they promote contempt for America, make money disappear and seem to be pretty good at covering the shameful tracks of their misdeeds.
Spokespersons for the treaty tell us the intent of this treaty is to prevent small arms from ending up in the hands of rebels, criminals, drug traffickers and other bad guys.  That's good, right?  Less guns means less killing, but  gun control isn't about controlling guns, it's about controlling people.  The Arms Trade Treaty is a back-door way of rendering America's Second Amendment null and void. It is a way of lessening American sovereignty and chipping away at our constitutional freedom.
This bait and switch tactic has been used by the U.N. in the past, to get nations to sign on to treaties which were promoted as necessary for human rights, but later reinterpreted with other intents.  Previously, the U.N. convinced nations to adopt The Convention on the Elimination of all Forms of Discrimination Against Women (CEDAW) and The Convention on The Rights of the Child. Though both sound noble, they have been used to degrade the freedoms already held by those who we were told they would protect. Both have been used to create a transfer of parental authority to the governments, so that women could work while the government took control of their children.
It is widely believed there is no threat of us being held to this treaty unless the Senate approves it, but under the terms of The Vienna Convention, the treaty is enforceable as soon as it's signed.  We are bound to its terms as set forth (and/or reinterpreted) by The United Nations, until such a time as the Senate chooses to overturn it, but we won't likely ever see that happen, because those who want to sign it want to nullify the second amendment.
Guns and peace are mutually exclusive in the double-speak of the U.N., because the U.N. is not committed to peace.  U.N. peacekeepers don't keep peace or protect anyone.  In fact, under the watch of U.N. peacekeepers women and children have been routinely victimized.  Where I come from, we don't need peacekeepers, because we have something call a peacemaker.  It's a Colt .45, and I can tell you it's a hell of a lot more effective at keeping women & children safe than than U.N. peacekeepers.
There are women who believe the government will protect them.
There are women who believe all guns are bad.
There are women who believe we would all be safer without guns.
I am  not one of those women.
Go back to bed America, your government is in control –Comedian Bill Hicks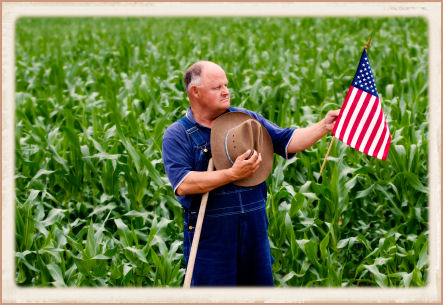 Men are often responsible for "putting groceries on the table", but it is usually women who shop for and prepare food for the family.  Unless you are one of those lucky women whose husband does the cooking, you are probably the resident food expert in your house. As such, it is assumed you are qualified to figure out how (and what) to feed your family.
Our meals reflect our cultural roots, our values and our lifestyles. What we eat is a vital part of who we are. In America, we have been fortunate to enjoy readily available, wholesome and affordable food, as well as an abundance of  choices. We choose the foods we think best suited for our families, that's why I get concerned when outsiders want to step in and control our choices–like the meddlesome do-gooder who made a preschooler buy a school lunch of chicken nuggets, after declaring the turkey & cheese sandwich her mother packed unhealthy.
Say what?  That doesn't make any sense, but increasingly there are many things going one with our food supply that are equally puzzling. For years we've been told to avoid foods with too much fat, sugar, or sodium. The government has urged us to refrain from eating processed foods, but now it seems our  government agencies don't want us eating natural foods either.
The First Lady, has made it her mission to try to lower obesity in our children. It's a noble goal, but public policy rarely changes private behavior. Prohibition didn't stop drinking, speed limits haven't stopped speeding, and "Just Say No" hasn't stopped kids from trying drugs.  Likewise, there is no amount of government cheerleading or education likely to make those of us who enjoy eating, switch to rice cakes and water.
But, for the sake of argument, if I were to suddenly be motivated to follow Michele Obama's lead, I'd probably start by eating the healthiest fruits and vegetables available. That would mean locally grown, organic produce farmed with sustainable methods, dairy products from grass pastured cattle, and meat from animals that hadn't been pumped full of hormones. One would think that would earn me some points with the president who promised us the "greenest" administration, but it is just as likely I'd earn an FBI file for associating with food-producing felons.
Over the last few years increasing numbers of farmers, ranchers and other food producers have found themselves on the wrong side of the law, for doing what Americans have done legally for more than 200 years–producing food.  Take the very peculiar story of raw milk supplier James Stewart.  His Venice, CA business, Rawesome Foods, was raided by armed gunmen in something akin to a S.W.A.T. action.  Approximately 500 gallons of raw milk were destroyed.  Stewart alleges he wasn't shown a warrant or read his rights, yet he was shackled, arrested, and held without bond for a bail higher than Jerry Sandusky's.  Stewart also alleges he was tortured while incarcerated.
The raid was conducted under the guise of food safety, but those who drink raw milk, do so because they believe it has health benefits, not found in pasteurized milk.  Raw milk is occasionally contaminated by E. coli, and other dangerous pathogens, like those occaisionally found in the foods inspected by federal regulatory agencies. It is known that raw milk,  like other farm products can cause illnesses, but unless there is more to this story, it doesn't make sense.  At least the customers of Rawesome Foods were required to sign waivers, stating they were aware of dangers associated with raw milk, before they were allowed to purchase it.
Then there was the case of the Food-to-Fork dinner party held at Quail Hollow Farms.  Guests paid to attend what should have been and exquisite harvest feast, but shortly before dinner was to be served, the atmosphere of the dinner party turned to that of a drug raid.  Ignoring those pesky laws prohibiting unlawful search and seizure, the food prepared for the occasion, was dumped into garbage cans and doused with bleach.  Once again the justification for the raid was public health and safety, though the food destroyed was arguably of a higher quality than what most of us regularly eat.  What happened at Quail Hollow doesn't make sense.
This past month, legislation in Michigan required some hog farmers to destroy their livestock. The Michigan Department of Natural Resources called for the destruction of a certain natural resource,  known as heritage pigs.  These naturally occurring breeds were neither diseased, nor defective, but they threatened the business interests of larger pork producers who raise and sell genetically modified pigs.   With nothing more than a vague set of criteria, pigs that didn't look like those bred by big pork producers were to be destroyed, or their owners would face felony charges.  Curly tails, floppy ears and colors other than pink, are enough to get those pigs the death sentence. In Michigan it is not permissible to eat natural pork, but it is perfectly acceptable for big business to eat small farmers.
Across the nation, there are attacks on American agriculture.  Water is withheld from farmers causing the loss of jobs and livelihoods.  Ranch and farmlands are seized to protect species nobody cares about, with little regard for the species of homo-sapiens, who will become endangered without food.  Activist groups, like PETA and Humane Society of The United States, won't rest until America becomes a third-world country like India–starving while surrounded by environmental sacred cows. The latest assault on farmers, is the Labor Department's attempt to overturn an American tradition, by making it illegal for kids to do chores on family farms.
Though most would would agree saving the planet, food safety and child labor laws are good, when things done in the "public interest" are detrimental to ordinary Americans, one has to wonder whose interests are being served. Campaigning in 2007, Obama vowed his administration would not cater to the special interests of agribusiness giants like Con-Agra, but despite his pledge, he was quick to appoint several individuals linked to agri-chemical manufacturers, like Dupont, Danforth Science, and Monsanto, to important government positions.
Baby boomers may remember Monsanto as the company who first gave us a glimpse of the future at Disneyland, but their  Tomorrowland exhibits failed to warn us of the environmental hazards they'd cause or the harmful products they'd create. Neither did their exhibits offer explanations of how they would repeatedly falsify data and bullly our government into approving the use of  products with known dangers.  Monsanto, whose exhibits promised a better future through chemistry, can now proudly claim among it's contributions to America, the legacy of Agent Orange, PCB's, dioxin pollutions, bovine growth hormones and bee colony collapse.
Monsanto has been charged with things ranging from polluting to violations of anti-trust regulations. They have have sued or threatened farmers, as well as those (like The State of Vermont)who call for laws requiring  labeling of genetically modified or engineered foods.  It isn't surprising that Monsanto seeks to stifle critics and eliminate their competitors, as they seek control of an ever-larger share of the global agribusiness market, but it is shocking that they do it with the complicit support of our government.
If the government is so committed to food safety or the environment, why do they readily turn a blind eye to the corporate evils of companies like Monsanto? Why does the same government intent on protecting us from the dangers of raw milk and farm-fresh foods, condone the actions of a company with a long history of polluting the environment, endangering the public and tampering with our food?
The government would have us believe they are acting in our best interests, but a government that hampers the ability of a nation to produce its own food or allows a corporation to control the nation's food supply is not acting in our best interests. Allowing the  farming, business and industry, which were once the backbone of our country, to be broken by high costs and endless regulations, doesn't make any sense, unless our government is working against our interests.
Deb's Note: Though this post addresses recent events, Monsanto's foothold in our government precedes the politics of the current presidential administration.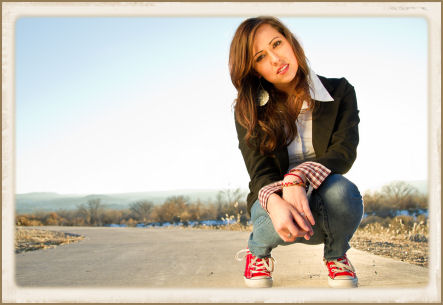 Contrary to popular belief, prostitution is not the world's oldest profession.  That distinction belongs to motherhood.  Yet there are still those who do not consider it an occupation of any import. With the media's predictable tendency to inflate any bit of brow-raising news or any careless sound bite into a soap opera-like saga, could there be anything more boring or tedious than having to revisit this subject again?
Without motherhood, there would be no scientists, no philosophers, no great thinkers and no courageous leaders, needless to say, neither would there be any prostitutes, criminals or  politicians.
Sometimes it's difficult to tell the difference between criminals, prostitutes and politicians, because the self-interest of politicians, is apt to turn them into prostitutes or criminals, willing to do any shameful thing for a price. Washington is full of these types, most of whom make their living as congressmen, lobbyists or political pundits–like Hilary Rosen.
Her thoughtless remark, suggesting Mitt Romney's wife's choice to be a full-time mother, disqualified her from being able to speak intelligently on anything outside the home, is typical of those who believe women who have committed themselves to raising some fragment of the next generation of Americans, are inferior thinkers. But as is often the case, her would-be insult, was more indicative of her character, than it was of the one about whom the remark was made.
She seems to think those who choose full-time motherhood, do so, because they aren't qualified to do anything else–demonstrating her prejudice and contempt for women, different than she.  Clearly this woman believes she is smarter than stay-at-home moms like Ann Romney–but she is, at the very least, ignorant of the reasons reasons women choose home, over career.
When parents make the decision for the mother to stay home, it often means choosing between the security of a second income and what they believe is best for their family.  Whether an emotional or philosophical commitment, it is a reflection of the parents' values and/or moral convictions.  This is particularly true of members of the LDS church, because the basic tenets of  the Mormon faith, emphasize the importance of the family. That's neither an endorsement of Mormonism, nor an indictment of other faiths, it's just a fact.  (Any political pundit, worth her perks, would have boned up on Mormonism, enough to know this.)
Looking down her nose at the women whose most important lunch dates involve peanut butter sandwiches, or whose late-night strategy sessions require knowledge of Popsicle stick construction and solving for" X", Rosen is evidence that no matter how high up the ladder a woman climbs, some are still unable to rise above cattiness or hypocrisy.  According to a  bit of gossip found on Open Salon, Rosen and her former domestic  partner Elizabeth Birch, regretted adopting children, after realizing how much work kids are.
Whether the remark made by Dan Quayle regarding the unwed mother represented by "Murphy Brown" or Hillary Clinton's  demeaning tone, when she referred to "a little woman" standing by her man, the tendency to drag women into political campaigns is wearisome and transparent.
The title of "housewife" may not sound important, but in addition to the mundane duties as housekeeper, cook, teacher, and chauffeur, on any given day, a stay-at-home parent, may be  required to also act as Assistant to the Chief Executive, Manager, Economist, Counselor, Specialist in Conflict Resolution and Mediation, Medic, Logistics Manager, Procurement Specialist or any other number of roles.  In a perfect world, every little girl would grow up to live the life she'd dreamed of having, whether or not it  included a husband and children.  Unfortunately, we don't always have control of the way our lives play out.  Sometimes we make choices, sometimes choices are made for us.  Nevertheless, as daughters, women, wives, or mothers, women are often required to do a little bit of everything.
We may not do it all well, but most of us do it all.  Those vain or foolish enough to believe they know best for the collective of women, would be well-served not to underestimate the intelligence or abilities of the women with baby throw-up on their shirts.
Deb's note: Speaking of throw-up, I feel like I might..every time I hear someone pandering apologetically to mothers by saying "motherhood is the hardest job."  As a stay-at-home mother, I think being a member of the military or career woman forced to leave my children in the care of others, would be far more difficult.  What I have chosen is a delightful challenge.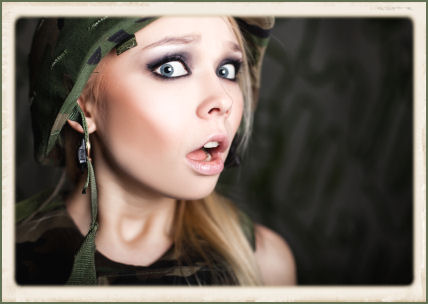 It's over.
Finished.
Kaput.
American women need to call for an armistice, or be ready to hoist their whitest panties on poles to surrender. Like so many other conflicts, The War on Women has become a no-win situation.  Born out of the high ideals of suffragettes and the women's liberation movement, our preoccupation with gender has become akin to a revolution in a banana republic, when civil unrest soon turns into a confusing battle, where it's no longer clear who is fighting whom.
Not so long ago, women had fewer rights and were not valued for much more than man & child tending. Unmarried women were viewed with pity, for their failure to find husbands and women coveted the matrimonial link, because it validated them and provided a "proper" means by which to have a family.  Then came the revolution.  It started well, but eventually our preoccupation with "women's issues" became self-defeating.
Though women can easily follow the conflicts of Gabrielle, Bree and Edie or track the complicated details of the love lives of Carrie Bradshaw, Samantha Jones and any number of girlfriends; most of us find the details of war, far less engaging. Perhaps this is why we failed to notice when we started losing the war we'd started.
Since the beginning of the battle, women had been steadily advancing on every front.  As individuals, we commandeered the power to decide for ourselves whether or not to marry, whether or not to have children, whether to choose career or family.   Outside the home, women were proving they could survive and thrive in what had previously been a man's world.  As leaders, CEO's and top wage-earners, women were gaining influence and credibility in business and industry. Voting blocs of women were now critical in determining the outcomes of elections.
We were winning the war.  Then came the ambush,when they labeled us a special interest group.
Special can be good–but too often the term "special" calls to mind those who are disadvantaged in some way–as it is when used to describe Special Education or The Special Olympics.  While we thought we were finally gaining much-deserved equality,  folks in Washington were trying to figure out how to put us the political equivalent of the special bus, dictating where we could go and what we could do.  They convinced us we needed Affirmative Action to win jobs or gain college admissions–suggesting that without a headstart in the race, we could never run as well as our competition. Unfortunately, many women believed this.
There were those who tried to convince us the trappings of femininity were the cruel inventions of a gender-biased society, causing men to objectify and disrespect us.  Others began crusading to insure education curricula mentioned women often enough, that we'd be reminded often of just how very "special" we are.
The war which was started as an effort to win equality, was no longer about equality, because being a member of a special interest group entitles you to an unfair advantage–or what would be known at the Augusta Country Club–as a handicap.  Though women are allowed to have women-only associations and girls-only schools, every formerly male-only institution from The Citadel, to Augusta would eventually come under attack.  The fight to get federally funded breast cancer research, was allowed to eclipse the need to fund research for more deadly diseases.  Women's wages were often held up as evidence of prejudice toward women in the workplace, without factoring in career hiatuses many women take to start or care for family.
We started losing the battle, when we lost the hill–Capitol Hill.  We were losing ground, because we were allowing politicians to turn every issue into a women's issue.   (Women have enough issues, without needing men to create more.) Now just a few generations of feminists later, America has produced some of the most helpless women since Gone With The Wind.
Somehow the feminists of the "Our Bodies, Our Selves" credo, have been replaced by generations of women of the "my body–your politics" ilk.  What happened to women's desire to be self-determining?  When did choosing motherhood mean women, like Ann Romney, no longer had a valid opinion? Weren't we fighting for the right to choose between family & career?  When did women become so indoctrinated, as to allow the political fitness of candidates to be trumped or invalidated by their stance on abortion?
Using our preoccupation with our bodies as a booby trap set to trip on economic and religious freedom, birth control, which had once given women unprecedented freedom and autonomy, was now a carrot on a stick intended to distract us from the real issues.  Positioning Sandra Fluke as a heroine, behind whom we should rally, political strategists were betting on the lesser thinkers in the of the special group of femalians, to react (as women often do) with emotions, instead of logic–as if a disingenuous Georgetown law student, not bright enough to procure her own birth control, would be someone we should admire. They were convinced we'd all be so angered at the thought of not having free birth control pills in our designer handbags, we would willingly ignore larger issues which could potentially harm our families. Reminding us once again, those in power believe we don't think well enough to make decisions in our own best interest.
Yesteryear's feminists were committed to freeing women from their dependence on men, but today's feminists seem eager to embrace the government as a surrogate husband/provider.  The Left accuses the Republicans of waging a war on women.  The Right throws the accusations back on the Democrats.  Make no mistake, this war now has everything to do with politics, and nothing to do with the welfare of women.
Like a woman who dates a seemingly perfect guy, believing he really cares about her, only to later learn he was just using her to get back at his ex-; we have been used.  We were political pawns, sold out by both our allies and our enemies, for political gains. We've come along way baby, but we may have been going the wrong direction. After so many years of trying to rise above being disrespected by men, politicians have succeeded in causing us to willingly lie down and be used.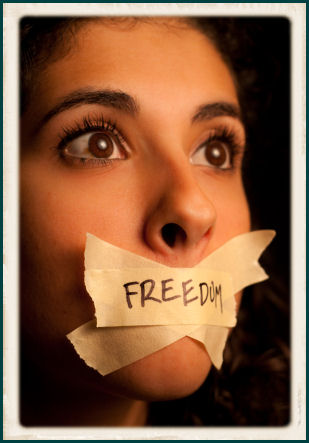 One shouldn't laugh upon receiving a letter from a law firm charging them with defamation and/or libel.  There is nothing funny about being charged with crimes one hasn't committed. Even so, seeing the big letters BFD at the top of the letter caused me to giggle sophomorically.  I found the charges therein to be equally laughable. The letter came from the law firm of Baca, Findlay & Dziak, which purportedly represents T.S. Wiley, the developer of bioidentical hormone replacement therapy (BHRT) known as The Wiley Protocol.  In addition to accusing me of malicious intent, defamation, libel and  something called tortious interference, the letter demands I correct and retract all statements made to harm the various interests and entities associated with The Wiley Protocol.
The mission of this blog, is now and has always been, to provide women with interesting, empowering, edifying and thought-provoking information. Though every opinion I share may not be agreeable or correct, nothing here is ever written with malice or intent to harm anyone. I may at times be snarky, but I am not malicious even with my would-be enemies.

Furthermore, though some have no problem exaggerating their credentials, I am not comfortable inflating mine.  Reluctantly, I call myself a writer, but am degreed in neither English, nor Journalism.  I am a blogger, and as such, I direct the reader to what is stated on my ABOUT page.
"My opinions may make some uncomfortable. If you find this to be true, please realize they represent one woman's take."
Even so, I have this governing thing within me called integrity.  It's a nuisance, but it compels me to strive to write with fairness and accuracy.  Additionally, because I esteem highly the intelligence of my readers, I make every effort NOT to write things which can't be substantiated.
That being said, if I had any intent to harm any of the Wiley interests, I could have linked to sites which discredit The Wiley Protocol, or quoted the testimonials of  former Wiley Protocol users.  I could have linked to comments of Wiley's former colleagues, including Bent Formby, Ph. D, who served as lead investigator on two of  the three(?) published research papers which bear her name.  Formby, who has distanced himself from The Wiley Protocol, has spoken out about Wiley's lack of academic understanding, and her unwillingness to conduct clinical trials on The Wiley Protocol.
The text below (in red) is transcribed verbatim from the letter from the offices of BF&D, dated March 13, 2012.  (Prepare to be confused.)  The italics indicate my response.

This law firm represents T.S.Wiley individually and Wiley Chemists, Inc., and we have been asked to write this letter to you.  Many of your statements about my client in your March 6th, 2012  www.deblogsite.com  posting are untrue and defamatory.  You have clearly made them maliciously to injure Wiley Chemists, Inc. in its trade, office and profession. As such they are defamatory per se. Under Cal. Civ. Code §§44, 45a, and 46 this letter constitutes a demand for immediate retraction in writing on www.deblogsite.com  of these false and libelous statements.
In accordance with Cal. Civ. Code § 46, my client demands that your retraction and correction be accompanied by an editorial in which you specifically repudiate your libelous statements.  Your web postings and conduct constitute tortious interference with the business and contractual relations of Ms. Wiley and Wiley Chemists, Inc.  As such they are actionable and expose you to the imposition of compensatory as well as punitive damages.  Furthermore, if my client is forced to file suit to stop your wrongful conduct, it will also seek an award of it s attorney fees and related litigation expenses.
Below we have noted some of the more patent, malicious and libelous comments made by you in your posting; some of them also evidence your tortious interference.  Please note, however, that this listing of your errors does not constitute a complete nor exhaustive tally of all the defamatory errors present in your posting.  Nothing stated herein is intended as, nor should it be deemed to constitute a waiver or relinquishment, of any of my client's rights or remedies, whether legal or equitable, all of which a hereby expressly reserved.  This letter is a confidential legal communication and is therefore not for publication.
Notice it says, "Below, we have noted some of the more patent, malicious and libelous comments made by you in your posting."   However, I didn't say ANY of the things listed below, nevertheless, I am prepared to address each statement individually.
-Ms Wiley's protocol is supported by over 100,000 pages of peer reviewed bench science.
If you say so, but I owe it to my readers to explain that though Teresa Sue Wiley cites the research of others exhaustively, many of her citations, neither validate, nor support her hypotheses.  The statement above suggests there are 100,000 pages of research directly related to The Wiley Protocol, but The Wiley Protocol has yet to be evaluated by conventional scientific method.  It has not been subjected to a randomized placebo-controlled double-blinded study. At this time, there are no published studies regarding the safety or efficacy of The Wiley Protocol. To date, the only studies, I am aware of, are uncontrolled observational studies. If I am wrong on this, I will eagerly set the record straight and am happy to provide links to any published or peer-reviewed research done in specific regard to The Wiley Protocol.

-Ms. Wiley is a published and recognized scientist and has never held herself to the public to be any type of medical doctor, whatsoever.
Once again, this list confuses me. I clearly stated that she is not a doctor in the following statement, "Experts who have spoken out against this course of treatment, say the dosages Wiley "prescribes" are dangerously high, but Wiley says she's not prescribing anything.  She can't.  She's not licensed to practice medicine.  Instead, she has a cult-like following of doctors who are treating patients with her protocol.  She holds the patent, so presumably she makes money without having to worry about being sued for malpractice.  "  Notice the use of quotation marks around the word "prescribes".
You accuse me of "erroneous and false statements".  I am not sure by what chutzpah or civil code, you accuse me, as clearly we agree she has no medical background.

-Your failure to quote or cite to opinions or statements of any identified experts supporting your position smacks of base and unprofessional journalism.
Again, I am a blogger, not a journalist, however, I linked the piece to an article published in Newsweek which quotes the opinions of Dr. Isaac Schiff, Professor of Obstetrics and Gynecology at Harvard Medical School, as well as the opinion of Dr. Wulf Utian, founder of the North American Menopause Society, Gynecologist and consultant at Cleveland Clinic.  (Incidentally that authors of the article, Barbara Kantrowitz and Patrice Wingert were awarded The Endocrine Society Award for Excellence in Science and Medical Journalism for the article.) Some might think the failure to fact-check or accurately characterize what I wrote, smacks of of sloppy lawyer-ism.
-You mention a "following of cult-like doctors" but do not provide even one appropriate example.
For which you should thank me, as I didn't want to go there, but once again, you have carelessly misquoted and misrepresented what I wrote.   What I actually said was "cult-like following of doctors".  The term "cult-like" refers to followers of a particular thing.  The statement is value-neutral and could be interpreted as an endorsement of T.S.Wiley's protocol, as it seems many are convinced Wiley is a visionary. The statement is no more derogatory than it would be if I were to say, "The Grateful Dead still enjoys a cult-like following."
(Incidentally, the woman in this video alludes to what has been previously said by me and others about Wiley's credentials.)
-Ms. Wiley never prescribes any medication, of any type, to anybody; licensed doctors do.
Not sure what issue you meant to address here.  My statement was, "She can't prescribe anything–she's not a doctor".   However, the video linked  calls into question the meaning of  "prescribing".

-The article is rife with biased "reporting" and a complete lack of fact-checking and/or journalistic professionalism.
The statement above is false.
I research and fact-check before I begin writing.  Because of my own interest in The Wiley Protocol, I was researching it long before I realized it was a pertinent subject for my audience.  Initially, it sounded SO good, I was well on my way to becoming one of T.S. Wiley's fans.  I ordered and read both of her books. As I researched, I began to have questions about the safety of the protocol. I wouldn't have written this article, if I couldn't back up what I said.  I am happy to correct any statement, which I believe is misleading. (To avoid having to waste time with more threatening letters from the distinguished firm of BF&D, I will refrain from sharing my opinion of her books.  Those interested, can read what others have said on Amazon.)

Your failure to retract and/or correct ALL of your erroneous and false statements and their repetition after notice of their falsehood constitutes further publication of libel.  It also confirms your malicious intent.
If you do not immediately publish the requested retraction, and CEASE AND DESIST from tortious interference  and making false and malicious comments about Ms. Wiley, The Wiley Protocol, or Wiley Chemists, Inc.  or it's [sic] officers, and its programs, we will file suit against you.  Please govern yourself accordingly.
Respectfully sir, I assure you I will govern myself as always–with ethics and integrity.
To set the record straight:
The letter states that Ms. Wiley is a published scientist.  Perhaps my definition of scientist was too narrow.  In my mind, a scientist is one who has been educated in science and/or one who conducts experiments using scientific method, submitting findings for peer review and examination.
If the definition of scientist is expanded to include all who put forth theories, or all who write about their experiments, then Ms. Wiley is to be recognized as a scientist, along with the renowned Hunter S. Thompson, who wrote extensively regarding his experiments with pharmaceuticals and other substances. I therefore retract the remark that Ms. Wiley is not a scientist. If putting forth a hypothesis and writing about it makes one a scientist, she is clearly a scientist, as is every child who has ever written up a science fair experiment.
If T.S. Wiley is on to something.  I wish her nothing but the very best.  I hope she makes a "bazillion" dollars. (I have no idea how much that is, but it's a term I got from an explanation of interleukins in one of her books.)  If she is successful in helping women solve their menopausal problems without causing harm, she deserves our praise.  However, as I wrote in the article, we never know the full implications of medical therapies until they have been tested on a large sample of users. Therefore, I stand by my original statement that the BHRT experiment is the least monitored medical experiment of our times.
It is my sincere hope that safe and effective treatments will be developed to help every woman who finds mid-life changes a challenge to their health or well-being.  If T.S. Wiley is the one who succeeds in doing this, I will gladly join the cult of Wiley Protocol true believers.  In the meantime, it is my hope that anyone considering the use of  HRT, BHRT or ANY other medical treatment, will explore their options before making the dangerous assumption that doctors are always right. Doctors and scientists, like lawyers and writers, are human and therefore subject to error.
Lastly, this is neither a scientific, nor medical forum.  Though appropriate comments are welcome, I will neither debate, nor argue the merits or dangers of this therapy any further.  Anyone who wants to know more, can use the resources below to reach their own conclusions.
———————————-
Advocacy of Bioidentical Hormones by laypersons pose Ethical Dilemmas – The Endocrine Society
American Association of Clinical Endocrinologists Position Statement on Bioidentical Hormones
American Congress of Obstreticians and Gynecologists statement on Bioidentical Hormones

The Bioidentical Hormone Scam – Alistair McClennan, David W. Sturdee
Estrogen is Good, No, It's Bad, No, It's good – Harriet Hall M.D.

Bio-identicals: Sorting Myths from Facts  – FDA
The Wiley Protocol: An Analysis of Ethical issues Also available at : http://www.ncbi.nlm.nih.gov/pubmed/18551081


Update 4/24/2012:
After this post appeared I heard from writer Andrew Tilin, who has also researched The Wiley Protocol.  His experience with The Wiley Protocol for Men is chronicled in his book The Doper Next Door. I recommend it for anyone who would like to learn more about T.S. Wiley or The Wiley Protocol.  The story of how his life was altered by supplemental testosterone, is one told with candor and likable guy-next-door humanity.