Every morning, I grab some coffee and join a think tank.  Okay, that's not really true, but my early morning check of Facebook is a foray into a world of ideas, discussions and debate. The participants in this collective of ideas, eagerly share their findings, then the floor is open for discussion.
Love it or hate it, social media is an effortless exposé and thorough documentary of our cultural values. Fun, folly, politics, religion or causes–from the annoying and banal to the inspiring and profound, on Twitter and Facebook, people share what is in their hearts and heads.
If one is willing to wade through memes, photos, nobody-cares status updates and read annoying tweets, they are privy to a never-ending supply of ideas. It's a remarkable thing, yet many are frustrated at having to suffer the opinions of those with whom they disagree.
Increasingly, our society is unwilling to indulge disagreement or engage in debate, but good ideas are not born in a vacuum–if they were, education would be unnecessary. Education is learning the ideas of others and testing our own.  It is asking and answering questions, in the hope of learning what is true.  Those who believe they are right, don't wish to be bothered with questions, and those with whom they disagree, find it fruitless to question them. Read the rest of this entry »
Bieber's mother wants him in rehab.  Lindsay Lohan is working as an "escort".  It seems Jackie & Kelso are back together, after Mila Kunis was sighted with the same oaf, her character dated on That 70s Show.  Lance Armstrong's confession is less interesting than Trump's hair.  Girl Talk blogger tries to make sense of modern-day manners.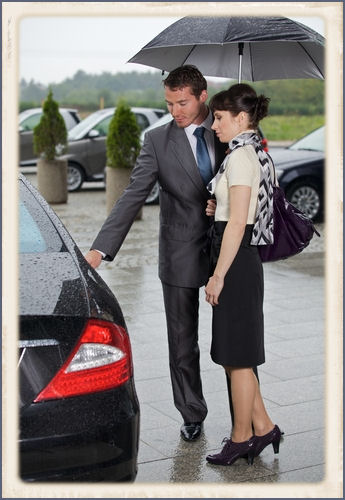 There was a time when most homes had at least one copy of Emily Post  or Amy Vanderbilt's guide to manners.  Social graces, from which fork to use, to how to write & address correspondence; were reasons to consult the experts, lest we commit a social faux pas. Back then folks cared about (and knew how to pronounce) etiquette.
There are probably still circles where the rules of refinement are closely followed, but those aren't my circles.   Most of the people around me don't worry about being "proper".  Whether this bothers you is probably related to your age, because many of the little courtesies we left in the 20th century, seem to recall a different time and attitude.
Minding one's manners is supposed to make everyone more comfortable, but for most of us, it was just one more potentiality for embarrassment.  As a pragmatist, I'm glad we no longer fret about stuff like hats, gloves, and wearing white after Labor Day, but though some of our small courtesies have fallen from fashion, common courtesies should not.  For me, forks & fingerbowls were never as confusing, as deciphering the new norms.
There was a time when men refrained from using bad language in front of women.  Now women are as apt to swear as men.  There was a time when men stood for a woman entering a room.  They gave up their seats and opened doors for women.  Now, doing such, seemingly, nice things, puts a man at risk of being censured for what could be misconstrued as a condescending attitude towards women.   Even addressing a woman with, the formerly respectful, "ma'am" can be offensive, if the addressee believes it is an assessment of her age.
There was a time when our sense of propriety dictated the clothes we wore.  We wore our "good" clothes to school or work.  We wore "dress" clothes to church.  We slept in our pajamas and worked in our jeans.  Our underwear was under our clothes, instead of on display.  Back then a man's shoes told you something about him, and seeing too much of a woman's skin told you something about her.  It was a time when a man complimenting a woman's appearance, was considered charming, instead of sexist.
There was a time when gossip was always in bad form. Today gossip is a lucrative industry, producing magazines, tell-all books and reality television.  Promiscuity, scandal, and shame have become newsworthy, and TV provides a never-ending freakshow of society's worst members.  Instead of biting our tongues or averting our eyes as we once would have, we gawk, we mock and feel good about it.  Once it was considered coarse to laugh at others, now it is entertainment. Read the rest of this entry »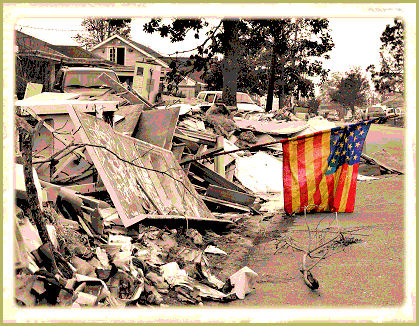 Heard the one about the guy who died during a threesome?
The punch line isn't funny, unless you enjoy a sucker punch to the great American gut. The wife of the late William Martinez, was not involved in the frolic that lead to her husband's demise, but while he was out (presumably) enjoying novelty sex, she was on the verge of becoming a multi-millionaire. Sour grapes, or survival of the fittest, Mrs. Martinez,  sued the husband's cardiologist for failing to warn Mr. Martinez to avoid strenuous activity.
The cardiologist who had seen Martinez, ordered a stress-test, but poor Willie died before test day.  Even though he was smart enough to seek medical attention for his recurrent chest pains, we are to believe the bum with the bum heart wasn't smart enough to know he was at risk. The jury awarded a judgment worth three million dollars. Time will tell whether Mrs. Martinez, will ever collect more than ninety-eight cents, after lawyers fees, appeals and all, but even so, while this guy was out having sex with people he wasn't married too, she won a jackpot prize from the the stupidity lottery.
America, what a country!
Built with rugged individualism, Yankee ingenuity, hard work, vision and resilience, yet, it would seem the land of the free and the brave, is becoming the home of the weak and whiny.  Thank God for government programs, because The American Spirit is on disability, and the American Dream is on life support. ( Though I would venture, single payer healthcare will eventually pull the plug on The American Dream, when its costs outweigh its usefulness.)
Younger Americans may believe that "rugged individualism" is Johnny Depp's quirkiness, or Steven Tyler's distinctive flair, but there was a time when "rugged individualism" was understood as the ability of individuals to succeed with  minimal assistance from the government. Now, Americans believe it is government's job to eliminate hardship and risk from our lives.  Even the idea of individualism has become peculiarly murky in our society.
There are still those who seek to be unique in a sea of clones, but not even those with tattoos, piercings, and lollipop hair colors stand out, when what was once edgy becomes passé.  In a brand-conscious consumerist society, instead of going against the flow, we mimic others.  We follow trends, as if being on the front of a trend makes us a courageous leader, instead of a follower.  To set ourselves apart, we buy the latest and best homes, autos, electronics and clothes. Sadly, this has made us a people who are defined more by what we display, than what we believe. The number of foreclosures and bankruptcies, indicate it is more than our bank accounts which are empty.
We blame corporations for the high cost of living, and government for high unemployment.  Hardly a day passes, we don't hear of the crisis in American education.  We continue to spend more, but get less. Experts tell us that without the latest computer technologies, our children won't be able to compete in the modern world. By this logic, our kids should already be smarter than Stephen Hawking, because almost every kid has a cell phone with computing power greater than those of the computers used to guide the Apollo missions.  A world of information, countless apps, and lighting fast computer power at their fingertips, yet the only thing we have to show for it, is the development of a more efficient truncated English, mastery of angry bird warfare and countless instagram photos.
It would seem that the artificial intelligence that powers computers has replaced common sense, and "smart"  phones have replaced Yankee Ingenuity (the once necessary resourcefulness of early Americans, who had to improvise to solve problems with limited resources).   As primitive as their lives were, they now seem light-years ahead of us.  Our modern "educated" America, has become so dumb and/or greedy, as to require even the most common items to be labeled as if they were new and dangerous inventions. The wrapper on my fast-food "Hot Apple Pie" and the accompanying coffee cup  both warn "contents may be hot", which is sort of what I'd expected.  Used to be we didn't need instructions on bars of soap, NOR warnings not to eat them.  We were smart enough we didn't need boldface type to tell us not to use a toaster in the bathtub, and even bad parents were smart enough not to be confused as to whether or not a plastic bag was a toy.
Of course, should you knowingly or unknowingly be stupid, there is a remedy. You won't even need to be smart enough to read a phone book to get in touch with a lawyer who is willing to come to your aid.  Just lay on your couch watching TV, and eventually, some helpful personal injury attorney's number will be imprinted in your brain.  Dial the number and he or she will assure you, stupidity can be treated with a big green Band-Aid–AKA MONEY.
So much for hard work, because lucrative lawsuits are now viewed by many as an alternative to working.  Our courtrooms are clogged with greedy, groundless lawsuits and opportunistic lawyers with questionable ethics. The courts,  once established to uphold  justice, are used by many (often the least deserving) to make money.   The first Americans, who came here because they didn't want to be victims, have been replaced by Americans who do.
The hands-down award-winning poster child for the emerging victim class is Stanley Thornton Jr., who collects Social Security disability benefits for a condition known as paraphilic infantilism.  For those who have yet to figure out how to make a million in a courtroom, this term translates to "grown-up who lives his life as a baby"– complete with diapers and a nanny. His condition has a name, but it is also fairly representative a large segment of society which simply refuses to grow-up.
We are all victims.  As Peter McWilliams said, the definition of a victim is "a person to whom life happens."
At some point we're supposed to get up and get on with our lives.  We may be victims at times, but if we choose not to move forward, then we become volunteers.
So much for American resilience, because we have been groomed to expect the government to lick our wounds, apologize when we're offended, meet our needs and solve our problems.
There was a time when those who were forced to rely on government assistance were embarrassed, at not being able to provide for themselves.  Now, many are angry that the government doesn't have more to give.  Gone are the poor houses, soup kitchens and relief societies–because the government has made poverty a business, in which nobody profits.  The shame once associated with poverty, has been replaced by a sense of entitlement.
The incentive to work hard has been diminished for those at the bottom and the top.  The poor no longer need to work, because the government will send checks to them for staying  home. The middle and upper classes, are punished for working, because the government takes more and more from them.  Those who could take care of themselves, wonder why they would.  Those who do take care of themselves, wonder why they should.
Our country was a Super-Power, leading the world in economics, business and innovation.   Even those who didn't go to college  were smart enough to make something of their lives,  Sadly, now children of middle & upper middle class families, are occupying Wall Street, campaigning against everything that feels unfair.  Once, we the people aspired to success, now our people have contempt for it.  So much for progress, the only thing we've produced is a nation of whiners, takers and ninnies.
Only half a century ago, a Democratic president with a vision, admonished us "Ask not what your country can do for you – ask what you can do for your country"  That country and its vision changed. Perhaps it is time to shorten the inscription on The Statue of Liberty from "Give me your tired, your poor, your huddled masses yearning to be free" to simply "Give me."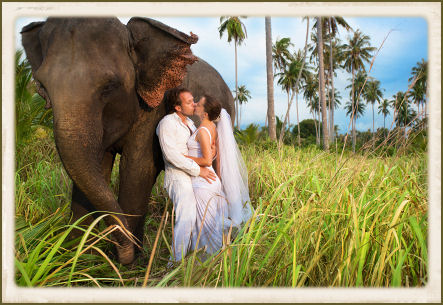 June is over, without a single wedding invite.
There is a decade when most of the weddings you attend are those of your friends. Next, comes the decade when most of the weddings you're invited to are remarriages of some of those same friends. Eventually you enter the decade in which the wedding invitations are from  those same friends' children.
Weddings are always the same, and always different.   They are a particularly good exhibition of a couple's tastes and  personality.  Traditional vows are often replaced with something custom-suited to the couple.  From not-a-dry-eye-in-the-house prose to incomprehensible secret messages, wedding vows take many forms.
The most profoundly witty & sincere vows I've heard, were pronounced recently at the wedding, of a girlfriend, who has made her living as a very successful radio personality. She and her husband had written their own vows. She didn't know what he would say. He didn't know what she would say.
The groom read his sincerest thoughts with palpable emotion. The bride and all those assembled were clearly touched by his verbal declaration of love for her.  Then came the response of a woman who is rarely, if ever at a loss for words. There are times when one doesn't need to say much to have said it all, and this was one such time. She said just three little words.
Never  before had those three little words had more depth than on that day. In a voice frail with emotions, she simply said, "What he said.".
I doubt the groom missed hearing romantic bromides or pledges of undying devotion, because on their wedding day, she clearly wanted him to star in their show.  To those who know the bride, there was something hugely significant in a radio host who passed up the opportunity to take over the microphone.  Another bride might have been tempted to upstage her groom, but not this one.  There were no promises to love, honor or obey, but there was no doubt about their commitment to each other.  As with most wedding ceremonies, they wed believing in happily every after.
To those who have been married a while, the words uttered on the wedding day become vague memories. We may remember what we imagined our future would bring, or how we felt, but it is unlikely we remember the words said. No matter what kind of words were said on the wedding day, it is usually the case, that both partners are so enamored of one another,they are committed to making the other one happy.  On that day, we believe we are the best person for them, and they for us.  We believe they will be happier with us than with anyone else.
Day-to-day-living has a way of redefining marriage.  The once perfect rapport we once enjoyed with the fiancé, becomes flawed…the easy lovin', becomes harder to come by.  Then one lonely day in the future one (or both) may find themselves wondering if they could be happier.
Marriages are stronger when we stay committed to putting that other person's happiness above our own. Whatever issues come up are compounded when we stop caring about our partner's happiness. As our bond is weakened we begin thinking more about our own happiness, than theirs.  Eventually, the desire to be happy can become almost an act of self-preservation.
Even when we have forgotten the words spoken on our wedding day, we must work to remember when we placed their happiness above our own.  The vows are meaningless, unless we do our best to keep them. It isn't easy to remember those feelings and high ideals and it may not be possible to recapture the feelings we had on our wedding day, but we would all be happier if we remembered how we once valued our partner's happiness.  If only we could all at least try to remember, do you remember?
I do.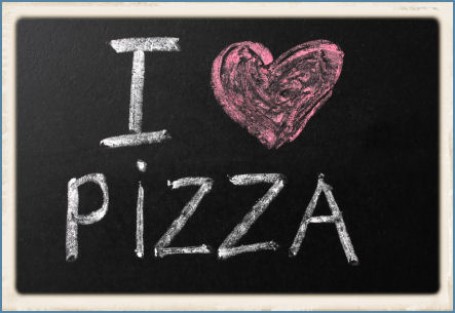 Marriage is supposed to be a partnership, a fifty-fifty proposition. It rarely is, but even when it is, an inherent flaw in a partnership between two individuals, is how to break a tie–or deal with a stalemate. There are times when compromise is the only option and times when it is the worst of options. However, many issues can be solved or avoided using a simple rule. It is the "Who Cares Most" rule.
The "Who Cares Most" rule is works best when one party has an opinion, but isn't passionate about it. It works like this.  On many smaller matters, one partner is often more heavily invested in the outcome than the other.   In those cases, the other  partner defers to the whims of the one "Who Cares Most".
For instance, if a woman decides it's time for a new shade of paint, drapes or a couch, it is likely she has her heart set on something specific. She has an idyllic vision, which is not likely shared by the man who shares the space.  Though he is not nearly as committed to the outcome, he may second-guess or oppose her choices. This is when a smart person allows the "Who Cares Most" rule settle the  disagreement.
Example:  I recently changed the curtains in my living room.  I chose beautiful chocolate velvet drapes with Beloved Soul Mate's full agreement.  As soon as they were hung, he loved them, but I found them to be oppressively dark. Had I asked him for input, he would have opposed changing them, but when I switched them out for something bright & airy, he failed to notice the change for almost three months.
The inexperienced me, might have entertained an argument over the matter, but the older, wiser me, knows he wants to be heard, even when he doesn't really care much. After his initial protests, he almost always likes my choices.  Invoking the "Who Cares Most" rule, I staged the window covering coup unbeknownst to him, without feeling duplicitous or overbearing, precisely because having the right curtains means more to me, than it does to him.
However, when it comes to autos, he cares WAY more about cars than I do.  What I NEED from a car is simple.
1.  Should respond favorably to a key in the ignition.
2.  Must be comfortable and spacious enough to be practical.
3.  Good color a plus.
Because of the "Who Cares Most" rule, I spent a regrettable year driving a Cadillac El Dorado, with a hinky electrical system. I would have preferred an SUV, but I simply wasn't invested enough to wage a battle over it.  The over-sized car didn't appeal to me, but Beloved Soul Mate fell in love with it. I agreed to the car, because it mattered more to him & made him happy.  Fortunately for me, the two-door Caddy quickly became impractical when we had children in carseats,  providing a reason to sell it to another man who fell  in love with it.
Using the above rule, many problems are avoided, but it is of no use in resolving the issue of how often to have sex. By this rule, the partner who wanted it most, would be allowed to control when & how to have it, but craving sex is like being hungry for pizza. When you want pizza, you want pizza; but as anyone who has found themselves in a the desperate-for-pizza-mood knows, there is great pizza and eat-it-only-in-a-pinch-pizza.  Nevertheless, pizza is pizza. When we are desperate, we may settle for something that isn't exactly what we wanted.  It satisfies the urge, but doesn't leaving us wanting the same thing the next day.
The definition of good sex, like the definition of good pizza is different things to different people. When us gals are dreaming of sex, we may be imagining something completely different from what men imagine we're imagining. Women dream of something sweet, tender, and memorable. That isn't to say it can't be naughty, gratifying, monkey love, but it's the kind of sex, that is still appealing at breakfast the next day.
Most of us are happy enough with the kind delivered in 30 minutes  or less, even when we know the difference between a made to order brick-oven pie and the pizza that comes out of a freezer box. This is one situation when the "Who Cares Most" rule causes more problems than it solves, because it is rather  like trying to force A Meat Lover's Special on a vegetarian.  The invoking of the "Who Cares Most" rule guarantees a stale mate.
Thick or thin–is isn't possible to agree on everything.  The compromise can be noble or counterproductive, because if one partner is continually compromising, resentment is inevitable.  In pizza terms, it is exactly why you can order pizza made with half what she likes, and half what he wants.   Not  everything in marriage is fifty-fifty, but love-making is an area that should strive to be.  If you can't figure out how His & Hers is supposed to work, you might find yourself alone with a whole pizza to yourself.  You'll have it your way, but it won't be nearly as fun as having someone to share it with.
Deb's Note: One friend says writing about relationships is hackneyed, another friend says writing about sex is boring.  Everywhere I look, people are trying to start relationships, fix relationships or end failing relationships.  Therefore, I do hereby vow to stop writing about both sex and relationships when everybody stops having them.
Another friend says there is no comparison between sex and pizza.  I think she just needs to try better pizza.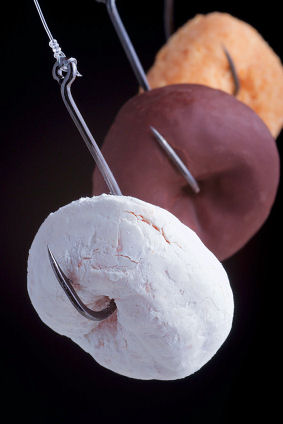 Perhaps, you've wondered if you were addicted to love.  Admitting you have a problem is the first step, but don't check yourself into rehab just yet. You may be a relationship junkie, but it is rather unlikely you are addicted to love.
We all want to be loved and appreciated by others. Love is as almost as vital to our existence as food & water. We crave affection, in the same way we crave certain foods–including some that aren't good for us. Food is absolutely necessary for good health, but eating more food doesn't make us more healthy, and eating the wrong foods can harm us.  A doughnut is food, but it's hardly the best thing for the body.  Similarly, though love is vital to our emotional wellness, unhealthy relationships can leave us love-starved and stunted. What often passes for love, is no more substantial than a diet of doughnuts.
Seeking validation through serial relationships, can be addicting.  Falling in love causes a rush similar to that experienced by users of drugs like cocaine or ecstasy.  There is euphoria, energy, jitters, sleeplessness, rapid heartbeat, sweaty palms and of course impaired judgement, as the brain becomes awash in chemicals like dopamine, adrenaline and phenethylamine. In this state, it is easy to overlook warnings of a doomed relationship.
Alas, the last doughnut in the box,is never as good as the first.  What starts out as delight, often ends in regret. The post-relationship hangover is inevitable, and to addicts, the cure of choice is more of the same. Relationship junkies quickly seek out another relationship, guaranteeing a repeat of  "I'll never do that again" history.
Love isn't necessary to keep a couple together.  Kids in common, codependency, or finances can do that, but they aren't enough to keep both parties from becoming miserable. We want to believe love is always sweet and satisfying, but despite countless platitudes, poems and love songs to the contrary, it can be downright unpleasant.
Philosopher Buber said, "Love is not the enjoyment of a wonderful emotion, not even the ecstasy of a Tristan and Isolde, but the 'responsibility of an I for a Thou."  Love means giving up what we wanted, saying we're sorry and doing things we hadn't planned on doing.  It means letting go of what we'd imagined to accept reality.  It can be exhausting and unsatisfying.
Love is hardly addicting.  Those who have been challenged to love someone with an addiction, mental impairment, disease, or even just a disagreeable personality, are more likely to yearn for relief, than more of the same. Falling for someone who appears attractive is an easy, fleeting and addictive state of mind, but loving requires ongoing effort. It may be easier to develop an appetite for Krispy Kremes, than cauliflower, but those who embrace that which seems less satisfying, may ultimately find themselves more satisfied.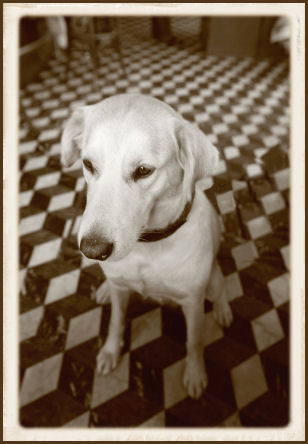 You have probably heard dogs see in black and white.  The world is full-color, but curiously, dogs don't see it that way. Canines don't actually see in black and white, but the colors they see are limited–mostly shades of greys tinged with blues and yellows.  I don't know how or why scientists figured this out, but now, perhaps they should turn their attention to why people, who see in color, tend to think in black and white. The brain is a scientific wonder, in its complexity, and the eye is no less magnificent. In fact, oftentimes our vision is more nimble than our thinking.
Despite the ability of the brain to process information, most of us overlook the shades of grey, in how we see things.  Life's big issues are often reduced to black or white.  Oh, if only life were as simple….
As long as I can remember, people have been fighting over the issue of abortion–innocent lives snuffed out  before they begin.  Killing babies has to be wrong.  Right?  How can there be another side?  I felt that way, until I met Sonia.  At the age of 14, she was pregnant–with her second child.  Sonia lived for  the weekends, when  she would see Suge, a 27-year old man, AKA the baby daddy.  Watching a very unsettled young girl raising(?) a baby on her own, made me wonder if abortion might not have been a kinder option for the baby boy whose future was wagered against, long-shot odds.  That is not to say I am pro-abortion, but it helped me see grim shades of grey.
Every controversial question, has more than one answer.  Religious people have absolute truths which define their views, but even among the world's great religions, "absolute truth" varies. For everyone who believes faith in God is foolish, there are others who are amazed that anyone is foolish enough not to believe in God.  As a person with religious beliefs, it would be easy, to assume the world would be perfect, if only everyone shared my beliefs, but my truth is meaningless to those who don't believe it.
Whether it be social issues, religion, morality, or politics, when we see the world in black and white, our vision is limited.  As anyone who has had cataracts will attest, the loss of vision happens so gradually, most don't even realize how little they see.  We often suffer from the same kind of blindness, because we don't acknowledge what we can't see, and can't always remember exactly how, or why we see the world as we do.
American politics provide a great example. Most issues are defined in black and white–either left or right.  Instead of seeing those on "the left" and "the right" as individuals who don't all think alike, we are manipulated into seeing the other side as wrong.  This limited vision, causes us to believe our side is populated by good kind souls, people like Mother Theresa, and Nelson Mandela, great philosophers, intellects and all the other beautiful people.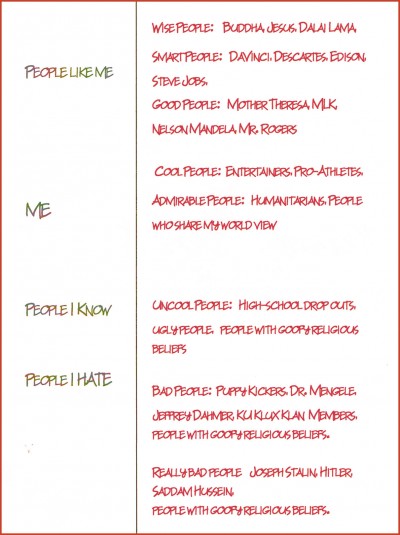 The other side is populated by the thinking-impaired, lesser-evolved, malevolent people–including a few of our closest  friends, some disagreeable family members, and all the mullet-wearers of the world.  There doesn't seem to be anyone in the middle–except for a handful of  your friends who are decent enough people, despite being tragically misguided. From this vantage point, it appears the world is full of evil, knuckle-dragging Cro-Magnons.
We are quick to label anyone with different opinions.  I recently explained my view of probable outcomes for the next presidential election, and was angrily called a "Lib-tard".  What I said was based on observations of media usage by both candidates, not any political views, yet I was immediately given a negative label, by someone who didn't agree with what I was saying.
If you say you're a Democrat there is an assumption that you're a Prius-driving, Whole-Foods shopping, NPR Socialist.  Tell your friends you're a Libertarian, and they will assume you grow your own pot, which you water in the nude. If you should affiliate with the G.O.P., friends will assume all you've surrendered your brain to Fox News, attend Klan meetings or worship at The Altar of Limbaugh.
Beloved Soul Mate and I are both registered voters.  We have identical views on many issues, yet are registered with different political parties.  We don't see eye to eye on every issue–neither with each other nor with our chosen parties. Those who know us well, might be surprised to learn which is registered with which party, because society pigeon-holes political leanings–as if there is no room for variation.
The most biased labeler of all, is the media.  Both sides use their  own vernacular–vocabulary purposefully intended reduce our perceptions to black & white. Just as the terms "chink" "slope" or "gook" were once used in wartime to dehumanize opponents, labels create an impersonal impression 0f real people. We see those who don't think like us, as being nothing like us.  Both sides say  they want to reach a consensus, but how can we every come together, if we see those (with whom we probably have much in common) as too ignorant to have a valid opinion.
The world is not black and white.  Even Rover sees shades of grey.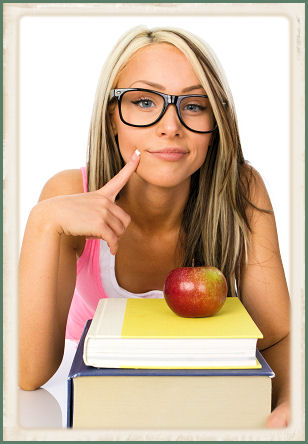 When I try to figure out what to write about next, I aspire to writing something readable, more importantly, I strive to write things worth the time of those who seek out this site, which is why, today, I've decided to share the single-most effective way to improve relationships and do almost anything better.  This may not be the secret to life, the universe and everything, but it's close.
Ready?
Pay attention.
Simple.  That's all there is to it.
Got it now?
Your grade school teachers probably told you to pay attention, but this practice is even more important after the diploma days.  Every aspect of your life will be easier, if you simply pay attention.
Many people sleepwalk through life, oblivious to what's going on around them.  With electronics and media to provide constant distractions, we have become super-prone to boredom, making it easier than ever to ignore the ordinary, but important things, like the people we live with.
Married folks stop paying attention to each other, and are then surprised when the relationship fails. Parents stop paying attention to their kids, and wonder why their kid's peers leverage more influence.  We find ourselves asking what's missing from our lives, because we forget what's really important. Whether you seek to improve relationships, advance in your career or just live a better life, paying attention is the all-purpose, most effective way to do anything better.
If you pay attention to people who are smarter than you, you'll enjoy tuition-free, continuing education. If you pay attention to those who aren't as smart as you, and you'll have the opportunity to learn from their mistakes, without the trouble of making them yourself.
Pay attention to clocks and you'll be less likely to be late.  Pay attention to the way you spend your time, and you'll be able to accomplish more.  Pay attention today to where you'd like to be tomorrow. and it's more likely you'll find your way there.
Pay attention to your stuff and it will last longer.  Whether it be investigating a small engine noise, before it becomes an expensive repair, or being mindful of where you take off your sunglasses, paying attention to the things you use each day, will save you time and money.
Pay attention to where you spend your money, and you'll find it easier to manage.
Pay attention to what you eat and you'll be one step closer to losing weight or becoming healthier.
Pay attention to your appearance and you'll not only feel better about yourself, but others will see you in a more favorable way.
Pay attention to your surroundings, and you will be less likely to get lost.  Pay attention when you're in unfamiliar places, and you'll  be less likely to be a victim of a crime.
Pay attention to those above you and not only will you know how to please them, but you'll also learn how they got where they are.  Pay attention to those below you and you'll learn everyone has value.
Pay attention to the likes and dislikes of your loved ones, and you'll never be at a loss for how to make them smile,  you'll never be at a loss for what to buy them when it's gift-giving time.
Pay attention to the negative thoughts echoing in your head, and you'll realize how they waste and spoil your energy.
Pay attention to the differences between what people say and what they do.  Sometimes actions speak louder than words, but sometimes actions are only what people want you to see.
Pay attention to what your kids do, what they say, and who they hang out with.  Then, when they tell you you don't know them, you'll be able to show them you do.
Pay attention to the people around you, because when you understand them, they'll be easier to love.
Pay attention to the people around you, you'll find them eagerly paying attention too you.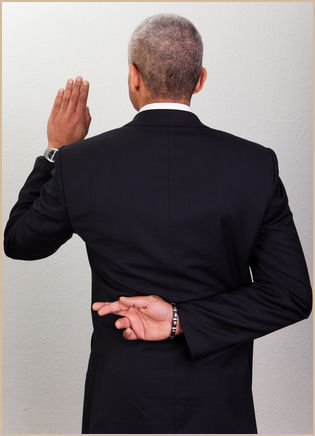 Men and women are not the same. One needn't look further than the way we speak for evidence. When a woman communicates, she is conveying feelings she wants understood.  Women rarely communicate as succinctly or as plainly as men, but to a women every unnecessary word is necessary.  Because of this, you can be reasonably sure if a women hurls an insult your way, she means it–at least in that moment.   Of course, women are apt to change their moods & minds, at which point, most will regret having said unkind things. It's a girl thing…we don't like to be perceived as mean, so we do our best not to insult people–unless they really deserve it.
Men don't measure their words as carefully as women, and are therefore more apt to say things they don't mean. (This is especially true of men dealing with difficult women.) Men think nothing of exchanging insults.  Male jesting is a sport–a kind of jousting to determine who is most manly. Men can swear at each other, call each other vile names, impugn each others' masculinity, then laugh it off over beers.
This is not true of women. A woman who has been insulted, will likely spend the next week stewing.  She may feel compelled to share her tale of woe with anyone who will listen. Not every woman is as sensitive, but if a woman is hurt by a careless remark, it has the potential to ruin the relationship.
I didn't fully understand this, until after I became a parent.  Watching the way girls and boys play with each other, I've learned how differently males & females use words.  In a game, if a girl misses her friends are there to encourage her, but a boy misses and his friends will have a hearty laugh at his expense.  They will call him any number of names–a disproportionate number of which, will suggest he is a lesser male or even a homosexual.  Contrast that with women, by trying to remember the last time you heard women call each other "butch" or "dyke".
This inherent tendency of men to want to remind other men, of their position in the pecking order, which has given us the currently running Ad Council campaign admonishing people too stop using the term "gay" as a derogatory term.
Thanks to this public service announcement, we now know trash-talking is fine, as long as we use the right words. Clearly, it is okay to take cheap shots, as long as we don't use any term, which could be offensive to those not being addressed.  The message is clear, political correctness is more important than civility or good sportsmanship.  As an avid NBA fan, let me be the first to thank pro-athletes for schooling the rest of us in proper decorum.
Don't get me wrong, I understand the message, but the label" gay" is one chosen by gays for gays to replace other more derogatory terms.  The n-word is far more offensive, because it has never had positive connotations. Which makes one wonder why it has been popularized by those, it was most intended to insult.  Then there's the word "retarded, the popular use of "retarded" as an insult, is certainly as offensive as carelessly using the g-word or the n-word. Can we expect the Ad Council to develop a campaign to stop people from using the word which is clearly insensitive to the developmentally delayed?
Whether it's the a-word, the b-word, the c-word, the d-word,or any other, what offends us, is largely a result of who we are and where we've been. With the exception of the frequent and thoughtless use of  the n-word, which I always find offensive, I pay more attention to what people are saying,  than the words they use. English has an abundance of offensive words, but polite words can be just as insulting.
For instance, there's this guy I always see on TV.  There are plenty of people who suggest that he's gay or bi- or something.  I don't buy into those rumors, but he strikes me as the quintessentially ineffectual male.  He used to be against gay marriage, but recently, he  changed his mind.  Now he supports gay marriage.  Whether you support or oppose gay marriage, it is likely you feel strongly about it, but I get the impression this guy doesn't care one way or the other. In other words, I  think he's being spineless.  (If I say spineless, does that insult others who don't hold the courage of their convictions?  Is it insensitive to mollusks and other invertebrates?)
This guy has been in The White House for almost a full term and NOW he's coming out with this new stance?  A while back he had support of both houses of congress, and NOW he's for gay marriage?  It seems clear he has no intention of promoting gay marriage, in fact, he's clearly stated this is for the states to decide–which is especially ironic coming from a man who has shown he doesn't particularly respect the sovereignty of the states.
Whether or not he's saying what you wanted to hear is inconsequential.  He has waited until he won't be can't be held accountable.  If he's reelected, his rhetoric is likely to be as meaningless as any other politician's campaign promises.  It's lame duck politics.  (If I say lame, does that insult the crippled?)
Talk is cheap.  His words are meaningless, because they don't reflect his intent.
Nothing has changed.  Those who oppose gay marriage can breathe a big sigh of relief and those who support gay marriage should breathe a big sigh of contempt.
No matter how you feel about the issue, you should be insulted, because this is little more than a poorly veiled attempt to win votes. It is insulting, because it makes no difference whether those votes come from gays, lesbians, blacks, Hispanics, women, the poor, or any other disenfranchised group. He doesn't care about these groups, he only cares how they vote.
(If I call him a pansy, does that insult flowers?)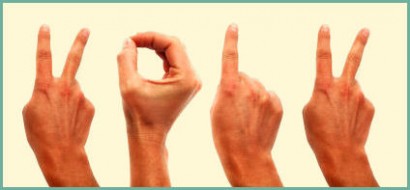 The New Year's celebration is one of my favorites.  Though my own celebration of New Year's eve is minimal, I am very fond of this holiday which starts loudly in one year and winds down quietly in the next. It isn't a religious or memorial holiday, yet it has a thoughtful profundity and an illogical optimism.  Like Fat Tuesday, it is a day when we absurdly indulge in things we hope to give up.   It is a  mile-post on life's  journey, a point at which to assess how far we've come and speculate about what lies ahead.
Then first newspaper of the New Year is my favorite.  It usually features the best and worst of the previous year– including reminders of all the famous people who died.  It often features predictions for the coming year and an abundance of ads for stuff to help us keep our resolutions, like work-out equipment and organizers.  Perhaps there are folks who wake up the morning after drinking too much champagne, raring to buy a treadmill, the latest pair of New Balance, storage bins or shelf units, but I suspect most are more like me, who wake up thinking about stuff like mimosas and Eggs Benedict.
Regrettably, most of us meander through life with little thought of how our time is passing, but like birthdays, anniversaries, illnesses and deaths, each New Year provides another measure of how quickly our lives pass.  It is a  valuable reminder not to squander what will be gone too quickly, whether it be our vitality or our time with those around us.
We need those benchmarks.  There was a public figure the same age as I, whenever that person accomplished something newsworthy, it reminded me of how much a single individual can accomplish, but more importantly it reminded me of how little I had accomplished.  That person died a few years ago, and now serves only to remind me  how suddenly life can end.
However, like those times when it isn't feasible to remodel so we settle for new paint or new curtains, sometimes overhauling our entire life isn't practical.  Though there are many things I'd like to completely redo in my life, I content myself with making small changes I can manage, like setting the tone for the one to come.
Started the year with a new manicure and pedicure.  Nothing unusual about that, except since I tend to choose the same polish, month after month, I let my mani-pedi girl pick for me.   I would have never have chosen what she chose for me, as a result, I left her shop feeling like I was wearing someone elses' fashion.  Two colors of glitter polish, may not sound that radical, but to me it was symbolic of being open to the whims and advice of others–especially those with more experience.
Though I am a naturally lucky person, I rarely gamble.  It seems gambling is a pastime which makes more losers than winners.  Nevertheless, I bought a lottery ticket.  Had it been a winning ticket, I could have told myself it was a fortuitous omen for the coming year, but since it served only to make my pocket lighter, I discarded it along with the many other disappointments of 2011.
I bought myself a new coffee maker, a sort of Christmas gift to myself, but in keeping with the "out with the old and in with the new" thing, I waited until Jan, to try it. Trying to figure out how to disassemble and reassemble it, the first time, could almost fill another blog post, but this first challenge of The New Year, was a good reminder of how important it is to be open to change and ready to learn new ways of doing familiar things.
As I drank my coffee, I reflected on the past year, a Christmas season in which I gave myself a vacation from the expectations of others and allowed myself to do things to restore my sense of self.  I replayed events in a year, including many dealings with tradesmen and tenants.  Reflecting on those experiences inspired me to make a single resolution.
Having been often taken advantage of by those to whom I was too nice, I resolved to be meaner.  Not more assertive, not more aggressive, just less nice.  I don't like mean people and certainly don't want to become one, but  people take advantage of nice people.  I can't help being kind, it's in my nature, but after having too many experiences in which I felt I shouldn't have been so nice, I decided to try harder to be mean.  Chances are I'll fail, but I'm guessing I won't be the only one who doesn't keep their resolutions.