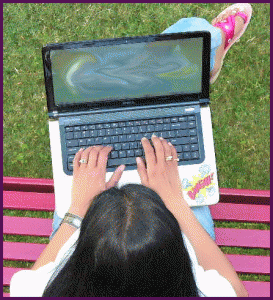 In developing de blog, I had to decide whether or not to write as myself or use a pseudonym.   It would be cozier to hide behind a pen-name, but I'm not good at hiding. You'd all find me out eventually–it would probably take about a week.
My gut answers to Deb, so I decided to stick with that.
Risking the judgments of all those who know me,  I'll talk about anything and everything that is of interest to me.–hopefully it will be of interest to you.
The main subject matter?
Life & stuff – Life, like births, deaths, and everything in between; and stuff, like the stuff you love and love to buy.
Some of the themes?
Marriage: That's a biggie.  I'm married. Most of the time, happily. There are days I wish I was single, but this is marriage we're talking about–not Utopia.
Sex: Some people will think ill of me, when they realize how candidly I'll talk about it, but I figure if the happily married can't talk about sex, nobody else should be allowed to either.
Safe sex: Let's get that one out of the way right now.  Be careful out there or you'll end up with children or something far less pleasant.  Enough said.
Children: I have a couple, the direct result of having sex. I can't remember if the sex was satisfying, but the kids have been.  I'll try not to talk about them too much, I'm sure you'd rather talk about yours, than hear about mine.
Speaking of the kids, one of my greatest fears is that mine will read my blog.  Seriously, they know enough about me,  without having to come to terms with the realization that Mother thinks about more than lunches and laundry. If  you run into my kids, do me a favor and tell them that their mother's blog is a snooze-fest.



My opinions may make some uncomfortable.  If you find this to be true, please realize they represent one woman's take.  My page, my voice, you get the idea.
At times, I may even say things that I don't really believe, because I can't resist making people think.
If my ideas challenge yours, remember, though I'd love to have a loyal following, this is a blog, not a cult. I'm not trying to convert anyone.
I'm a little nervous about the reactions of friends when they see my head turned inside out  and I wonder what my mother would say.   She was accustomed to and sometimes vicariously amused by the daughter who said what others dared not. She's not around anymore.  Too bad, because I think  she would have enjoyed de blog–at least in secret.
She always told me I should be a writer.  She'd be glad I finally took her advice.