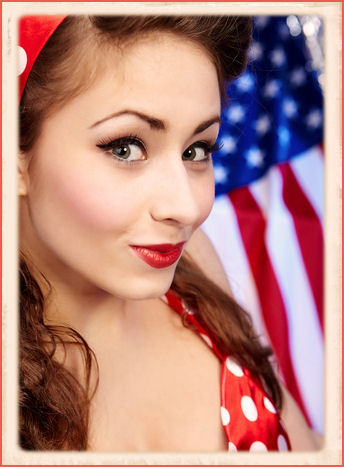 Every woman who has ever been in a relationship with a man, and every man who has ever been involved with a woman knows decent people don't always agree.  Often, little disagreements come up because of differences in the male and female perspectives. Like partisans of two different political parties, sometimes people who mostly get along, just see things differently.
Many women are bored or disgusted by politics, but because what happens in Washington doesn't stay in Washington, we owe it to ourselves to pay attention to the laws and leaders that potentially effect aspect of our lives.
The choices we have, whether personal or economic, are often determined by the perspective(s) of the two dominant political parties.  But, just as being a woman doesn't mean that women are of one mind, the choices offered by Democrats or Republicans can't begin to reflect all the viewpoints of Americans.
Increasingly, many voters neither identify with Democrats, nor Republicans.  Despite this, most still chose a party and vote more-or-less along party lines.  This sometimes means we elect candidates who don't represent our best interests, or cause us to inadvertently support things we don't like.
This has caused more interest in third-party candidates.  There is a growing belief, that if we don't vote for  those candidates that best represent our views, we will never be able to get away from the gridlock of partisan politics.  While this may be true, it ignores how third-party votes  play into two-party tyranny.
With more and more voters feeling disenfranchised by the dominant parties, I've heard ad nauseum, the argument that a vote for the "lesser of two evils" is still a vote for [an] evil.  No amount of math, reason or objectivity, will convince those who believe this, that while a third-party vote may be noble in its intent, it is useless.  The third-party vote, actually empowers one of the two parties, it intends to protest.
Recently, another well-meaning soul, tried to convince me to vote my conscience, by voting for a third-party candidate.  For the sake of argument, I decided to play along with her.
I told her she had convinced me.  Because of this, instead of voting for one of the two candidates that WOULD win (despite all those protest votes) I would instead vote for the third-party candidate least capable of harming the country.  I then announced I would be voting for the Peace and Freedom party's candidate, Roseanne Barr. (Yes, that Roseanne, and yes, she is running.)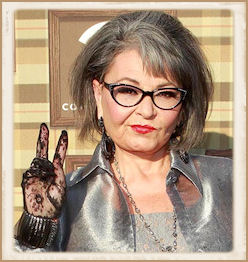 This third-party advocate was appalled.  She said Barr was a horrible choice.  I tend to agree, but while Barr would likely be an ineffective leader, that might be turn out okay for the country. Even if she were able to rally enough support to be elected, she would still lack the power to affect American politics in the way those with support of congress, special interest backers, or the American public, there would be a limit to how much she could do. Therefore, voting for Roseanne (a personality I dislike immensely) might actually be the LESSER of evils.  By electing an ineffective president, my conscience would be clean, knowing she wouldn't be as dangerous as a more powerful candidate.
My adversary then countered with, "But Roseanne would be a terrible president and she'd never get elected!"
She is right in that Roseanne will never be elected, but neither will Ron Paul, Gary Johnson or Jill Stein.  That isn't to say, those candidates couldn't be viable  leaders.  There are candidates, outside the mainstream, who are very attractive to voters who feel they are not represented by Republican or Democrat choices, but that doesn't change the facts.
A third-party vote is a throw-away vote, because the full-strength vote, is diluted, when it goes to the "favorite" by default. When the polls close, votes are counted–not measured by their motivations.  Like betting on both red and black in roulette, a third-party vote only makes sense to those who don't understand the odds.  It is as effective as tearing one's ballot in half, and putting one half in the box for Democrats, and the other in the box for Republicans.
It's not that I oppose third-parties or their candidates, there are candidates whose views are closer to my own, than the one I'll likely vote  for, but that's not a good enough reason to throw away my vote.  Some would argue the  Electoral College, by which we elect our presidents negates the votes of individuals.  If you happen to live in a state where the majority is likely support a candidate you don't,your vote doesn't have the same power, as it would if you lived in a different state.
Former Minnesota governor, Jesse Ventura, recently released a new book, DemoCRIPS and ReBLOODlicans: No More Gangs in Government. He believes the two-party system (bankrolled by corporations, special interests and other big money) has gained gang-like power over America.  By his thinking, we are all, either being pimped or victimized by the gangsters of the two-party system.  He advocates for of a NO-party system. Ventura isn't stupid, and though he seems to vacillate between positions of genius and crazy, on this his genius may have gained the upper hand.  Ventura believes by eliminating the dynasties of political parties, we'd all be better served.  He thinks a no-party system would force voters to become more informed, by eliminating the common practice of blindly voting along partisan lines.  The two-party system encourages, the least-informed, to elect candidates, whose agendas may not be best for them. (Though I like his idea, it seems it would be cheaper for special interests to "buy" independent candidates, than to buy the pawns  of the powerful political parties.)
In The United States, you get a vote, but you only get one.  The privilege of that vote, is one that should never be taken for granted, and the responsibility of it, should never be taken lightly.  Throughout the world there are billions who envy our free and democratic elections.  No matter your views, every single on of us should care about the integrity of the vote–including the process by which we count and validate votes.  The process by which we elect leaders or pass laws is far from perfect, but the right to participate in the process is one people in many other countries are denied.  As Churchill said, "Democracy is the worst form of government—except all the others that have been tried."
Whether or not you are a "party" girl, you get a vote.  You only get one.  Use it wisely.
Deb's Note: The Electoral College isn't well understood.  For this reason, many would like to see it eliminated.  In short, its purpose is to keep voters in the biggest states from being able to control election outcomes by outnumbering the votes of smaller states.  My state has a large number of electoral votes which ultimately reflect the majority's choice. By the logic of some, unless one votes with the majority, their vote doesn't count–but my state is only one of fifty.  It isn't the impact of my single vote, that compels me to vote, but my belief in a system which was intended by our founders to be fairest to the greatest number of its citizens.
2 Responses to "Party Girl???"