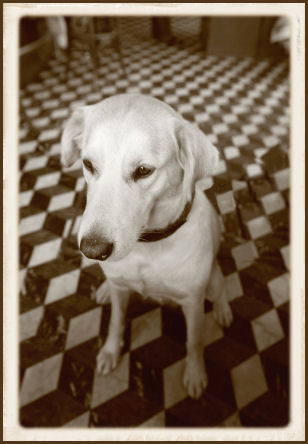 You have probably heard dogs see in black and white.  The world is full-color, but curiously, dogs don't see it that way. Canines don't actually see in black and white, but the colors they see are limited–mostly shades of greys tinged with blues and yellows.  I don't know how or why scientists figured this out, but now, perhaps they should turn their attention to why people, who see in color, tend to think in black and white. The brain is a scientific wonder, in its complexity, and the eye is no less magnificent. In fact, oftentimes our vision is more nimble than our thinking.
Despite the ability of the brain to process information, most of us overlook the shades of grey, in how we see things.  Life's big issues are often reduced to black or white.  Oh, if only life were as simple….
As long as I can remember, people have been fighting over the issue of abortion–innocent lives snuffed out  before they begin.  Killing babies has to be wrong.  Right?  How can there be another side?  I felt that way, until I met Sonia.  At the age of 14, she was pregnant–with her second child.  Sonia lived for  the weekends, when  she would see Suge, a 27-year old man, AKA the baby daddy.  Watching a very unsettled young girl raising(?) a baby on her own, made me wonder if abortion might not have been a kinder option for the baby boy whose future was wagered against, long-shot odds.  That is not to say I am pro-abortion, but it helped me see grim shades of grey.
Every controversial question, has more than one answer.  Religious people have absolute truths which define their views, but even among the world's great religions, "absolute truth" varies. For everyone who believes faith in God is foolish, there are others who are amazed that anyone is foolish enough not to believe in God.  As a person with religious beliefs, it would be easy, to assume the world would be perfect, if only everyone shared my beliefs, but my truth is meaningless to those who don't believe it.
Whether it be social issues, religion, morality, or politics, when we see the world in black and white, our vision is limited.  As anyone who has had cataracts will attest, the loss of vision happens so gradually, most don't even realize how little they see.  We often suffer from the same kind of blindness, because we don't acknowledge what we can't see, and can't always remember exactly how, or why we see the world as we do.
American politics provide a great example. Most issues are defined in black and white–either left or right.  Instead of seeing those on "the left" and "the right" as individuals who don't all think alike, we are manipulated into seeing the other side as wrong.  This limited vision, causes us to believe our side is populated by good kind souls, people like Mother Theresa, and Nelson Mandela, great philosophers, intellects and all the other beautiful people.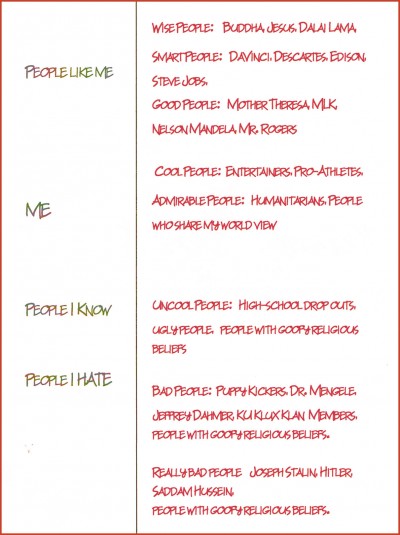 The other side is populated by the thinking-impaired, lesser-evolved, malevolent people–including a few of our closest  friends, some disagreeable family members, and all the mullet-wearers of the world.  There doesn't seem to be anyone in the middle–except for a handful of  your friends who are decent enough people, despite being tragically misguided. From this vantage point, it appears the world is full of evil, knuckle-dragging Cro-Magnons.
We are quick to label anyone with different opinions.  I recently explained my view of probable outcomes for the next presidential election, and was angrily called a "Lib-tard".  What I said was based on observations of media usage by both candidates, not any political views, yet I was immediately given a negative label, by someone who didn't agree with what I was saying.
If you say you're a Democrat there is an assumption that you're a Prius-driving, Whole-Foods shopping, NPR Socialist.  Tell your friends you're a Libertarian, and they will assume you grow your own pot, which you water in the nude. If you should affiliate with the G.O.P., friends will assume all you've surrendered your brain to Fox News, attend Klan meetings or worship at The Altar of Limbaugh.
Beloved Soul Mate and I are both registered voters.  We have identical views on many issues, yet are registered with different political parties.  We don't see eye to eye on every issue–neither with each other nor with our chosen parties. Those who know us well, might be surprised to learn which is registered with which party, because society pigeon-holes political leanings–as if there is no room for variation.
The most biased labeler of all, is the media.  Both sides use their  own vernacular–vocabulary purposefully intended reduce our perceptions to black & white. Just as the terms "chink" "slope" or "gook" were once used in wartime to dehumanize opponents, labels create an impersonal impression 0f real people. We see those who don't think like us, as being nothing like us.  Both sides say  they want to reach a consensus, but how can we every come together, if we see those (with whom we probably have much in common) as too ignorant to have a valid opinion.
The world is not black and white.  Even Rover sees shades of grey.
One Response to "Dogma & Cataracts"