My manicurist came with her refugee family from Vietnam.  She tells me people  think she's dumb because she performs a lowly job.   As it happens she has a degree in a complicated area of microbiology.   She doesn't feel diminished, because she isn't working in her field, instead she is proud she makes good money to support her family.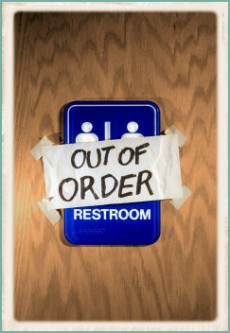 Picture a bathroom, for this exercise, it makes no difference whether it be the most elegant or the most deplorable.  Most women, some men and a handful of well-trained children know bathrooms don't clean themselves, any more than they dirty themselves.  Yet, there are those who reject this basic fact of life.
I don't mind cleaning bathrooms.  They are usually small and require only 10-20 minutes of effort to restore their dignity.  It is somewhat satisfying to be able to see so much change with so little time or effort.  However, there are those who see themselves as above cleaning bathrooms, because they see themselves as having no part in the germs, grime or filth of a less-than-pristine restroom.  They seem to be under the delusion that bathrooms are self-cleaning, and should therefore, always be fresh and lovely.
It's ironic that those who do not clean bathrooms, cannot bring themselves to use a dirty bathroom.  While they may not acknowledge that clean bathrooms required someone to clean them, they are quick to notice when a bathroom that isn't clean.  For this reason, keeping a clean bathroom is a thankless task.
Thus, the hygienic maintenance of bathrooms becomes  a metaphor for other things.
There are many who seem to believe things like clean bathrooms, a good life or economic prosperity are spontaneous occurrences–things which happen in a vacuum for the benefit of all.  I have witnessed this mentality often, and most recently among some local "occupiers".   They are incensed about situations from which they are far removed.   Though not creators of wealth, they feel entitled to wealth, because they have little understanding of what is required to generate wealth.  They feel as entitled to economic security, as some feel to clean bathrooms.
I know many people who are barely surviving on what they make.  Many are the victims of hard times or  bad circumstances, but a greater number are victims of their own choices.  Many are college-educated, many have held good jobs, but most of them have chosen to live by their own economic rules.  They are people who left jobs they didn't like, quit when the didn't like the people around them, or turned down jobs they saw as beneath them.  As earners, they spent money on things they couldn't afford and relied on The Department of Economic Security , when "The System" failed them.  They are angry–but often confused at  whom they should be most angry.
They lash out at banks and corporations, but I believe they are just as angry at those who punched a  time-clock they disdained, did their best,  or lived within their means.  They resent the people who saved or invested what they could, to make more, and they are most angry at those whose efforts turned into lucrative opportunities.
They are angry about the way politicians have favored big business, forgetting that big business generates economic opportunity for individuals.  Certainly there is too much cronyism in de facto marriage of politics and economics, but it is the leaders who should be held accountable, instead of those who so easily buy their favor.  Those who believe that taking wealth through a Marxist or Keynesian model, are not so different from the people they detest.   They want whatever they can get the government to give them and would prefer that those with the deepest pockets solve whatever problems they can't or won't solve for themselves.
It isn't fair.  Some people  live well, while others barely survive.  Some people have bigger checks, nicer homes and newer cars,  others clean toilets.  I am not an economist, but I understand how toilets get dirty and how they get cleaned.  (It is probable that I've cleaned more toilets than most who will read this, because I worked as a motel maid, as a way to save for college.)  I also understand why some succeed, while others fail.  I've done dishes, waited on and cleaned up after people, but today, I can afford to pay someone else to clean for me, because I know the economics of work.  Life isn't always fair, and while it may be simplistic to suggest hard work as a route to economic freedom, I'm convinced it's more effective than camping on the steps of City Hall.
People from every nation come to this country, to run businesses, pick produce, or do whatever menial jobs they can find, in an effort to improve their lives.   They scrap , they scrimp, they struggle, they save.  Through their example, it is likely that many of their children will be members of the next generation of prosperous Americans.  Yet, there aren't very many of them at the occupations.  Perhaps they are too busy opening their shops, showing up for another day of backbreaking labor, or clocking in to jobs nobody else wants.   They don't have time to occupy.  They are too busy figuring out how to turn the stuff that clogs toilets into the stuff that fattens wallets.
4 Responses to "Economic Crap"