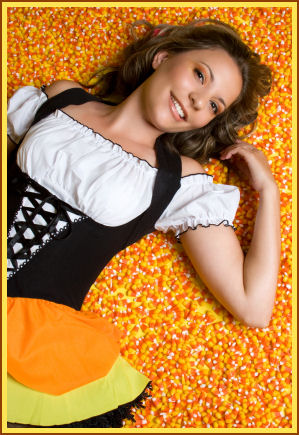 Less than a century ago, Halloween was little more than a  night of youthful pranks and mischief.  Ever-changing, and ever challenging our sensibilities, it seems Halloween is forever being redefined.  No other celebration poses more of a dichotomy, as the most morbid themes are mingled with whimsical innocence.   Fairies, princesses, ghouls, super heroes, and characters from TV or movies provide alternate identities, and a brief escape from reality.
Halloween is one of our calendar's most-controversial celebrations.  From it's earliest origins, it has been a holiday to love or hate.   The holiday we now know as Halloween, was first instituted by Catholics, as the intended replacement for its pagan forerunner, Samhain. In keeping with the Night of the Living Dead theme, it was a day to honor the memory of saints and martyrs.  Martin Luther's Protestant reformation, hoped to eradicate the Catholic celebration of All Saint's Day and All Hallow's Eve, because his religious ideas did not embrace the  Catholic view of saints.   The New England Puritans banned the holiday in the New World, because of  its Catholic origins, but it wasn't long before large numbers of Irish-Catholic immigrants succeeded in reestablishing the popularity of Halloween traditions.
By the early 1900′s, Halloween celebrations had become part of the American tradition, but the holiday was, and still is, one of our most controversial.   Just as the Catholic church once did, many churches and religious communities, have invented their own substitutes for Halloween.  Even the so-called "separation of church and state" hasn't been able to keep schools from taking a stance.  Many schools have banned costumes or other Halloween celebrations out of respect to those with religious concerns–and one school district in Pulyallup, Washington, was compelled to enact bans, lest local witches (Wiccans) be offended.
People either love it or hate it.   I understand many dislike the way Halloween blurs the line between good and evil, but to me it's not so different from the rest of life as we all seek to balance bad things and things that scare us, with the good and sweet things which make life worth the struggles.  In fact, I adore seeing children in costumes eager to receive a ration of candy, but for some even innocent trick-or-treaters pose a nuisance.
If only being grown-up, were as simple as being a kid.  As adults, we adopt a seriousness about ourselves and the things around us.  Fortunately or unfortunately, it is clear that Halloween is no longer just for kids, and it is one of few opportunities for us to shed the inhibitions and constraints of our own identities, to embrace another.  In the same way princesses, ghouls, super heroes, and cartoon characters give children a chance to make-believe, costumes offer grown-ups an invitation to play.
I like it when adults let down their guard a little.  Costumes seem to make it easier, but if costumes are a license to have fun, they can also be an excuse to behave (or misbehave) in a way one wouldn't normally.  An article from Psychology Today suggests costume choices  may reveal hidden parts of our personalities. Whether it is repressed feelings, unspoken desires or innocent fantasies, Halloween provides an outlet.

This brings me to the subject of provocative female costumes. Once witches were ugly crones with green skin and twisted noses, but the newest generation of witch costumes usually feature a spell-casting amount of skin–which is  rarely, if ever green.)  Every perennially popular costume is now available in various degrees of slutty.  Not so long ago, the pregnant bride costume provided risque laughs, but now most of us would err on the safe side, by offering a pregnant bride our congratulations.   Beacons of virtue like Snow White and Red Riding Hood have lost their innocence, along with the school teachers, nurses and costumed nuns who have joined the naughtiness.  It seems the little girls who once collected candy, have become a mixed bag of sweet tarts.
Though most women enjoy the attention that comes with being attractive, those who swap their uniqueness to become just another girl in a skimpy costume are reduced to little more than eye candy.  Has our quest for equality made us like men hoping for a conquest, with no thoughts of the morning after?   As we advertise our tricks and display the treats, have we forgotten how to cultivate desire, without the use of T & A?  Could it be that we no longer know how to engage and delight men, so they, like children on Halloween, can hardly concentrate for the distraction of thoughts of finally being allowed to unwrap the candy?

The downside is that just as kids may revel in the excess of the evening, big boys are apt to do the same.  When Halloween is over, they will have to wait for next year's candy extravaganza, and some women may realize they have become just another piece the morning after, the sexy costumes have no more appeal than leftover candy corn.
Thankfully, it's only one night a year.
2 Responses to "Candy Overload"