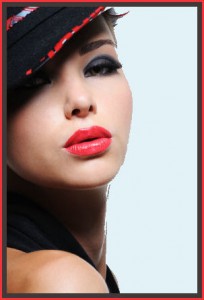 .
Picked up a magazine at the newsstand.  Magazines are perfect for those with a limited  time or attention, because they are full  of short bits.  There are always photo spreads, tips for how to do things better and the ever-popular quizzes.
In school, nobody got excited over quizzes, but put one in a magazine and readers enthusiastically reach for a pencil.
Magazines for women routinely have quizzes on how to determine one's style.  This amuses me.  If you have a mirror, your style probably isn't much of mystery.
Seriously gals, you know your style, you know what you wear, you know what you like.  You have ideas (which may or not be right) about what looks good on you.  You know what kinds of things you wouldn't even wear for the one-time-only-last-day-on-the-planet apocalypse.
Yet, the irresistible draw of answering a few questions in return for a snappy label continues to intrigue.
Is your style sporty?  Is it more posh?  Maybe it's just scary . . oops, sorry, I got distracted taking the "Which Spice Girl are you?" quiz.
Back to the subject . . how we see our self becomes the determining factor in how we dress our self.  We have labels in our head and an idea of the personality we wish to project.  Some people are able to stick to one style throughout their lives with only slight variations, but the divas update their style with each new season.  Ultimately, you will wear what makes you feel like you.
Woman can shop at the same store and still not look like they have anything in common.  One year my sister and I bought the same dress.  That is, they were the same until we put them on.  She teamed her simple white dress with canvas espadrilles.  I wore mine with black & white spectator pumps.
Same dress.  Different girls.
It all comes down to attitude.
Women will announce that they can't wear capris, skirts, prints, stripes, or ___fill in your own___.
Not everything works on everyone.  Low-rise jeans aren't as easy to pull off after a couple of children.  String bikinis are reserved for a very small number.  Lipstick colors like green, yellow and black are best left to those under 25, but there are many things women avoid, simply because they haven't the moxie.  It's a confidence thing.
Red lipstick, the color red in general, hats, and short skirts are just a few things which frighten the timid.
I bought a raspberry bra several years ago–not nearly as practical as white, beige or the perennially popular black.  Previous to the acquisition, I had been a devotee of a certain designer style bra.  On a whim I bought a bra that was unlike any other I'd ever worn.
That bra changed my life in some small way.  Someone asked me if it changed me because it made me feel like a fabulous sexy woman.  Nope, didn't need a bra to do that. There was just something about it that made me feel good.  (If a kicky-fun bra was all that was needed to change our self-esteem, who would pay for therapy?  Then again an hour spent with a therapist costs roughly the same as an hour spent shopping at Victoria's Secret, so it's probably a wash.)
Like wearing a designer original, perhaps it was knowing that at any given time I was the only woman in the room wearing that bra.
Maybe it was wearing something that was as vibrant as I am.
Maybe it was the fuschia-red color, maybe it was the fit or maybe it was just knowing how often men forget that with women there is always way more than meets the eye.  (And it's not the stuff under our clothes.)
All I know is this simple necessity empowered me in some way.
Live a little.
Wear Vixen Red lipstick.
Wear scarlet, crimson or cranberry.
Work a fedora.
Show a little leg.
Be a new you–even if only for a few hours.
Grab your "fab" and work a look–after all, why should the other women have all the fun?  Anything could happen!