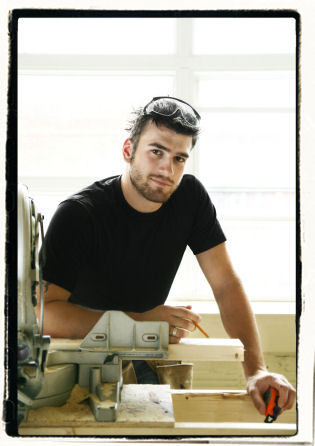 .
Men love the thrill of the chase.  Sadly, when the chase ends, they are less interested.
Women are no different, we just chase different things.
Just as men fantasize about the woman they want, women fantasize about the stuff we want.  We are all about "the chase"–the quest for the perfect shoes, the perfect make-me-look-so-good jeans–even boring stuff like perfect curtains–we love "the chase".  Houses provide endless opportunities for "the chase"–but nothing is as dull as a house that is finished.
I've lived in a few "fixer-uppers".  In each, I could stare at each space and dream endlessly about the improvements I'd like to make.  When the first house we bought was finished, I found it to be much less interesting.  The house I currently live in is nearly perfect, but I don't want it to ever be finished.  I don't want to ever check the last thing off the list, lest the house become uninteresting.
I have embraced abstinence.  It's over!  Never again!  I'm finished!  Done!
Like someone coming out of a bad relationship, I've had my last.
The last remodel, with an unending stream of contractors and their henchmen,  caused me the loss of self, solace and sovereignty.  Conflicts and compromises caused me to swear off and I vowed I'd never again change anything larger than a faucet washer or a light bulb.
How soon we forget.
Like women who swear they are done with men, it's easy to forget the bad parts.  Which is why I found myself in a home improvement store talking to experts about changes to be made to the latest home acquisition, before realizing I'd broken my vow.
It was supposed to be a very small cosmetic project, but there is rarely such thing as a small project.  They all start small, then,  the gas line was here, the water was there, the fridge was too large, the stove inconvenient–in less that 45 minutes, the experts were already suggesting removing a wall.
NO-OOOOOOOO!
A flash of clarity brought it all back–I've been here before–living like a homeless person  in my own home.  I was reminded of things I learned last time around and have decided today to republish a few of the things I've learned.

Top Ten Things Learned while Remodeling
1.  People will make all kinds of promises.  Do not expect them to keep them or to take responsibility for breaking them.
2.  If you find yourself caught in a network of Good Ol' Boys, don't be surprised to discover that some of them boys ain't all that good–they're just old.
3.  No matter how smart you are, if you're a gal, you may be spoken to as if you are stupid.  If you listen, you'll feel even stupider.
4.  Apparently, it is acceptable to be disrespectful to someone in their own home–as long as you have a contract.
5.  You will be rushed into making hasty decisions.  After you've made them, you will have to wait on the people who rushed you.
6.  If any of those hastily made decisions are wrong, refer to #2, #3 and number 4 above.
7.  You will have people coming into your home without regard for you, your things or your current state of undress.  They will turn off your water, your power, break things and leave messes for you to contend with.
8,  Even if you don't whine about all the checks you are writing, the recipients of those checks will whine about all the work they're doing.
9.  You can tell contractors what you want clearly and repeatedly, but they will still be inclined to give you what they want.  There will be lots of eye-rolling (and possibly additional charges) if you expect people to do things the way they were asked.
10.  At the end of the day, the people in your employ will go home to their homes, where they will enjoy hot meals and cold drinks.  In their homes, they will be enjoying electricity, fully-functioning plumbing, cable, internet, phones and doorbells.  You on the other hand will only enjoy knowing they are gone until tomorrow.

Deb's Note: In defense of the contractor responsible for that last remodel, he and his crew were decent fellows.  Most of them were a pleasure to work with.  Too much dust, discomfort and the inevitable delays–combined with a couple difficult sub-contractors made me reluctant to undertake another project like that one.  In the end, it was worth it, so . . . if you need me, I'll be at the home improvement store. Oh yeah, & one more thing, if any of the men on my project had looked like the one pictured above, I might have been willing to put up with more.

3 Responses to "Just say NO!"