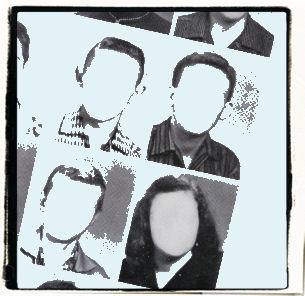 I am the kind of person who attends bridal and baby showers, gets together with the girls for any reason and attends odd gatherings like class reunions. Since there are way more showers than class reunions, I would hate to miss a reunion.
For me, it is an opportunity to catch up with old friends.  In this case they are both friends who I've known a very long time and friends who like myself have somehow become older.  Just saw an album of photos taken at another pal's class reunion– I've seen a couple of those recently.  The people in them look too old to be my peers.   They look like someone's parents or grandparents.
The little waif who was the Head of the Glee Squad, is now the Captain of the Mom Squad.
The handsome hunk who played hockey is now more pudgy than pumped, and from his gait, I'm guessing he has hip and back issues.
The kid voted most likely to succeed, failed.
The kid who had the the best smile, has bad caps and bridgework.
The kid, who spent most of high school being shoved into lockers, seems to have bounced through life better than the rest.
High school is not an accurate barometer for forecasting the future.
Like seeds blown from a dandelion, old classmates are quickly scattered.  Some bloom, some are lost, some die, some just continue blowing in the wind.  With each passing year there are fewer.
Talking to some of my former classmates, I realize even many years after the fact, high school has a strange significance.  I rarely think about high school, I had good times and knew some great people, but to me it's a collection of individual memories, not a conglomerate experience.
This isn't true for everyone.  There are those who are eager to revisit their glory days.  Others are still  reliving the bad memories.  There are some who barely remember and don't care to.  Except for that latter category of folks for whom high school has little if any significance, high school reunions seem to be out of scale with what they actually represent.
My ego is too far removed from high school to care about how I am perceived.  Additionally, I don't really care if my friends are still living with their parents or have off-shore bank accounts.  Folks are folks–a few years away from high school and most are more interesting and better company.  So with no expectations other than a good time, I will attend and enjoy my class reunion.  I will miss those who chose not to go because of stupid things that happened decades ago.  I probably won't be impressed by those who wish me to be.
I have only two desires for the reunion.  I hope the name tags are easy to see, and when the cameras come out, I am hoping that my peers and I look younger than we are.
Post Script: Just returned from the high school reunion.
It would  seem that ones' reunion would be about revisiting the past.
Amazingly, quite the opposite was true.  There were so few mentions of the "then".  The reunion is a "now" event–a who are you now event–not in the how-much-money do you make sense, but in the how is your life going sense.
In reflecting on this one, I realize that it was the best yet because most of the people who make the effort to show up are doing so because they genuinely want to reconnect with old friends.  The ten-year isn't far enough removed from high school to be about that.