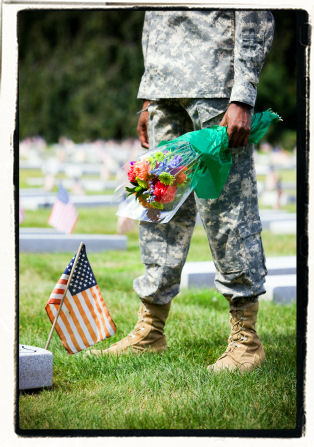 A popular film has caused many to consider their "bucket lists" asking themselves what they'd like to do  before they die.
If you should consider and construct such a list, cross fingers you'll live long enough to cross everything off it.    With luck, when you cross over to the other side, you'll have done everything you'd hoped.
My list isn't very long, but no matter how long I'm around, there will be one thing I'll  wish I'd experienced.  I will die regretting I never served in this country's armed forces.  I will die without knowing what it's like to be tested by extreme physical challenges, long deployments or the breath-stopping fear of enemy fire.  I will always wonder if  Uncle Sam could have succeeded in turning me into someone like the fine individuals who serves our country.
Then again, if I had been a G.I. Jane, I might not live long enough to make a "bucket list".
WWI, WWII, Korea, VietNam, Afghanistan, members of my extended family served.  Now, another generation of  military men & women have come of age.  I have an uncomfortable understanding of what that means, but even without my family's military tradition, my city keeps me ever-mindful of military sacrifice.
Routinely, I watch neighbors & friends leaving loved ones and sacrificing the comfort of their homes as they go off on long deployments.  Those left behind pray that the time will pass quickly and that their parent, spouse, or child will return safe and well.   Our troops do more than march, they surrender their autonomy & freedom to preserve ours.  Their willingness to sacrifice, to serve, and to risk humbles me.  That is why as I ponder Memorial Day, my head and heart are full of gratitude and admiration.
Memorial Day has traditionally been a day to remember the dead–as we all should, but what good are flowers to those who can't smell them or wreaths to those who can't see them?  Laurels are for the living.
Remember the dead.  Pay homage to what they've given and what their families have lost–but also consider the men and women who leave the people they love, to serve people they don't know.  Remember the dead, but  don't forget the living–the families who give up sisters, brothers, mothers & fathers to preserve your family's safety and liberty.
May the benevolent God watch over every member of our armed forces at home or abroad.    May he care for their families and preserve our country.