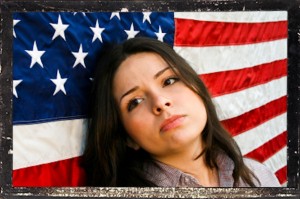 Had to back away slowly.
Had to back away from a discussion of Arizona's latest immigration policy.  The discussion would only fuel resentments, no matter how reasonable either side was.
My former home state has a bill on the table that has become a hot point of controversy.  Intended to give authorities more power to enforce immigration laws, it gives law enforcement the right to use race as a reason to question one's immigration status.  In essence, it legitimizes racial profiling.
On the one hand it is reasonable.  On the other it is unconscionable. For people of color it is terrifying.
Race is a big issue to me. I think it should be for every American.  The people of our country have come from many nations, but we are one nation and we should not indulge racism in any form. Yet is seems we are never able to get away from race and racial issues.
The matter or race is so confusing, When I fill out forms which require me to check a box for race, I never know which one to choose…I am of mixed European descent, which would make me Caucasian, I am also descended from Mexicans, that would make me Hispanic.  I was born and have lived in this country for my entire life, that would make me American, but there is never a box for that.
If I showed you the results from my DNA test, I could check half the boxes on the form. I might as well close my eyes and chose a box.
I only need the box for Human Race.
If I can barely determine my own race, I understand why others are afraid to let someone who doesn't know them try to determine theirs.   Over the years, I've been mistaken for many races of which I'm not a member, as have some of my family members.  My brother was nearly run off a road, by someone who mistook him for Middle-Eastern, just after 9-11.  My mother was once treated shamefully bad by someone who assumed she was Navajo, in a town where Navajos are not highly esteemed.
My favorite story in this category is when my mother tried to board one of those buses, we used to have in this country during our own DARK AGES.  You know, the ones where "coloreds" had to sit in the back.  The bus driver couldn't figure out if she was colored or not, he had to ask her if she was "colored" so he could figure out where she should sit.  Think about that one.
The story amuses me because it illustrates how meaningless skin color is.
Makes me wish I'd been the blackest person ever, right behind her in that line.  I would have told the bus driver I wasn't "colored" either.  Then I would have proceeded to sit in the seat directly behind him, and in front of all the other  not "colored" people.
Incidents like those above provide illustration why a bill that makes one's appearance, "just-cause" for being questioned or detained, can't avoid going wrong.
Fortunately, even having grown up in mostly-white Arizona, I've rarely been subjected to prejudice, but I've seen enough to know, the ignorance of pre-judging people based on assumptions, is always unfortunate.
I don't want to live in any state or country that limits me for any reason.  If I did, I could have left the U.S. for any of many countries, where being the wrong race, the wrong religion or the wrong gender would strip me of opportunity.  If I did want that, it would be hard, there are so many to choose from.  Nor do I want to live in a country with real racial hatred or genocide, but there are many of those to choose from too.
Makes me wonder about the people who see policies like this one to be emblematic of America's racism.  I wonder if they've ever left their cloisters to see what the real world is really like.  I wonder if they realize that this country is like an overindulgent parent, in what it is willing to provide each and every person who lives here.
This is particularly true now.  Our president is advocating for blanket amnesty for all the people who have come to this country illegally.  To many living in this country illegally, he is a benevolent savior, though it is doubtful that their well-being is his motivation.  It would be great to give a free pass to all the wonderful & hard working people who have come here for the same reasons your immigrant family may have, but doing so would also be giving citizenship to many who have come here with agendas that nobody can embrace.  Living in an area where many non-citizens are connected  to organized crime or drug cartels, I get this.
Do I want my my Mexican girlfriend's family to be able to escape the crime and poverty of her barrio in Tijuana, so that she can raise her son with the same kind of safety and opportunity my son takes for granted?  Absolutely!  Do I want kidnappers, car-jackers, drug dealers, sex traffickers and the kind of neighbors who have automatic weapons in their cars in case something goes down?  Not so much.   Under the blanket of amnesty, they are one and the same–just non-citizens living and making a living here–but they are not the same at all.
I would love to share my stance on immigration, but the truth is I can't take one.  There are two sides.  They are both valid.  Economically, this great country doesn't have enough teats to feed the whole world.  That's not racism, that's simple math.  Many of our state governments are economically collapsing.  As ridiculous as an adolescent who had never been weaned from his mother's breast, many of our citizens have become economically stunted by being attached to the teats too long.
They have grown dependent & unable to care for themselves.  The land of milk & honey WILL run out of milk, if we cannot enforce our own immigration laws or if we allow people to live without being responsible for their choices.  This bill may be all kinds of wrong, but the ability to control who lives and works here is important to the welfare of all.  Uncontrolled immigration will decrease  economic opportunity for those who deserve it.  Giving criminals the same rights as decent folks, will increase crime and decrease safety.  Preventing ourselves from being able to enforce our own laws will result in the kind of lawlessness that many have come here to escape.
It is not a simple issue.  Only the simple-minded think it is.
18 Responses to "Amerika–Land of Milk and Milk and Milk."