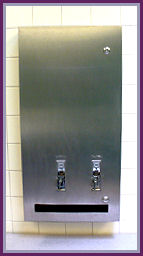 Apologies to the devoted male readers of de blog, but every now & then gals have to talk about the thing we have, you don't that we'd gladly give you.  We don't talk about it often–certainly not more than once a month, so feel free to hang out and read up; or come back next week.
I just bought 8 boxes of assorted feminine hygiene products.  This might frighten one into wondering the magnitude of menstrual difficulties that would require such a stockpile, but before your imagination goes free-range, I assure you it's not like that.  First, they were on sale, but that was only part of my rational for buying so many.
Would you think I was crazy if I told you that buying them made me feel elated, emancipated and happy?
These are generally not the feelings one experiences buying stuff like tampons or thinking about one's period.  (There are exceptions, like times when not having a period is emancipating or when finally having one after being a few days late can cause elation, but generally, it's just the same inconvenient biology as it was last month, the month before, and the month before).
Our periods are an ongoing source of mixed emotions.  As young girls, we are afraid to have one, but we really want one.  As soon as we've had one, we begin to wish we didn't.  From then on sometimes we want one, sometimes we don't–this usually depends on our inclination toward being pregnant and/or our vacation plans.  Eventually, we've had enough of them, and can't wait 'til we don't have anymore, but as soon as we no longer have one, we long for those years when we did.
So gentlemen, that's pretty much it in an ovum-shell.  Everything else you know, you probably wish you didn't–especially if you've ever lived with a PMS-prone female.
I'm mostly ambivalent toward the period, part of being female, often inconvenient, but so are the parking meters that only take dimes–which  incidentally were even more of a burden when the payphones and Kotex machines only took dimes .  .  when down to the emergency dime we all carried, it was always a difficult decision choosing which slot to drop it in.
When I was a girl it was rarely discussed.  If you were lucky, you might get "a talk" and then you'd trial and error the rest of it–very different from this age when when women take their daughters to lunch and present them with tiaras, for having the amazing ability to shed their uterine lining.  Makes me glad I have boys, because I think I'd have trouble with sincerity on that outing, and I'm still trying to figure out what menstruation has to do with tiaras.  When I was a girl, the only things associated with menstruation were pictures of over-sized roses on over-sized boxes of over-sized sanitary pads–that and the black and white cartoon of the roller skating Kotex girl.  What ad exec came up with that image?!?!?  I hope HE found a line of work to which he was better suited.
Worse yet, for most of my life, every single feminine hygiene product was wrapped in a very sterile kind of tissue which  made it seem like a medical remedy.  The packages usually had dainty motifs of pastel pink or blue flowers, reminiscent of babies and nurseries.  It was as if these packages were sending the subliminal message, "You need a baby.  Try harder next month."
Even when the manufacturers updated their packaging,  their products were still embarrassing–in the way that wearing orthopedic shoes is embarrassing.  They all seemed to have been designed for the kind of female who is infirmed by her "monthlies"–or the kind of female who would refer to her period by that term.
They were designed for someone other than me!
Why did it take so long for someone to finally come up with something hip, fresh and colorful someone like wouldn't mind having in their purse???  Like a late period, these were way overdue!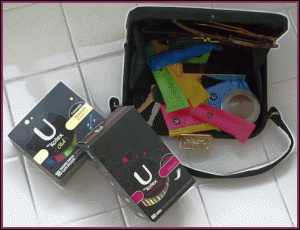 That's why I bought them.  I bought them for the same reason I buy vanilla scented trash bags, use a designer-inspired Dust Buster, or always splurge on beautiful dinner napkins.  With so much of life  being mundane,  it feels good to add a little panache.  Not only that, but there is a whole category of  things like deodorant, toilet paper, baking powder and tampons, you don't want to be out of  when you need them.  This is why I'm almost always "carrying", even if I don't need them, there is a good chance a girlfriend will.  Now with tampons and pads that look like party favors?  I might throw a handful in my favorite handbag, just to liven it up in there.
Deb's Note: If you haven't already seen these on the tube, here are links to a couple of the ads for this product.  Kudos to Kotex for finally keepin' it real!
http://www.youtube.com/watch?v=QOM4AMV050A&feature=player_embedded
9 Responses to "Overdue period."