A favorite quote:
By the time a woman is wise enough to find a good husband, she has been married 10 or 15 years.
Nothing like being married, to teach one what constitutes a good one.
I selected my husband the same way I select most things.  Shopped around, looked for the kind of quality that would last.  I looked at quite a few, before I chose the one I liked best.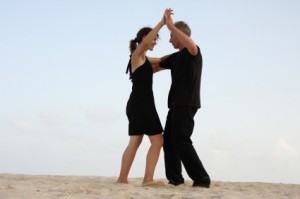 I know more now, than I did then, but I did okay for myself.
If I were to be shopping for a husband today, I'd never marry a man who didn't dance.
Never thought about it when I was single, but I've thought about it a lot in the time since.
Some people enjoy dancing more than others.  I have often wondered, if men enjoy dancing as much as women seem to.
I don't know the answer to that one, but I know that unless I was in love with a man who didn't have use of his legs, I could never be with a man who didn't dance.
I love dancing.  It's an essential expression of the best parts of being alive.  It's uninhibited, it's active and it's sensual.
For people with energy, the need to move is rudimentary.  For people who enjoy music, the desire to move to it is instinctual.  For people in love, the desire to have bodies in concert is unmitigated.
Dancing is all of that for me.
Dancing is nothing more than moving.  Moving that feels good.  Moving that has the power to move us.
What I like best about dancing, is that it is a publicly-sanctioned display of sexuality.  It is a time when we can go head-to-head or cheek-to-cheek with the object of our desire, without fearing raised eyebrows.   We are given permission to admire the motion of their body.  We are allowed to move in synchronicity with them.
In those moments, we can imagine we are Fred & Ginger, or anyone else our minds can conjure.   Time is suspended, allowing us to enjoy inhibition and intimate closeness.  We are able to forget what we look like, and become what we imagine.  We can revel in the simple placement of a head on a shoulder.  We can listen to the heartbeat or breathing of our partner, and allow it to affect our own.
This is why I am baffled at how men would choose to stand around with their warm hands wrapped around a cold beer, when there are women who want to dance.
The same guys who may fantasize about the flexibility of gymnasts, seem not to see the sensuality of women dancing.
It's rather like having one's house painted and failing to notice.  It's out there and obvious, but only the blind don't see it.    Choosing the comforting feel of ice cold aluminum in his hands, a man can miss the smell of a woman's hair, the feel of her face, or an opportunity.
A silly old line calls dancing the vertical expression of a horizontal intention.
That's not that silly.
I want to dance.
Everyday of my life, I want to dance.
Some days I want to dance crazy.  Some days I want to dance refined.  Sometimes I want to dance in the way that makes my partner know that old line isn't silly.
I don't want to be with a man who doesn't get that, because I don't want to dance alone.
14 Responses to "Do you want to dance?"